World of Warcraft Wyrmrest Accord Quartermaster Items: Faction Rewards for Increasing Wyrmrest Accord Rep in WoW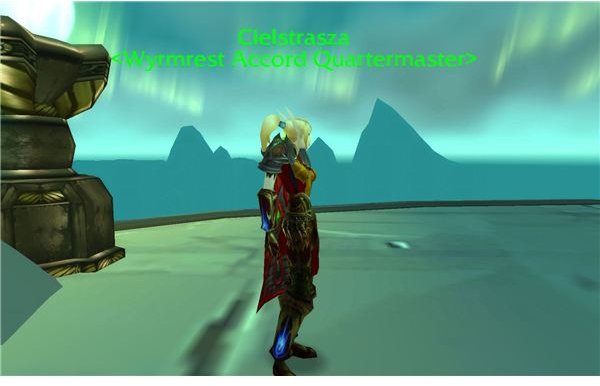 World of Warcraft Wyrmrest Accord Quartermaster
The Wyrmrest Accord watch over Dragonblight from atop Wyrmrest Temple, the huge tower found in the center of the zone. Their quartermaster, Cielstrasza, can be found on the top level of the temple along where the queen and her consort reside.
For those unable to fly themselves to the top of the Temple, there's an NPC named Tariolstrasz on the West side of the temple at ground level. When you speak to him, he'll give you the option of flying to the middle level or the top of the temple. Take the latter if you wish to visit Cielstrasza and check out all the rewards available to those willing to increase their faction with Wyrmrest.
Friendly With Wyrmrest Accord
Tabard of the Wyrmrest Accord:
This tabard allows a player to become a champion of the Wyrmrest Accord and gain reputation with them by defeating foes in level 80 dungeons.
Honored With Wyrmrest Accord
Arcanum of the Eclipsed Moon:
This head-slot enchantment adds 25 Arcane Resistance and 30 Stamina to a helmet.
Bracers of Accorded Courtesy:
Wrist Plate Item

916 Armor
+28 Stamina
+29 Intellect
Yellow socket with +4 Haste Rating bonus
+22 Haste
+46 Spell Power
Requires Level 78
Cloak of Peaceful Resolution:
Back Item
140 Armor
+31 Strength
+64 Stamina
+43 Defense Rating
+25 Hit Rating
Requires Level 78
Fang of Truth:
One Hand Sword

126-234 Damage

1.5 Speed

120.0 DPS

+32 Agility

+29 Stamina

+33 Hit Rating

+48 Attack Power

Requires Level 78
Sash of the Wizened Wyrm:
Cloth Waist Item
158 Armor
+37 Stamina
+51 Intellect
+40 Hit Rating
+60 Spell Power
Requires Level 78
Revered With Wyrmrest Accord
Arcanum of Blissful Mending:
Bind to account head enchant granting 30 Spell Power and 10 mana/5 seconds that can be mailed to any character of the same faction and server on a player's account.
Ancestral Sinew Wristguards:
Cloth Wrist Item

127 Armor

+31 Stamina

+33 Intellect

+27 Spirit

Blue socket with +4 Intellect bonus

+50 Spell Power

Requires Level 80
Breastplate of the Solemn Council:
Plate Chest Item
2166 Armor
+49 Strength
+117 Stamina
+76 Defense Rating
+56 Expertise
Requires Level 80
Gavel of the Brewing Storm:
Main Hand Mace

82-263 Damage

2.3 Speed

75.0 DPS

+49 Stamina

+26 Intellect

+24 Critical Strike Rating

+25 Haste Rating

+355 spell Power

Requires Level 80
Pattern: Mysterious Bag
Tailoring pattern for Mysterious bag, a 32-slot Enchanting Bag.
Requires 440 Tailoring
Sabatons of Draconic Vigor:
Plate Feet Item
1489 Armor
+44 Strength
+85 Stamina
+58 Defense Rating
+29 Hit Rating
Requires level 80
Exalted With Wyrmrest Accord
Design: Glimmering Monarch Topaz:
Jewelcrafting design teaching Glimmering Monarch Topaz, a +8 Parry Rating and +8 Defense Rating gem matching a red or yellow socket.
Requires 390 Jewelcrafting
Dragonfriend Bracers:
Epic Leather Wrist Item

247 Armor

+49 Agility

+38 Stamina

+38 Critical Strike Rating

+100 Attack Power

Requires level 80
Grips of Fierce Pronouncement:
Epic Mail Hand Item
764 Armor
+57 Stamina
+48 Intellect
+33 Mana/5 sec
+77 Spell Power
Requires Level 80
Legplates of Bloody Reprisal:
Epic Plate Legs Item
1961 Armor
+96 Strength
+117 Stamina
+90 Armor Penetration Rating
Requires Level 80
Reins of the Red Drake:
Used to summon the Red Drake, a very fast flying mount.
Requires 300 Riding Skill
Sandals of Crimson Fury:
Epic Cloth Feet Item

206 Armor

+49 Stamina

+50 Intellect

Blue socket with +4 Intellect bonus

+51 Haste Rating

+77 Spell Power

Requires Level 80
For more on the game's various groups, check out our Ultimate Guide to World of Warcraft Factions.
This post is part of the series: Guide to World of Warcraft Faction Quartermasters
Each faction quartermaster offers a unique set of items for sale to those willing to increase their standing with a given group. Check out all the great items available from the Kalu'ak, Wyrmrest Accord, Kirin Tor, and more.