World of Warcraft Kirin Tor Faction Rewards: Items Available from the WoW Kirin Tor Quartermaster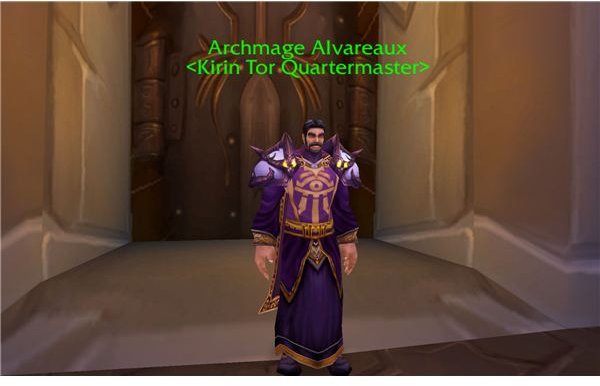 Kirin Tor Quartermaster: Archmage Alveraux
The Kirin Tor oversee all aspects of the city of Dalaran. Their headquarters, the Violet Citadel, is found in the Northwest corner of the city. It's here that you'll find their quartermaster, Archmage Alveraux. He has a nice selection of items available for adventurers willing to put in the time to increase their standing with the faction.
Friendly With Kirin Tor
Tabard of the Kirin Tor:
Allows players to gain Kirin Tor reputation simply by defeating enemies in level 80 dungeons.
Honored With Kirin Tor
Arcanum of the Flame's Soul:
One of the game's rare head enchantments, players who use it on their helmets gain 25 Fire Resistance and 30 Stamina.
Helm of the Majestic Stag:
Leather Head Item

428 Armor
+51 Stamina
+69 Intellect
+26 Mana/5 sec
+78 Spell Power
Requires Level 78
Lightblade Rivener:
One Hand Dagger
134-202 Damage
1.4 Speed
120.0 DPS
912 Feral Attack Power
+29 Agility
+30 Haste Rating
+58 Attack power
Requires Level 78
Shroud of Dedicated Research:
Back Item

140 Armor

+28 Stamina

+29 Intellect

+38 Haste Rating

+46 Spellpower

Requires Level 78
Spaulders of Grounded Lightning
Mail Shoulder Item
878 Armor
+34 Agility
+51 Stamina
+34 Intellect
+34 Critical Strike Rating
+34 Resilience
+68 Attack Power
Requires Level 78
Revered With Kirin Tor
Arcaum of Burning Mysteries:
An extremely-rare bind to account item, this head enchantment adds 30 Spell power and 20 Critical Strike rating and can be mailed to any character of the same faction on a player's account.
Flameheart Spell Scalpel:
Main Hand Dagger

65-207 Damage

1.8 Speed

75.3 DPS

+28 Stamina

+33 Intellect

+34 Hit Rating

+25 Critical Strike rating

+335 Spell Power

Requires Level 80
Girdle of the Warrior Magi:
Plate Waist Item
1218 Armor
+49 Stamina
+42 Intellect
Yellow socket with +5 spell Power socket bonus
+42 Critical Strike Rating
+68 Spell Power
Requires Level 80
Mind-Expanding Leggings:
Leather Leg Item

477 Armor

+78 Agility

+67 Stamina

Red socket with +4 Hit Rating bonus

+62 Expertise

+110 Attack Power

Requires Level 80
Stave of Shrouded Mysteries:
Staff
392-589 Damage
169.1 DPS
2.90 Speed
1600 Feral Attack Power
315 Armor
+117 Stamina
+56 Dodge Rating
+155 Attack Power
Requires Level 80
Exalted With Kirin Tor
Boots of Twinkling Stars:
Epic Mail Feet Item
862 Armor
+42 Agility
+49 Stamina
+41 Intellect
+58 Haste Rating
+66 Attack Power
Requires Level 80
Design: Runed Scarlet Ruby:
Jewelcrafting design teaching the Runed Scarlet Ruby, a +19 Spell Power red gem.
Requires 390 Jewelcrafting
Ghostflicker Waistband:
Epic Leather Waist Item

317 Armor

+57 Stamina

+50 Intellect

Blue Socket with +4 Intellect socket bonus

+48 Critical Strike Rating

+77 Spell Power

Requires Level 80
Pattern: Spellfire Spellthread:
Tailoring pattern teaching Sapphire Spellthread, an item that embroiders spellthread into pants, increasing Spell Power by 50 and Stamina by 30.
Requires 430 Tailoring
Robes of Crackling Flame
Epic Cloth Chest Item
300 Armor
+66 Stamina
+73 Intellect
+42 Haste Rating
+104 Spell Power
+33 Mana/5 sec
Requires Level 80
For more information on the game's various groups, be sure to check out our Ultimate Guide to World of Warcraft Factions.
This post is part of the series: Guide to World of Warcraft Faction Quartermasters
Each faction quartermaster offers a unique set of items for sale to those willing to increase their standing with a given group. Check out all the great items available from the Kalu'ak, Wyrmrest Accord, Kirin Tor, and more.