Venomhide Ravasaur Mount in World of Warcraft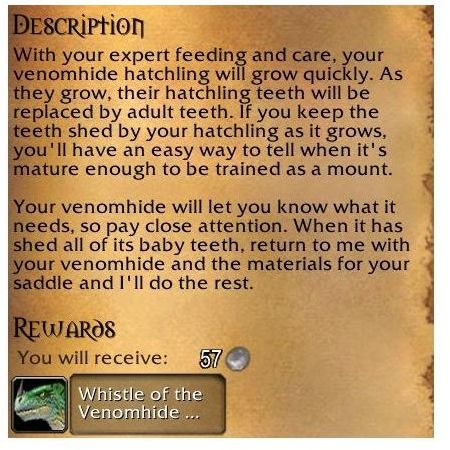 World of Warcraft: How to get yourself a Venomhide Ravasaur mount
Since the new release of the Venomhide Ravasaur mount in World of Warcraft the gamer world has been trying to figure out how to get their hands on it. The Venomhide Ravasaur is a dinosaur that you can ride around on in the World of Warcraft game. This item
cannot be sold because it binds when picked up, is only for characters level 40 and over, and requires a riding level of 75. Here are step by step directions on how to get your hands on one of these illusive creatures to impress your WoW friends.
Step 1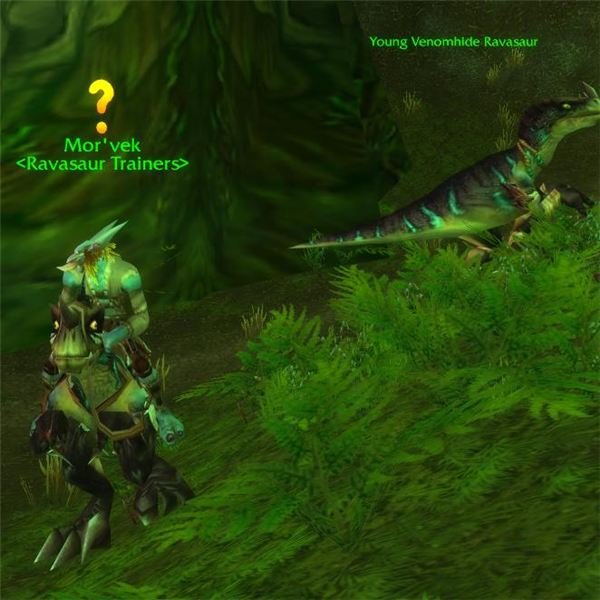 Un'goro Crater is your first stop. Head to the end of the rivers edge in South Un'goro and find Mor'vek and his pet dinosaur. Mor'vek is the ravasaur trainer. His first step is to complete the quest The Toxic Tolerance and get sprayed with Venomhide Ravasaur blood 20 times. Next Mor'vek will ask you to steal Venomhide Ravasaur eggs from their nests. Each of thses quests are near Mor'vek so not a lot of traveling is necessary. The final quest Mor'vek gives you will be the one that gives you the Whistle of the Venomhide Ravasaur, They Grow Up So Fast.
Step 2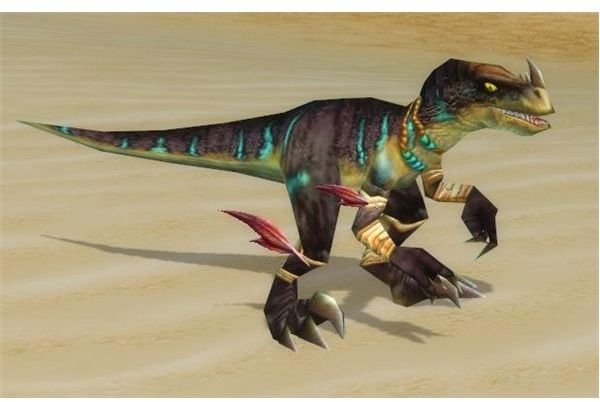 They Grow Up So Fast is a quest line that will take 20 days to complete if you do the quest each and every day. To complete this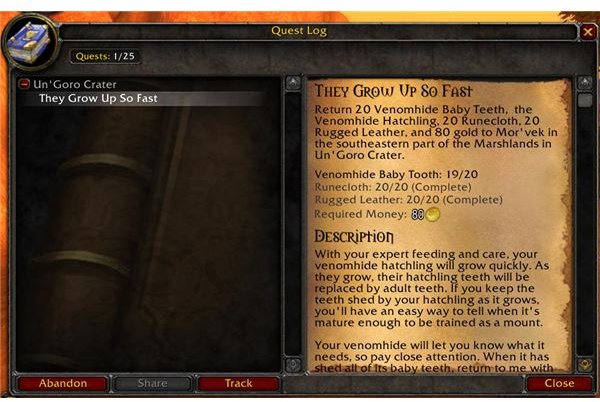 quest you will need 20 rugged leather, 20 runecloth, 80 gold, and 20 Venomhide baby teeth. Obtaining the runecloth and rugged leather will be the easy part. Getting the baby teeth will take 20 days where you complete one quest a day until they all fall out. Your dinosaur companion will grow in size during the time his or her baby teeth fall out and eventually be the size of your character right before they loose all their teeth.
To get the daily quests you need to take your Venomhide companion to Un'goro, Silithus, or Tanaris to summon it and receive your daily quest. Note: These quests count towards your daily quest total. Once the dinosaur is summoned you may need to talk to it twice to receive the quest because sometimes the pet is scared. Just talk to it again to receive the daily quest if this happens. You will receive one of the following 4 quests:
Hungry, Hungry Hatchling
Poached, Scrambled, or Raw?
Gorsihi Grub
Searing Roc Feathers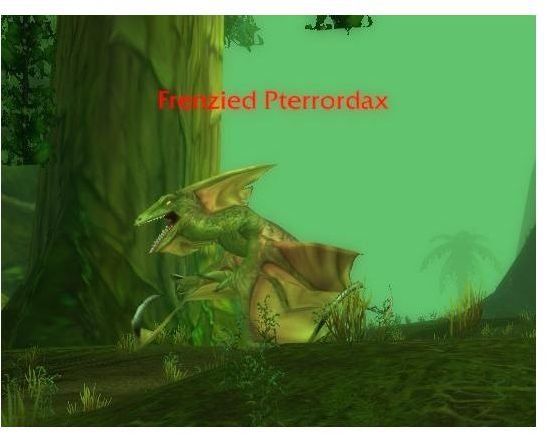 Step 3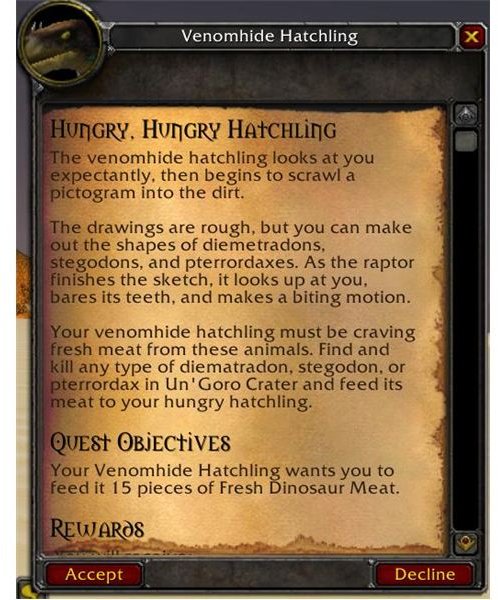 Complete your daily quest for the next 20 days and receive your 20 Venomhide baby teeth. Some of the quests require you to actually feed your dinosaur, others require you to gather items they want. For example you need to feed the fresh dinosaur meat to your Venomhide companion but only collect the feathers for them to receive your reward. All of the quests will be completed in Un'goro, Silithus, or Tanaris. So, you will need to get your quest, complete it, feed or give your dinosaur companion its food or items, and then get your reward BEFORE moving from these zones. You cannot do these quests anywhere else in WoW.
Step 4
With your 20 runecloth, 20 rugged leather, 20 Venomhide baby teeth, and 80 gold in hand return to Mor'vek in the Un'goro Crater.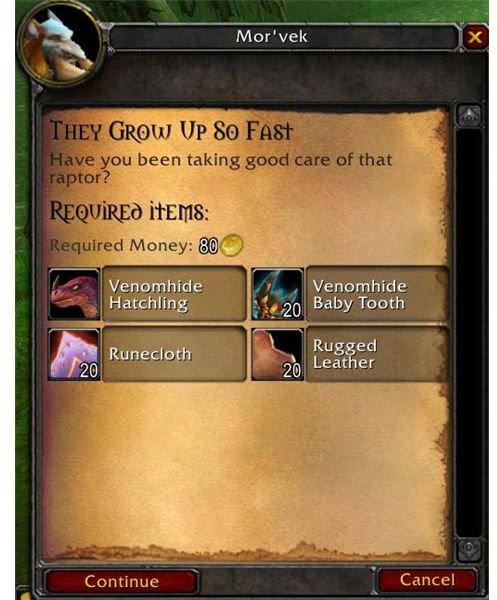 You will exchange the leather and cloth for a saddle and the teeth and gold for your Whistle of the Venomhide Ravasaur. This mount looks just like the other dinosaur mounts in your list so be sure to read and find it after adding the Ravasaur to your collection. You will also obtain a nifty achievement for obtaining the Venomhide Ravasaur mount. Now enjoy your new ride and go show off all your hard work to your WoW friends.
This post is part of the series: Guide to World of Warcraft (WoW) Mounts
There are over 200 mounts currently available within World of Warcraft. Our guide will help you sort through and find all the rare WoW mounts you're searching for.