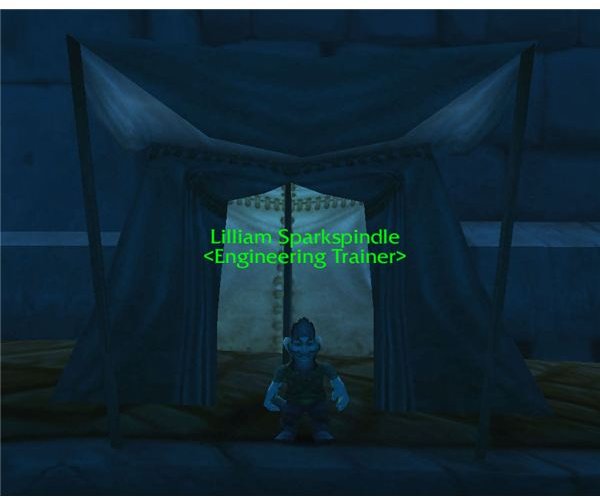 Engineering 101 - WoW Engineering Trainers
Engineering is perhaps one of the most loved and most hated professions in World of Warcraft. It has suffered both at the hands of having not enough utility, and at the hands of having some of the most useful and desired utility in the game. As it currently stands, Engineering is one of the most highly preferred professions for PvP, especially for rogues.
Engineering uses ore gathered from mining as its primary material, but also uses materials used in other professions: cloth, leather, and gems. Engineers specialize in scopes, explosives, bullets, and various useful gadgets. It is also one of the only professions (outside of tailoring) that can create mounts: both the engineering-only flying machines, and a highly expensive, but very popular, chopper.
This guide will offer you the locations of all engineering trainers found in World of Warcraft, sorted by continent and then by faction. Make sure to check out BrightHub's Engineering guide, and guide to making money with engineering, to make the best of your gadget-making!
Eastern Kingdoms
liance
Bronk Guzzlegear (Dun Morogh – Steelgrill's Depot)
Deek Fizzlebizz (Loch Modan – Stonewrought Dam)
Finbus Geargrind (Duskwood – Darkshire)
Lilliam Sparkspindle (Stormwind – Dwarven District)
Springspindle Fizzlegear (Ironforge – Tinker Town)
Tinkmaster Overspark (Ironforge – Tinker Town; Gnomish Engineering)
Danwe (Silvermoon City – Farstrider's Square)
Franklin Lloyd (Undercity – Rogue's Quarter)
Neutral
Oglethorpe Obnoticus (Stranglethorn Vale – Booty Bay; Gnomish Engineering)
Kalimdor
Alliance
Artificer Dael

o (Azuremyst Isle – Azure Watch)

Jenna Lemkenilli (Darkshore – Auberdine)

Ockil (The Exodar – Trader's Tier)
Horde
Mukdrak (Durotar – Razor Hill)
Roxxik (Orgrimmar – The Valley of Honor)
Twizwick Sprocketgrind (Mulgore – Red Rocks)*
Neutral
Bruzzle Bracketswing (Tanaris – Gadgetzan)
Nixx Sprocketspring (Tanaris – Gadgetzan; Goblin Engineering)
Tinkerwiz (The Barrens – Ratchet)
Vazario Linkgrease (The Barrens – Ratchet; Goblin Engineering)
*Twizwick Sprocketgrind is listed as Ratchet Faction and may be accessible to Alliance players. Considering how out of the way he is even for Tauren, however, this isn't wholly feasible.
Outland
Alliance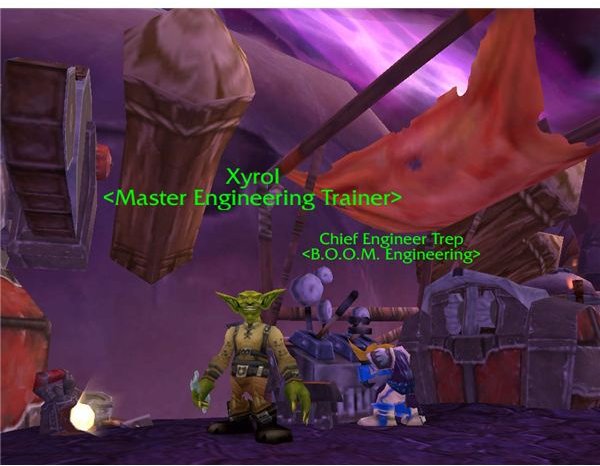 K. Lee Smallfry (Zangarmarsh – Telredor)
Lebowski (Hellfire Peninsula – Honor Hold)
Niobe Whizzlespark (Shadowmoon Valley – Wildhammer Stronghold)
Horde
Jonathan Garrett (Shadowmoon Valley – Shadowmoon Village)
Mack Diver (Zangarmarsh – Zabra'Jin)
Zebig (Hellfire Peninsula – Thrallmar)
Neutral
Engineer Sinbei (Shattrath City – Scryer's Tier)
Engineering Manual (Shattrath City – Scryer's Tier)
Technical Mihila (Shattrath City – Aldor Rise)
Xyrol (Netherstorm – Area 52)
Northrend
Alliance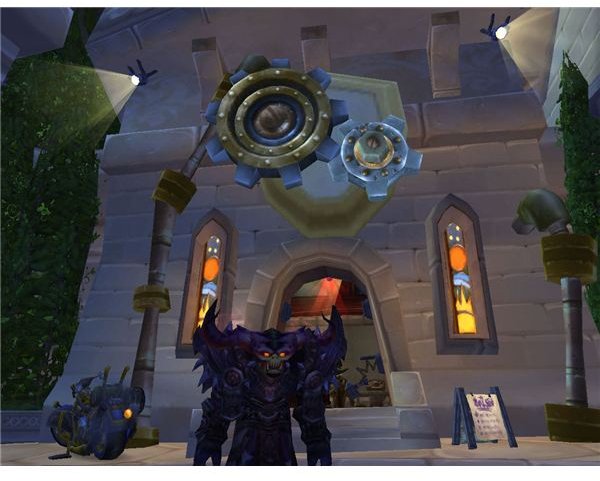 Sock Brightbolt (Borean Tundra – Valiance Keep)
Tisha Longbridge (Howling Fjord – Valgarde)
Horde
Chief Engineer Leveny (Borean Tundra – Warsong Hold)
Jamesina Watterly (Howling Fjord – Vengeance Landing)
Neutral
Binkie Brightgear (Icecrown – Argent Tournament)
Didi the Wrench (Dalaran – Magus Commerce Exchange; Goblin Engineering)
Findle Whistlesteam (Dalaran – Magus Commerce Exchange; Gnomish Engineering)
Timofey Oshenko (Dalaran – Magus Commerce Exchange)