WoW Cataclysm Guild Perks, Leveling and Progression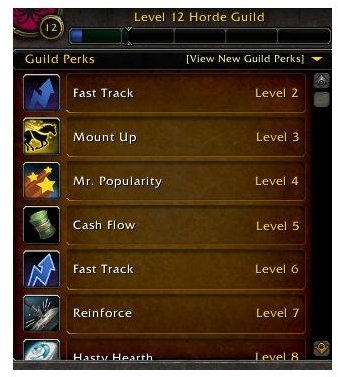 In the latest WoW expansion, Cataclysm, Blizzard introduces the newest way to progress, the Guild Perks system. Guild Perks encourages you to progress as a guild by unlocking passive guild-wide perks through a leveling system. It is much like leveling your character and unlocking new abilities.
What Are Guild Perks?
Guild Perks are rewards your entire guild gets as your guild gains levels. With each guild level you gain, a new perk is available to your guild. The perks benefit everyone that belongs to the guild whether they just join or are long-time members. The max guild level is twenty-five, therefore you get 24 perks because you do not have a perk for being a level one guild. Each level from two, up gives you a perks.
View your current guild perks by logging in to your WoW account on the Battle.net community site and viewing the "Perks" tab under "Guild" on your armory page. You can also view your perks and current guild level in-game by opening your guild window; it shows your latest perk, next perk and leveling bar as soon as it is opened.
What Does Each Perk Do?
Each perk gives an unique ability to your guild. It can be as simple as extra experience while leveling or as big as raid wide mass resurrection.
How Do I Get Them?
As said, you get guild perks by leveling your guild. The guild leveling bar appears in your in-game guild tab. On the experience bar, you can see two small bars within the bar. This indicates where your daily experience caps. If you hover over the blue bar, you can see the exact amount of experience needed to level and the amount you need until you reach the daily cap.
Guild experience is gained by doing quests, which can be done alone, doing rated battlegrounds, running raids, running dungeons or getting achievements with your guild. Almost anything in the game can get you guild experience as long as it is done with your guild.
Adding Guild Perks and progression to WoW is just one of the ways that Blizzard is attempting to make guild play relevant and important again. People will want to join guilds, be more social and do more within their guild to take advantage of the perks. This will strengthen the WoW community as a whole; it will help people be more social and friendly to those within their guild and outside of their guild.