Play Wii Games Online: Online Social Gaming that Keeps you Busy !

JumpCat
Have fun and play Wii Games online with Jumpcat ! They say that cats have nine lives but in this Wii game that is not altogether true. You will be faced with the task of helping this cat run for as long as he can while avoiding the various obstacles such as rocks and log stumps that will block his path. Use the left and right arrow keys to guide the cat's running direction and the mouse to jump. The A key will allow him to jump even higher earning you extra points. To play this game click on the following link.
Image Credit: PetGames
Tangerine Panic Xmas
It's that time of the year again and Santa needs to survive it to deliver presents. Santa will need to be protected from the out of control tangerines that will fall from the sky as he is on his nightly delivery. Even though tangerines would be an great stocking stuffer, they will have to be controlled from rolling out of control and hitting Santa. Use the arrow keys to help Santa escape these wild citrus fruits before it's too late. To play this game click on the following link.
Snowboard Betty
It's winter time and everyone is gathered together to slide down the slopes. This includes Betty who is known for her skills on the snowboarding arena. Help her get past all the tree stomps, ramps and other interesting obstacles that stand in her way as she glides downhill. Use the mouse to angle her smoothly around and towards the hovering flowers that she will gather along the way. Be careful not to run into any of the tree stumps this will cause Betty to fall. To play this game click on the following link.
Save them Goldfish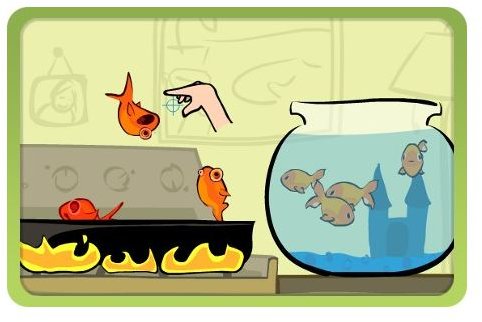 This is so wicked ! If you are a pet lover, then as you play these Wii games online you may feel your stomach turn. You never know who you are living with until it comes down to something you care about. You have just gotten your brand new gold fish and your roommate is home for their lunch break. Guess what they want to have for lunch. Fish ! Your goldfish if you don't hurry and save them ! You will have to point the mouse at the pan that your roommate will be attempting to fry the fish in and drag the fish back to the fishbowl. What cruelty ! This game seems the most colorful of the online social games that Wii offers. To play this game click on the following link.
Image Credit: FlyTrapGames
Van
The music festival in Glastonbury is on and you and your band must make it there in one piece. Unfortunately street hippies would like to keep you from accomplishing your task. You will be on a 3 lane highway where you will need to dodge the oncoming traffic by using the mouse to shift left and right into another lane. Click to mouse to create an oil spill that will send your enemies spinning out of control as you pass them to complete your mission. This game may test your reaction time out of all the online social games above. To play this game click on the following link.