Star Wars PC Game: Review Of Star Wars: Best of PC Collection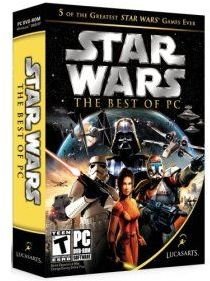 Star Wars: Best of PC
Five great Star Wars games
If you are a fan of the Star Wars movies and like to play PC games, then you may have found that half of them are really good and the other half are so-so. It's a much worse ratio of good to bad on video game consoles. That being said, I was really happy with the selection that came in Star Wars: The Best of PC. These five games are actually some of the best Star Wars PC games released in the past few years. Here's what you get:
Empire at War – This is a strategy game, sort of in the style of Command & Conquer. It's probably the least popular game in this collection, and considered to be an extremely difficult one to play. I think this is the filler title of the five, and I think they should have included Battlefront 2 instead.
Knights of the Old Republic – This is one of the best RPG's (role playing games) ever made, and it is set entirely in the Star Wars universe. It will take you hours to complete this one, but it is so much fun. The sequel wasn't half bad, either. The same people who made this game went on to do the excellent Jade Empire RPG.
Battlefront – This is probably the best Star Wars game made in the last few years. Before that, the best was probably either X-Wing or Tie Fighter. This game is a first person shooter, and what makes it so much fun is playing online, where the gameplay is quite similar to the Battlefield games. The sequel wasn't quite as good, but this first one is definitely worth having.
Republic Commando – This is a really fun first person shooter done in the style of the Call of Duty games, where it is sort of an interactive movie experience. In this, you play a republic commando going on a series of missions with other commandos to back you up. This one is pretty challenging and the graphics are very good.
Jedi Knight II: Jedi Outcast – This is a very good action/RPG done in the style of a FPS, but with some character building elements like an RPG. It was a very popular title and definitely worth checking out. It's a lot more in-depth game than Battlefront or Republic Commando.
All in all, I was very impressed with the line-up offered here. You can buy the collection for @ 40 bucks, and that's a great deal considering how many hours of gameplay you'll get for your money. Knights of the Old Republic alone will take you a couple of weeks to finish. Battlefront has an online multiplayer part that'll keep you coming back long after you finish the single player portion of the game. The bottom line here is that if you like Star Wars games, this is a great collection to own.
This post is part of the series: Best of Star Wars
A collection of reviews of the best Star Wars games.