Sins Of A Solar Empire Review: Redefining The Space Strategy Game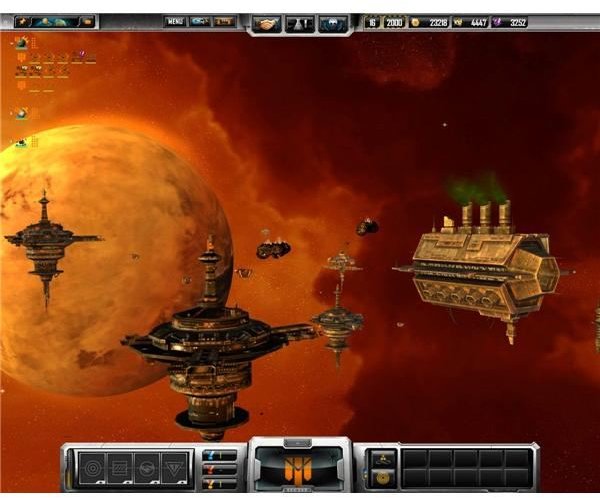 Strategy games normally follow one of two paths: on the one path, the player is required to micro-manage economies, conquer enemies and control the tiniest movement of their troops. On the other path, real-time strategy encapsulates 'as-it-happens' decisions – moving troops to a location to attack or defend, bringing up reinforcements and quickly changing strategies as the game unfolds. That was before Sins Of A Solar Empire, a space strategy game which merges the two paths into a flawless hybrid that is as wonderfully innovative as it is incredibly addictive and enjoyable. It's 'Homeworld'crossed with 'Age Of Empires' and that timeless classic 'Elite' and is a joy to play.  What's more, it plays fantastically well - and looks gorgeous - on even modest-spec PCs.
Storyline
The premise of the game is simple, if unoriginal. The game puts the player in charge of one of three factions in an epic battle for galactic supremacy and the player's ultimate goal is to dominate the galaxy by colonising every planet in a map. Players begin with a single, small planet and a few construction ships and it is from these meagre resources that the player must build their galactic empire and spread out into a universe consisting of of as many planets as the player wishes to put into the game using the customisable map generator.
Gameplay
The planets can be used as tax generators, spitting money into the player's coffers, as well as acting as bases and resource and production centres. Every planet also features a construction area and gravity well, in which building and space combat occurs. Moving around between planets takes place via a collection of predefined paths that present a series of strategic problems and challenges.
While the player's decisions all take place in 'real-time' mode, the pace of the game is fairly sedate and allows players to develop planetary infrastructure, conduct diplomatic relations and buy and sell resources among a plethora of other micro-managerial tasks. It is in the combat that the game takes on a real 'real-time' aspect, which is decided by spaceship strengths and weaknesses, along with tactical positioning and other factors – all of which are stunningly rendered. Players have a large amount of individual control over their galactic navies. Each of the races have their own purpose-built spacecraft – from Capital vessels down to snub-fighters and everything in between and players can mix and match the vessels to get the best balance in order to complete their objectives.
Downsides
One glaring omission from Sins Of A Solar Empire, is the fact there is no single player campaign. Instead, single players can only play a series of stand-alone scenarios, rather than working through a series of related missions. However, Sins Of A Solar Empire does contain an impressive collection of custom-designed sandbox maps, as well as a powerful custom map editor which allows players to create their own universes, thus prolonging the single-player experience. There is also a multiplayer function available, which allows players to join in large scale space combats.
Summary
Sins Of A Solar Empire is an utterly huge game. From the gorgeously rendered space combat, to the massive play maps, the sheer depth of the game will leave players wondering where the time has gone. The game redefines the strategy genre and is destined to become a classic of the genre.
**
System Requirements:
**
Minimum - Windows XP SP2/Vista, 1.8 GHz Single-Core Processor, 512 MB RAM (1 GB for Windows Vista), 128 MB DirectX 9 3D Video Card (Radeon 9600 / GeForce FX 6600 and above), DirectX 9.0c Compatible Sound Card, DVD-ROM Drive, 3 GB Hard Drive Space, Keyboard and Mouse, DirectX 9.0c
Recommended - 2.2 GHz Dual- or Quad-Core Processor, 1 GB RAM (2 GB for Windows Vista), 256 MB DirectX 9 3D Video Card (Radeon X1600 / GeForce 7600 and above)
Images
This post is part of the series: Sins of a Solar Empire Reviews
A collection of reviews for Sins of a Solar Empire and its expansion packs.