Introduction
Soldat is a very interesting break from the generic first person shooter genre of video games. It's a two-dimensional game that is played from a side perspective. At first glance, it looks like an elaborate flash game with a little extra blood and guts. But once I started playing I realized it was definitely more than that. The selection of weapons is very large and the intricate multiplayer system is on par with any client/server game.
Features
At the time of this writing, the game version number is 1.4.2. The game boasts over 18 weapons and an infinite supply of maps thanks to an available map maker (64 maps come by default). Depending on the map, every player has a jetpack they can utilize by right-clicking. If you don't feel like playing against other people, you can setup a local server and add bots to it. Be careful not to set the AI too high, though – it becomes more or less impossible to kill them. If you ever get bored of a plain old deathmatch, Soldat has 6 other game modes to offer ranging from capture the flag (a popular mode among the server list) to Rambomatch – where you can only get points by shooting using a Rambo-like bow.
Requirements
Any newer computer is nearly guaranteed to run Soldat. The Soldat manual lists the minimum requirements as a 333MHz processor, 32mb DirectX 8.1 compatible video card, and "some hard drive space." The install file itself is not even 15 megabytes – it's a pretty light weight game.
Cost
Soldat is actually free to play, but without paying for a registered version some features are limited. For instance, you cannot alter the resolution that Soldat will run in. For users on a high-resolution monitor, this will be a painful experience and compelling motivation to go buy the full version. The cost has risen a bit as the game has progressed but at $13.99USD it is still a relatively inexpensive game. Things registration also buys are player customization, the ability to listen to custom MP3's using a built-in MP3 player, and custom user profiles.
Overall (5 out of 5)
Soldat is a fast-paced and highly addictive shooter that offers a unique perspective on game play. It's also important to note the expansive community that has formed due to the game: the official Soldat forums have over 300,000 posts. Learning how to play the game only takes minutes and starting the game takes even less. 5/5 for this free shooter.
Images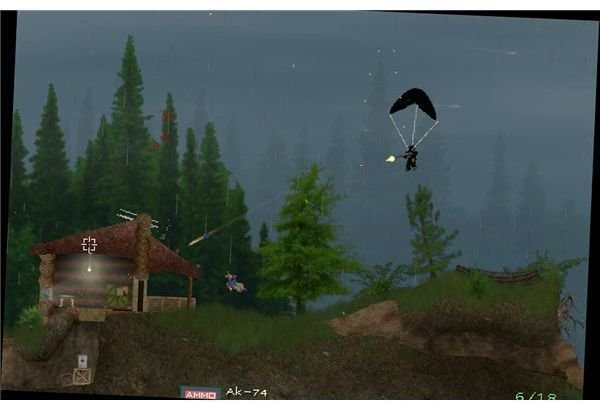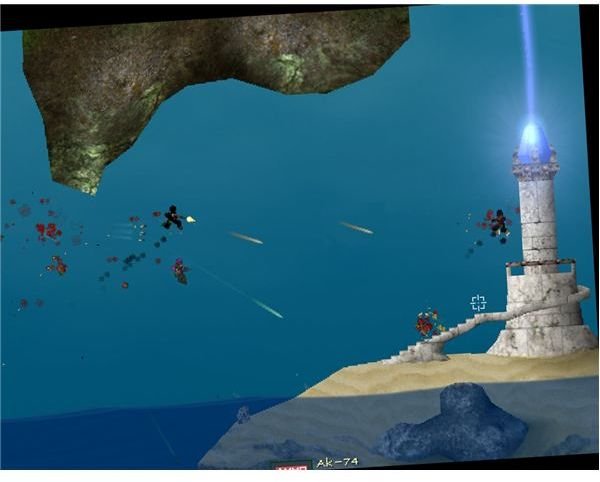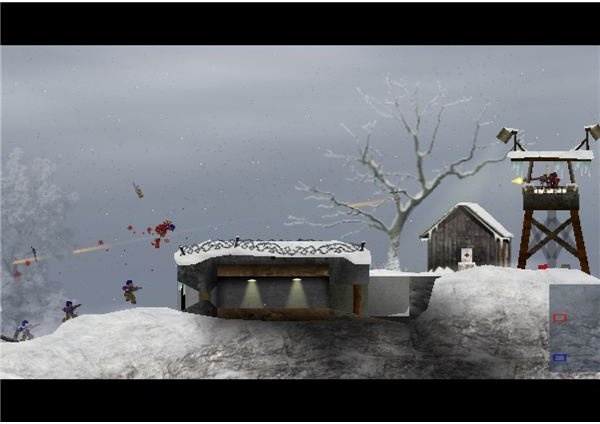 Free Shooters Series
Part 1: "Soldat" | Part 2: "America's Army" | Part 3: Wolfenstein: Enemy Territory