Playstation Home Free Items and Where to Get Them

How to Get Playstation Home Free Items
In the massive social media network of Playstation Home, you will find an abundance of fun features and areas based on video games to chit chat with your friends. They also have clothing stores to suit your avatar as well as having furniture for your avatar's pad. Unfortunately, most items you have to pay for and can range up to $10.00. On a good note, there are many free items to find as well, some are even found scattered in different areas.
The Welcome Back Package
Ever since the April outage of the PSN, Playstation home has offered up 100 free items to choose from. Of course some seem minor such as tee shirts and small accessories, while others used to cost up to $5.00 such as animated dresses.
They even have the garage area of the Playstation Home mansion available for free. Other items include wigs, astronaut suits, odd hats such as a jelly fish and the city of Bangkok, sofas, decorations, and the Dragon's Lair pad.
Free Costumes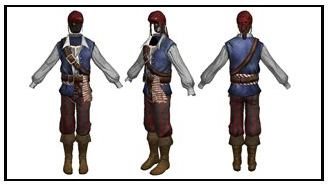 Usually costume bundles are the most pricy, but some are absolutely free and aren't too shabby if you like to dress your avatar up in a silly fashion. The fantasy male adventurer costume is now free if you wish to look like you cam straight out of a Final Fantasy game.
There's also a mummy costume in both female and male sizes and a pirate outfit set for males. Some of the most interesting happen to be the silver nude android costume and a random outfit designed as King Tut.
Free Clothing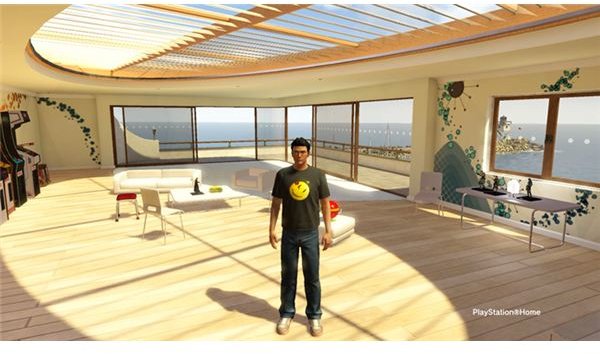 You can find many gaming related tee shirts in places that are made for the specific game, such as the Resident Evil 5 set. You can also go to the Threads store and find many free tee shirts as well as other clothing pieces like basic shorts, pants, earrings, even shoes.
They have bright yellow track suit bottoms for free if you want your avatar to look straight from the 80's, or you can go more subtle with a free pink or blue tee shirt. There's also free hoodies to choose from that come in orange or red.
Free Decorations and Goodies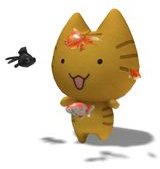 The free furniture sets include the Paris clock tower furniture set and ornaments. They also have a free retro style telephone, a small sized bed, and a Namco arcade. There's a wall mount featuring the mask from Castlevania: Lords of Shadow if you are interested in making your Home a bit ghoulish. If you or your friend owns the Waterfall Terrace Home, you can fish and earn some fun prizes, one of which being a full length green couch.
Out of all the Playstation Home free items, some of the best are at the LocoRoco Island, in which you must collect small buzzing critters in exchange for some cute items. There's also some Japanese food and toy items at the Irem Festival Square and the Irem Beach, where you can go under the water and find sunken jewelry.
Free Rewards Items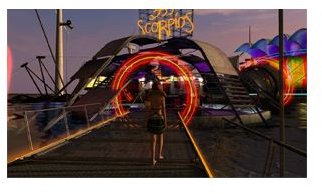 Playstation Home has an abundance of reward items when you enter certain spaces. One of which is the new Aurora Dreams, a place where you play an interesting racing minigame to get goodies such as logo tee shirts, robotic decorations and couches for your personal space. If you love playing quiz games, checking out the Buzz! Studio might be worth your time. You can play 100 rounds of answering player submitted trivia and earn yourself a supreme quiz master tee shirt.
If you know someone who owns the Playstation Home mansion, you can earn rewards for playing a game of chess or simply watching something on the television set. The rewards include gold items like a gargoyle, Victorian style bed, bathing suit, robe, and a gold plated bathtub.
One of the most known areas to earn free rewards is the Sodium Hub. Here you can play racing minigames and earn points to collect some clothing and accolades. Keep playing the Salt Shooter game to earn a futuristic jacket as the final reward.
Get the Home Experience without Paying Real Cash
Getting Playstation Home free items takes some searching, but you can find many diamonds in the rough without paying a cent. Why pay for virtual items when you can get some great stuff for free? Playstation Home is a great time waster and a hobby for some, but you don't have to pay a lot to have fun in this social platform.
Search far and wide to discover some awesome free items that have you been missing out on. You can always check back in Playstation Home for updates, sometimes they will list the free items for you.