Evolving MMO Progression - Character Legacies and Inheritance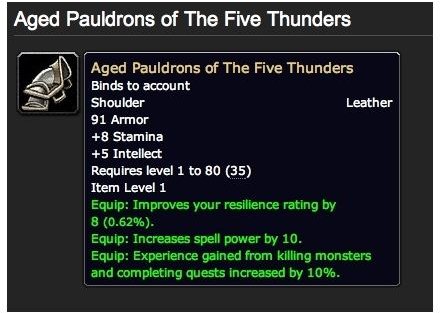 Introduction - New Modes of Advancement and Character Development
Everyone who's played an MMO is familiar with character development to some degree. There have been many ways to push it, but the most common is level and loot progression. You kill X monster for Y experience and some chance at Z loot. Easy, straight to the point and one of the major fundamental mechanics in today's MMOs. Be that as it may, is it really the only viable progression path out there? After all this time and development of supposed next-gen gaming, isn't level based progression for a character and that character's player a little dated and boring?
Rewarding the Character and the Player
Before I get too far ahead of myself, you're probably scratching your head at the phrase "a character and that character's player." Most people never really stop to think that the rewards given out to a player for spending X amount of time in a game (usually called veteran rewards or some such nonsense) are usually for decoration. True, World of Warcraft and a Everquest 2 have instituted a system of heirloom rewards,
in which a character may give items found or earned on one character to another that would normally not be allowed to be traded with other players and World of Warcraft's even scales to the level of the new player, but aside from that, there's no real attachment from one character to the next. Sure a person can make up any story they wish and roleplay until the cows come home, but in the end the game mechanics for such a thing are non-existent. Also, most of these items don't rear their heads until you're a higher level, where the company then expects you to make another character and play the game again.
Inheritance
Not all items on an adventure will invoke emotional responses. But what of those that do? What of those that I pick up and think "I want my bloodline to possess this throughout the ages?" And what of those items you find early in your character's life that you want to hold on to, but wish to pass on for either sentimental or practical value? I speak, of course, of the topic of inheritance: the bequeathing of items from one generation of characters to the next, via in-game mechanics and with in-game reasons and repercussions.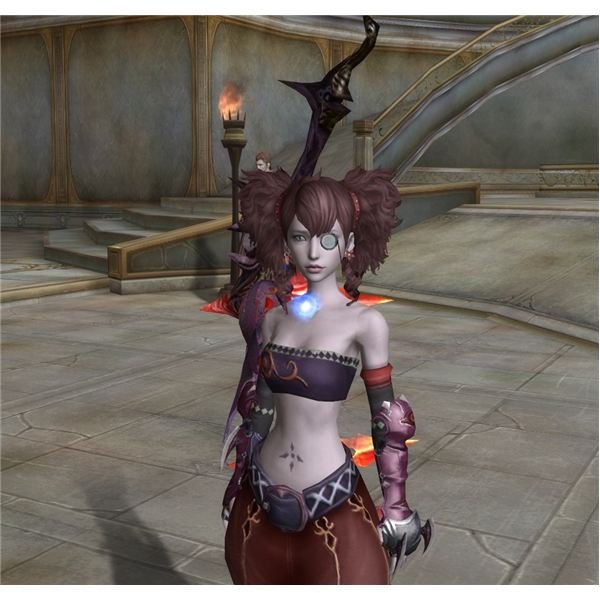 The idea of alternate characters is by no means new. Many of us have more than one character active when we plan an MMO and the reasons for such usually stem from being locked into classes or scoping out different factions. When you make a new character, even if you have a made up reason to do so, it just appears as yet another character on your character select screen. Given the mechanic of inheritance, we now introduce living methods, aging and legacies to our virtual worlds.
John the Warrior
The only way today's characters die in an MMO for good is if we personally delete them. We wouldn't want our hard earned time and loot to go to waste now, would we? Of course not. There have even been a slew of rants and raves about who owns virtual property and even players committing suicide because they get so attached to the things they've earned. What if we turn the focus from item-centricity to something else? The whole idea is probably best expressed in an example.
Let's say I create a character named John. I choose John to be a hardy warrior, best suited to the ways of a blade and shield, with heavy armor. This suits John and he makes a good living as a warrior, starting out with his home town's militia and slowly working his way up to be a war hero while serving in the local magistrate's army under the Queen. He's led a great life, battled many foes and collected many spoils. He ages, like most men do and soon finds himself doing more desk work than adventuring. His skills begin to slip and he realizes that soon, he will have to father an heir to continue his legacy or all he's done will be forgotten in time. Of course, John doesn't want this, so I create his son George. George has inherited many of his father's traits and John instills some of his wisdom in the ways of the sword before he is fully retired and spends the rest of his days in the castle, mulling about and advising the Queen's battlemasters. Meanwhile, George like the idea of swords, but he's not sold on the idea. He definitely knows how to use one, but he's more interested in the budding idea of magic and its uses for the good of the kingdom. He goes off to the academy and incorporates what he's learned with the idea of magic and in the end, evolves the warrior class into a battle mage class.
Let's Break it Down - Mechanics of Alternate Methods of Character Development
It's a fairly short example and it could have gone in many directions, but let's look at the mechanics of it. John earns a lot of loot during his time and he doesn't want it to go to waste. In our game, loot doesn't play as much of a role in battle as things like skill and tactics do, but you sure wouldn't want to show up to a battle naked and without arms. So, the ability to pass things, legendary things, down in some shape or form is one of the abilities of inheritance. Should it scale? Should it hold untapped power until the heir understands and learns how to use it? Or should it be dangerous in its outright power, posing a threat to the wielder should he try to use it without the proper knowledge? Next, the idea of extending rewards beyond the character to the player; the idea of lands and title. Surely John would have been rewarded with much land and other tangible legacies to pass on to his son. Perhaps there is a large estate with servants somewhere in the country, or perhaps he forsook all that for an honorable title and placement at the Queen's side at all times, sheltered in the palace itself. These are now passed on to the subsequent characters who maintain that good standing. John is now viewed less as a supreme hero who should be lauded and worshipped in the player's eyes, to a strong link in the chain of his virtual family name. I mention good standing because with a mechanic like inheritance, there are so many different directions you can choose to take and being able to besmirch one's name should be an option. If I choose George to forsake all his father has done for him in his rebellious teenage years, that should have consequences. He could lose his land, sully the family name and be stricken from the palace records forever! He makes his own path and whatever he accomplishes in his life will be the legacy he sets forth for his children as well.
The Fourth Dimension
The idea of age and inheritance also adds another dimension to the gameplay one experiences and that is the fourth dimension: time. You can only accomplish so much in a lifetime, so the choices you make while your character is alive are important. It gives meaning to actually spending time in the game instead of just standing in your major faction's city, putting your awesome armor on display on top of the bank or mailbox for all to see.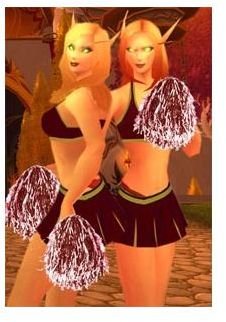 People, including NPCs, know your name and praise or shun you in the cities. Your legacy follows you wherever you go. You can fall from greatness into darkness, or rise from nothing to achieve that same greatness, but you have X amount of time to do it and you obviously can't do everything. It becomes a selection, or a prioritizing situation where you as the player must figure out what is important not only to you, but to your character and what is necessary to put your stamp on some facet of the world.
She Loves Me, She Loves Me Not - Relationships and Romance - Children and Families
Now, this also adds yet another layer to the game, which players may or may not like, that's found in many roleplaying games, past and present: relationships.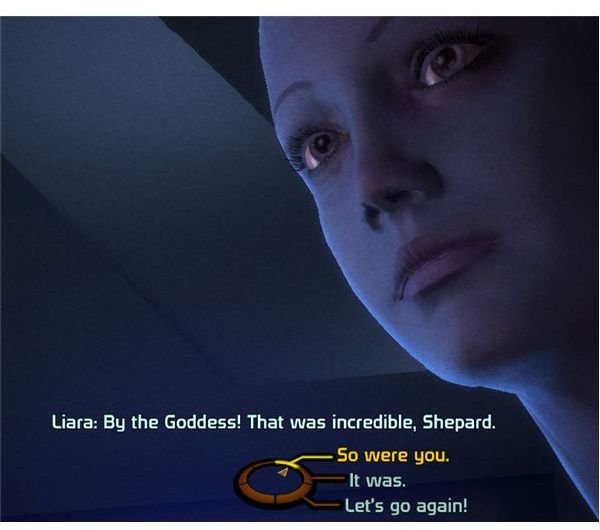 The extent of the development of relationships is up to the creators of the game, obviously, but I'd think that the mechanic would still have to be there, no matter the form it would present itself in the game. The choice of when to foster these relationships also plays a role in the development of the character, as you can choose to live a full life before settling down, confident that you have a good choice of legacies to leave your heir, or you could run off and marry / reproduce early, producing offspring that you don't have much with which to bequeath, basically starting as a blank slate aside from whatever you've accomplished thus far to help them. You could also choose never to marry and reproduce and when your character dies, you make a new character and start from scratch. These are just some of the options I can think of.
Character Retirement
Our character has lived his life (or maybe you're just sick of playing him), but he holds a few things in his heart and has accomplished a few things that took you some time to pull off, so we don't want to completely scrap him. We've found a suitable mate (even if it was in a brothel) and our new character is ready and primed to pick up the slack. What happens to the old character? What really happens to John?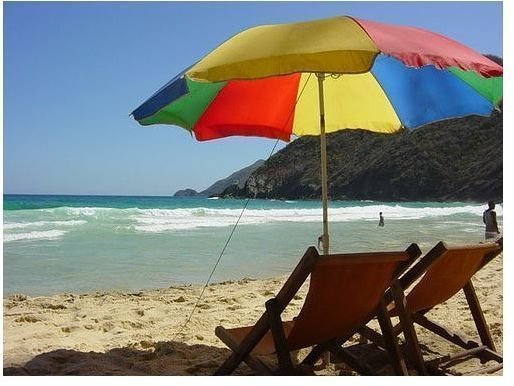 Well first off, he'll disappear from the character select menu as he's no longer playable, but he doesn't disappear from the world. You see, when a character is "retired," their accomplishments are calculated and you have a bit of a choice. In John's case, we already noted that he was serving as the Queen's advisor. And sure enough, should you happen to visit the palace and gain an audience with the Queen, John will surely be there, close by, ready to give advice to her. What if you decide to retire early though? Well, a number of things could happen, from running off to bolster the numbers of some large NPC army to joining a local bandit raiding party. The options are endless, but by adding in this little feature, the work of the player doesn't go to waste just because they're not playing their character anymore. There is now a living, breathing repercussion in the world based on the player's actions.
Conclusion
There are obviously many more things that go along with the idea of legacies and inheritance, such as different races and their lifespans, allowing only one character per player per server, class evolution (as pointed to in George's choice to meld swordplay with magic) and myriads of other things beyond the scope of this article. But, you have to start somewhere, right? The idea of level / loot based progression is antiquated and there are many more viable options available to gamers. We've been crying out for innovation in the MMO industry as of late, so here's to hoping some things that have the -treadmill suffix attached can be looked at and reworked for the sake of all bored gamers out there.