How to Run Dos Games in Windows Mobile with DOSBox Pocket PC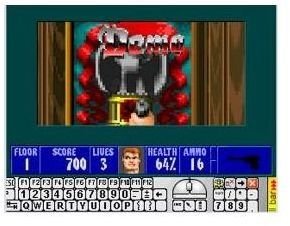 DOS Emulator
It isn't the most obvious use for a state of the art mobile communication device, but it is a lot of fun, and can instantly breathe new life into not only long-missed games but also the MS DOS platform.
Several MS DOS emulators exist on Windows Mobile, but the most popular and recommended is the Windows Mobile version of the popular desktop MS DOS emulator DOSBox.
What is DOSBox Pocket PC?
The DOSBox Pocket PC app a version of the main DOSBox emulator designed for Windows Mobile devices with screens of 320x240, and features:
• Three customizable toolbars.
• Two new mouse emulation modes (Touchpad-like mode and D-Pad mode) ensuring that mouse will work in any game.
• Hardware buttons mapping. Mouse buttons can be mapped to them too.
• Left/right screen rotation.
• Forced toolbar display with tap-zone or hardware button.
Installation of DOSBox Pocket PC is quick and straightforward. When you come to choose which games to install, stick with MS DOS games upto and including 1993 to be on the safe side, for performance reasons.
Wolfenstein 3D
One great example of a game to download and run with DOSBox Pocket PC is Wolfenstein 3D, released in 1992. This freeware release can be found at The DOS Games Archive.
Once DOSBox Pocket PC (or whichever emulator you choose) has been downloaded and installed (always install on the Windows Mobile device, never the expansion card), you should setup a folder on your Windows Mobile device, or preferably on the memory expansion if you have one. Call this folder "Games"; this will be the home for every MS DOS game that you install onto your device.
Configuring DOSBox Pocket PC
It's also worth making some changes to the configuration of DOSBox Pocket PC at this stage. In order to run MS DOS software, it is necessary to mount the installation folder as a drive on each occasion that the emulator is run. This can be bypassed however by making an alteration to the Autoexec routine.
Via Windows Explorer or Activesync on your desktop PC, browse to the DOSBox Pocket PC installation folder and open (or copy for editing) the file dosbox.conf.
Find the following line and alter the filepath as appropriate:
mount c "/Storage Card/pDOSBox0.63-p1/DosPrograms"
For instance, I changed this to:
mount c "/Internal Storage/Games/"
Installing Retro PC Games on DOSBox
The next step is to run your emulator and install the game. To do this, copy the game install files (typically a folder containing a file named "Install.BAT") to a folder on your Windows Mobile device or memory card.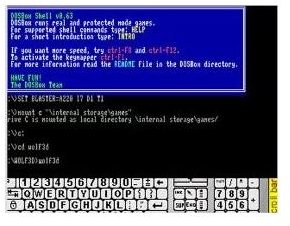 Next, you need to install the game from within the MS DOS emulator. Load the emulator, and run the file "Install.BAT". A typical command to do this might be:
cd wolf3d [ENTER]
install.bat [ENTER]
This will then run the installation routine. Change the installation folder path to install Wolf 3D (or whichever game) in the Games folder, and wait until the full installation is complete. The installation program will close, and send you back to the MS DOS prompt.
From this point on, it is a simple case of launching the game –
cd wolf3d [ENTER]
wolf3d [ENTER]
As long as you're familiar with MS-DOS this should be pretty straightforward - if you're not, it will take 5 minutes to learn.
Gameplay and Tweaks
The interface allows both use of the DOSBox Pocket PC virtual keyboard (stylus controlled) as well as a finger or thumb-controlled mouse via the touchscreen.
Different games will require different configurations, and DOSBox Pocket PC permits alterations to the CPU speed and screen refresh rate in real time thanks to a useful screen accessible via the typical "Settings" icon: a golden cog on the upper right of the onscreen keyboard, above the number pad.
Incidentally the DOSBox Pocket PC keyboard occupies a fixed area and is never 100% visible at all times. A scroll bar on the right-hand side accommodates this.
Retro Gaming Fun with Windows Mobile!
It is great fun to be able to revisit retro games using DOSBox Pocket PC. It's very easy to get lost in a game of Railway Tycoon for instance, although it can be frustrating trying to persuade some games to work. A lot of this is device dependant as well, with the different hardware configuration of Windows Mobile devices delivering varying results.
As a rule of thumb, however, games available before 1998 should run without a problem on DOSBox Pocket PC running on Windows Mobile 5 devices and later.
Note that you can find other suitable titles at abandonware websites, although you should always check to confirm that the game you are looking for has been declared abandonware buy the publishers.