The Best Gifts for Gamers Under £30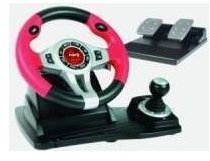 What Can You Buy?
Most newly released PC games are priced online at in and around £30. If you want to buy a gift for a gamer then think outside the box and take a look at the accessories and extensive selection of hardware available at a low price. Only the best products will do, of course, so what can you buy for such a reasonable price that still offers quality? Depending on the genre that the gamer prefers to play you could consider buying a wheel for driving games, a headset for shooter and MMO games or a handheld controller for action or sports titles.
Steering Wheel
To enhance the experience of a driving game, such as Colin McRae Dirt 2 or any of the Need for Speed games since Most Wanted (including the new Need for Speed Shift), a wheel is an excellent piece of hardware for a PC gamer to own. Making things more realistic than when using either a controller or just a keyboard, some wheels come in a package with a set of pedals and a gearstick, while some, in the style of formula one car steering wheels, have all you need in the form of buttons and shift paddles on the wheel itself. The best equipment in driving peripherals runs hundreds of pounds, so what can we find for under 30?
Logic3 Red Steering Wheel and Pedals
This one works with PC (Windows 2000, XP, Vista, and no doubt Windows 7), PS2 and PS3. With it you get a wheel and a gearstick (which may suit US gamers better, it being on the right hand side of the wheel) on one console with suction pads for stability, and a set of two pedals. You can get it on Amazon for £29.99 here.
In terms of realism, of course, there is no clutch for gear changes and you would have to pay more for a model that has three pedals, but this is not the only issue. Had the wheel been made specifically for PC it may have been better, but Amazon reviews have said that there are calibration problems and a sizeable dead zone (although this is more obvious on the PS3). For Gran Turismo, though, it apparently works excellently, and for its price it is would be a good purchase to go with any driving game.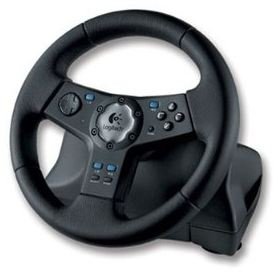 Logitech Formula Vibration Feedback Wheel
This one is a little older and when citing operating systems with which it is compatible only goes up as far Windows XP. It boasts 12 buttons, all found on the wheel, with wheel mounted paddle shifters that you can use to emulate a "flappy paddle" gear box. This wheel comes with two pedals and Dual Vibration Feedback, and you can find it on Amazon for £29.99 here.
This is one of the best PC hardware buys for under £30, with reviews all being surprisingly positive for such a reasonably priced product. It is Logitech, so you shouldn't have any concerns about the quality and indeed, the only downer among the Amazon reviews is that it supports Vibration Feedback as opposed to Force Feedback, so on some games such as Sega Rally you won't feel the rumble.
Headset
A headset can make a great gift for a gamer, greatly enhancing the online experience of those who love to play online first-person shooters or MMO games. Along with headphones for a more immersive experience you get a microphone which allows for much easier communication between team mates and other gamers.
Logitech Precision PC Gaming Headset Stereo
One of the least expensive models you can find is Logitech's Precision Gaming one, which you can find for less than £10 on Amazon.
The headphones are apparently quite comfortable and boast a rather impressive frequency response for the price. Indeed, reviews have mentioned how impressive the sound is, with one gamer saying how Battlefield 2142 has never been more fun to play. This product is heavy, though, and can get uncomfortable after a couple of hours of gaming. Its major flaw, however, is that it is not wireless.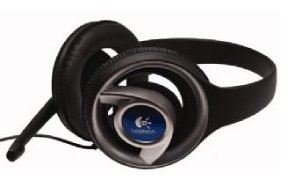 Trust GXT10 Full Size Gaming Headset
For £20.99 this looks like a good gift for a gamer who plays online shooters and wants a more immersive experience. Reviews have said that it effectively blocks out background noise and gives an accurate reflection of the gaming environment. It has an inline volume control and a handy mute switch for the inbuilt microphone.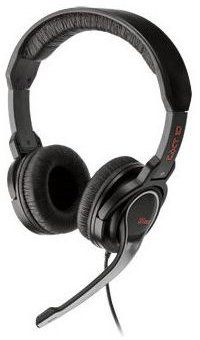 SteelSeries Siberia In-Ear Headset
If you would rather buy someone a pair of headphones which don't block out all the back round noise but cut out distracting ambient noise such as the sound of a clock or a PC running, then take a look at these in-ear, bud, headphones. It comes with a separate microphone, although its uni-directional nature may mean it is awkward to use.
These could also be quite irritating to use if they don't fit in your ears perfectly, and indeed if you aren't comfortable with pushing the buds right into your ear. They are a viable option, though, and could go along with larger headphone to give a more comfortable alternative after using heavier ones for over an hour. They also will take up a lot less space in the recipient's laptop bag, if you are buying for someone that games on the road. SteelSeries is focused on high-end gaming peripherals and generally makes excellent equipment, like: the 7G Keyboard, reviewed here, the Ikari Laser Mouse (reviewed here), or their full headphone style 5H Headset (reviewed here), though we haven't gotten our hands on the Sibera for a full test yet.
Controller
External peripherals such as headsets and wheels have been around for a while to cater to the desire for a more realistic gaming experience. This was one of the main aspects that kept the PC ahead of its console competitors, especially in online gaming. However, with the popularity of consoles having risen even among hardened PC gamers and the ability now for consoles to configure quality peripherals for use with their games, controllers for PC modeled on those from consoles have become more popular. PC game developers have embraced this rise in controller sales, and many new games (including Frontlines: Fuel of War and Tom Clancy's Rainbow Six Vegas 2) have been developed with console-style controllers in mind.
Xbox 360 Controller for Windows
That's why I thought these were worth a mention. The first link is to the Xbox 360 Wired Controller for Windows (£17.99 on Amazon), while the second is to its wireless counterpart (£27.40 on Amazon).
The wired controller is an excellent piece of hardware for gaming. Sturdy and configurable with most games (though shooters etc from more than three years ago should be checked out first), it adds to the experience in a reliable and accurate way. It has very little dead zone in the analogue sticks, and they feel like they are giving pressure back to the gamer, a nice touch if you have ever used cheap controllers with no responsiveness and only three settings in any direction (forward, still and back). You can find reviews of the wireless controller which say pretty much the same thing, although something you should be aware of, if you have an Xbox 360 in your house, is the that some controllers have been known, when the power button has been hit, to wirelessly turn on the console in a totally different room.