NASCAR Sim Racing Review for Windows PC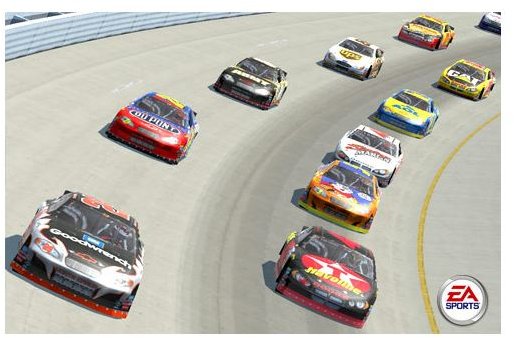 NASCAR Sim Racing (4 out of 5)
NASCAR racing games for PC was initially released by Sierra until EA Sports took over the NASCAR circuit. Developed by EA Tiburon, NASCAR Sim Racing has all the features of the legendary series. The features are in order and the game looks and sounds better than any of its predecessors. Gamers have to battle their way through various racing leagues, from racing small trucks to the typical stock cars. From the race, modes and drivers, every bit is in perfect order. To cut things short, it is a must buy for NASCAR racing fans.
Gameplay (4 out of 5)
NASCAR Sim Racing provides more than 25 highly detailed tracks including Indy, Bristol, Daytona and other imaginative tracks developed by EA and NASCAR. Gamers can either take on AI opponents in Career mode or race in an exhibition or get engaged online. With over 60 drivers to choose and a variety of venues to play, NASCAR Sim Racing assures a great racing experience.
The Career mode is a just like a rags-to-riches story, where you start from the Craftsman Truck Series, driving those slow-moving heavier truck-like vehicles. You do not get to drive any of the stock cars until you race for the National Series and the NEXTEL Cup. Besides racing, you also have to earn cash through sponsorships and merchandising. You can attract high-paying sponsors by performing better in the race circuit. The marketing feature is something I loved. You can sell your car merchandises (such as model cars) to gain more popularity. Although this is a great addition, it can be an unnecessary feature for some gamers.
Managing cars is only for some advanced users who know how to tweak their car's performance by adjusting the right tuning options. For casual gamers and novices, pre-designed car set-ups are the only option. Advanced users can customize cars by adjusting tire pressures, gear ratios and other important features. You can also analyze the car's performance through the new telemetry data feature, provided you know how to read the chart. I would suggest you fine tune your car only if you have an extensive knowledge about racing cars.
Although the initial races can be very intense, the later stages can be a little boring. The not-so-interactive environment and repetitive tracks can make your gameplay experience quite monotonous. EA could have added some variations. But, you know man; we gamers always crave from more, even if it is a top game in the industry.
Graphics (4 out of 5)
Crafted by NASCAR experts, the car models are intricately detailed and look good from every angle. The detailed environments, pit stops and sidelines are also quite impressive. But, there are some improvements to be made. The game fails to give a sense of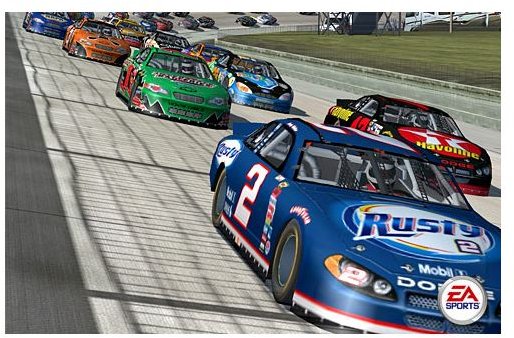 speed. Even at 200 MPH, the surroundings do not give a blurry sense. The vibrations in the steering wheel and gauges are constant even if you are travelling at a top speed. The special effects also have limited variations. Whether a car had a severe accident or a minor one, smoke from the tires always appears the same.
The game looks impressive on all systems. The engine is optimized in a way to run on most any computer. NASCAR Sim Racing, apart from some minor graphical faults, still fares well in the graphical department.
Sound (4 out of 5)
With Dolby Pro Logic II, the Audio is promising and fantastic. You can feel the high-pitched screaming sound of cars passing and the low hum of motors through your speakers. The surround sound is just too impressive. The crackling sound of pit crews informing you about the current situation is informative and helpful.
Overall
NASCAR Sim Racing is one of the best simulation car racing games. With such great gameplay value and impressive graphics, some minor problems can be easily ignored. The game must certainly be added in your NASCAR collection. So, if you want a different racing experience and want to free yourselves from typical monotonous racing games, NASCAR Sim Racing can be your first choice.
Visit EA Sports NASCAR Sim Racing Official Site
System Requirements
Operating System: Windows 98/2000/XP/ME
Processor: Intel Pentium 4 2 GHz
RAM:256 MB
Hard Disk Space: 3 GB
Video Memory: 32 MB (128 MB recommended)