Motorstorm: Apocalypse Preview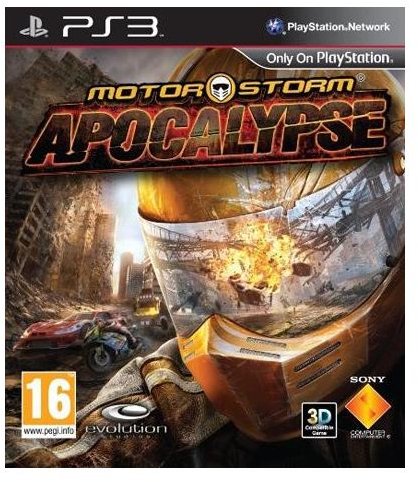 Race Through an Urban Jungle - Motorstorm: Apocalypse Preview
Developer Evolution Studios started secretly working on Motorstorm: Apocalypse since before the release of Motorstorm: Pacific Rift. During these two years, the team has been tweaking the physics and mechanics of the game, improving on the gameplay engine, and incorporating a stronger story element to the upcoming racer. Unlike previous entries in the series, Apocalypse takes place in an urban environment similar to Los Angeles. It's going to be interesting to see how Evolution Studios takes the city locales and creates an off-road racing experience around them.
Emphasis on Story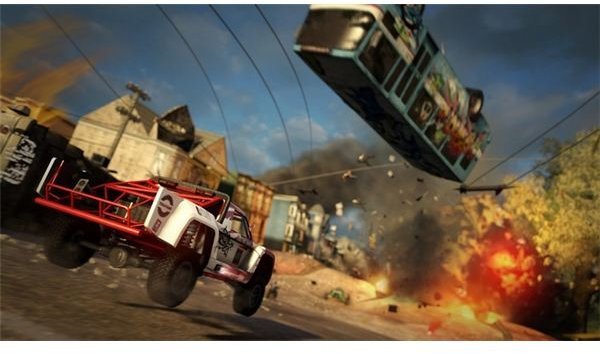 Unlike previous Motorstorm games, Apocalypse focuses heavily on plot elements. You won't get an insanely deep story, but each of the game's three difficulty settings will star a unique character with different objectives. You're at the center of a destroyed city, and it is your job to get out alive. Not only are massive earthquakes literally tearing down the city as you race through it, but you're caught in between a bitter fight among military men and radical civilian groups. The story sequences are presented through comic book stills that hark back to the scenes from games like Twisted Metal: Black.
Motorstorm: Apocalyse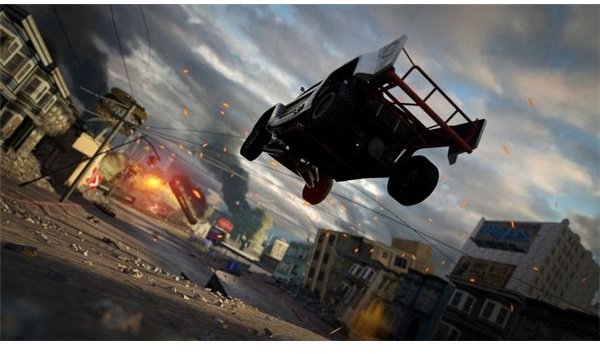 Evolution Studios has taken the core gameplay engine from Pacific Rift and added significant improvements to it. Aside from some tweaks to the game's mechanics, some noticeable additions have been implemented into Apocalypse. The game features nighttime racing, something never before seen in a Motorstorm game, and there are plenty of flashy lighting effects that should keep graphics junkies in awe. Additionally, the game's new airborne cool-down feature can be triggered by jumping off ramps and helps to keep your engine from overheating. Your vehicles can also be customized, and everything from their exterior appearance to their running power can be modified.
At its core, Apocalypse is an off-road racer just like previous Motorstorm games. Evolution Studios is definitely presenting an interesting formula with the L.A.-like environment. If you think the game's original style of gameplay will be hindered as a result of the change in scenery, think again. Because earthquakes continue to bring destruction to the city, you can expect to do a lot of crazy turning and jumping. Buildings literally collapse as you drive across their rooftops, so Apocalypse really does play like an off-road racer.
Multiplayer in Motorstorm: Apocalypse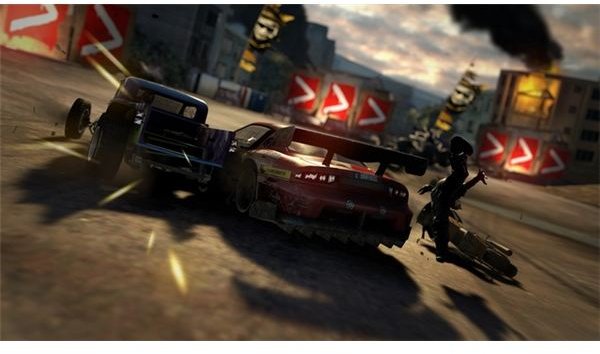 The multiplayer in Apocalypse is fairly robust and features all of the modes you could possibly expect from an off-road racing game. Up to 16 players can take each other on for competitive racing action. New to Apocalypse is the four-player split-screen multiplayer which allows local players to get together and join the online frenzy all from the same PlayStation 3. This is a nice addition, and one that will certainly make for fun get-togethers between fans of the series.
Another new addition to the multiplayer is the game mode editor. Through this feature you can adjust the rules for your races. According to Evolution Studios, this is the same tool used by the creators of the game to adjust its settings, so gamers now have the chance to set their own rules using that exact feature. Everything from basic rules to the level of destructibility within the environments can be tweaked.
A betting system is also included this time around, and you can make wagers against other players to earn cash rewards. If you win, you can choose to keep your winnings or put them on the line in another race. If you do that, however, you'd best race as fast as possible, because losing means that all of your previous earnings will go down the drain. It's a risk versus reward system that should make for some fun decision-making during long play sessions.
Motorstorm: Apocalypse Preview - Off-Roading in a Demolished City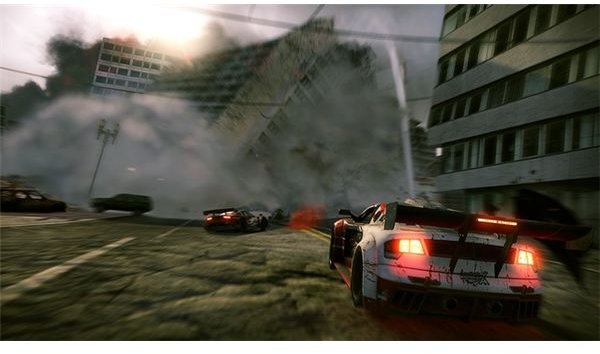 Motorstorm: Apocalypse is definitely going for a slightly different look and feel from its predecessors. Despite those differences, it's obvious that Evolution Studios wants to ensure that fans still get that familiar Motorstorm vibe when they play the game. You can expect the city-based off-road apocalypse to ride onto PlayStation 3 consoles on April 12.