Hints and Tips for Hidden Wonders of the Depths 3 - The Atlantis Adventures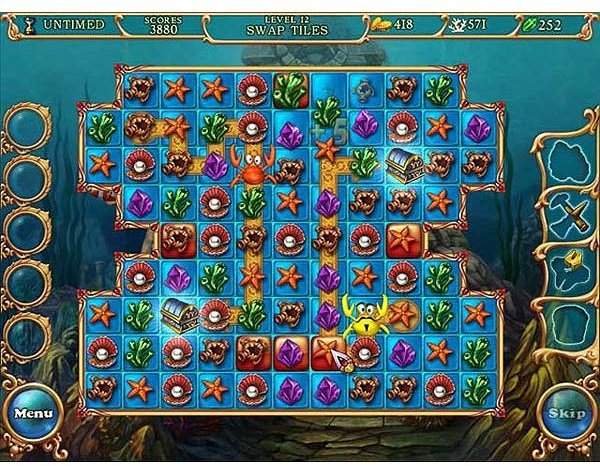 Consistent with the other Hidden Wonders games, you will spend most of your time in match three levels. The main goal is to help guide a crab through a maze to collect relic items that are located in a treasure chest. You will also need to remove all stone tiles from the game board grid.
Move the crab by creating matches of three or more like items that are located next to him. The crab will move forward as these open spaces are created. You can play the game in Relaxed or Timed mode.
In Timed Mode you will need to be very quick. Each round has a limited amount of time. To help you out, power ups can help you remove objects from the board. They are activated by creating multiple matches during play.
In between levels you have the opportunity to build a portion of the Atlantean city. These are built using resources collected during the match three levels.
On occasion, hidden object levels become available to play when you build certain structures in Atlantis. A refreshable hint button is available to help you find tricky objects. Completion of these levels earns extra resources.
As the Hidden Wonders of the Depths 3 progresses, obstacles like rocks and locked tiles will make levels more challenging. Fortunately, more tools, power ups and friendly crab characters become available to help you accomplish your tasks.
Looking to win the game? This player is not sure where it ends. This Hidden Wonders game has over 200 levels, which gives it a lot of re-playability.
Game Tips
For levels with immovable objects that block your path, first focus on breaking all of the stone tiles. This will reveal a tool you need to remove the barrier. Once this is cleared finish the level by moving the crab towards the treasure chest by creating matches.

Building structures for the city of Atlantis gives resource awards or opens up a mini-game (such as a hidden object level).

The Trident power up can remove a single tile or object.

In level 161 break the big shell by clicking on the water bubbles underneath the tools at the bottom of the screen.

A tip to help with level 75 is to create matches on both sides consistently to control the overflow of blocking pieces. At the beginning of this level, don't worry about moving the crab. Move him once some of the blocking pieces have been removed.

If you are unable to build a structure in the Atlantean city, highlight the item to see what resources it requires.
Screenshots for the Hidden Wonders of the Depths 3 article were created by Sheila Robinson.