Shiren The Wanderer Wii Review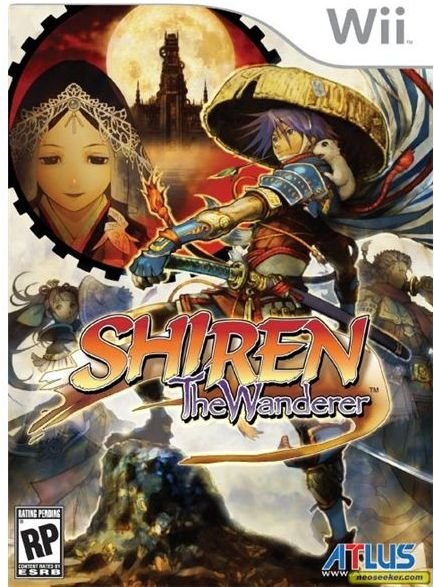 Shiren The Wanderer Wii Review
Although it would be harsh to criticise Shiren The Wanderer for its Roguelike status and unabashed dungeon crawler mechanics, the game strikes an untimely balance between difficulty and accessibility, often missing in games of this hallowed genre. The repetitive nature of this kind of game is definitely on display, but the randomised dungeons give some variation, even if they don't circumvent the pastiche of Roguelike games.
In this Shiren The Wanderer Wii review, we will look into how the game displays some RPG troupes and some contrasting elements from other luminaries in the genre, placating the idea that dungeon crawlers are stuck in a rut of story-less playthroughs and no character investment. Taking the reigns from the previous series entries, mainly handheld interpretations, Shiren now encounters the search for a mansion with great treasures and beasts dwelling inside its walls.
Setting of Shiren The Wanderer Wii (4 out of 5)
Set in a sort of romanticised medieval Japan, you take on the role of Shiren, a travelling treasure hunter and ronin (masterless samurai) who's own wanderlust proceeds him. Upon being given a key to the infamous Karakuri Mansion (basically a huge dungeon), by his uncle and aptly named Sensei, Shiren decides to scour the land searching for this hallowed place.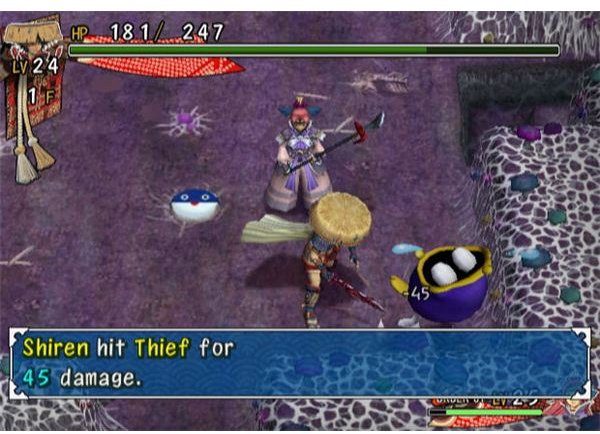 Unfortunately for him, things aren't as easy as they first appeared and obvious obstacles and engagements occur throughout the experience to liven it up a bit, with a hopeful amount of cliche ridden storytelling thrown into the mix also. With characters familiar to die-hard series fans and a talking ferret, there's plenty of variety and anime-tastic design work to satisfy anybody.
In contrast to other entries into the Roguelike pantheon, certain differences help Shiren The Wanderer Wii break away from its contemporaries. With an emphasis on story, the game takes a departure from many dungeon crawling experiences, with deliberate and well made cutscenes. Dialogue features heavily and the use of RPG styled locales such as towns or villages really helps create a living, breathing world.
Gameplay in Shiren The Wanderer Wii (3 out of 5)
As stated, the game heavily relies on its Roguelike qualities and thrusts players into dungeon crawls through randomly generated levels. Although it would be tiresome to more casually predisposed game players, the difficulty is perhaps too forgiving for veteran Diablo players, with an almost sacrilegious ability to restart from the last save point.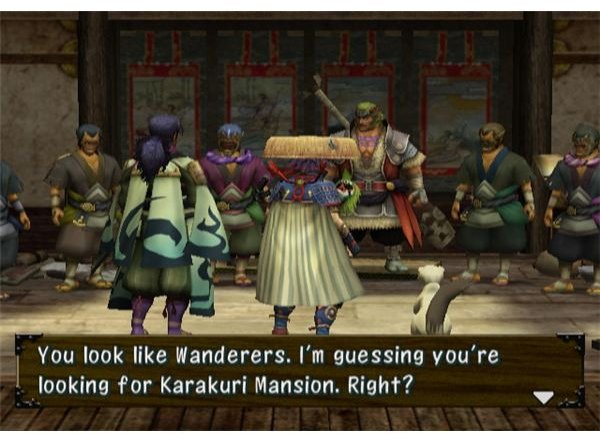 Whenever the player makes one movement, the enemies and other characters on screen will also be able to move one game tile, keeping in touch with the genre specific rules. Hence it is entirely possible, although not advisable, to miss out or dodge a majority of enemies and push forward toward the end of a certain dungeon or section boss. It is certainly best to slog through the onslaught of turn-based foes however, with a difficulty that many game players will have moderate difficulty with, at least after the first 3 to 5 hours of mollycoddling.
Another addition, one well suited to fans of Final Fantasy Tactics games, is the ability to control both Shiren and another party member when in battle. Given the stressful boss battles and rising difficulty level, it seems wise to accrue enough battle time with two characters instead of one, in order to combat the latter stages.
Aesthetics of Shiren The Wanderer Wii (3 out of 5)
Not surprisingly, Shiren The Wanderer Wii is made by Chunsoft, given it the licence and near-statuary requirement of being easy on the eye. All though frame rate isn't always traversing the 30 frames-per-second boundary; the graphics and overall aesthetic provide a decent enough aggregate against it.
With a pastiche of manga styled character designs, the action flows in an aesthetic reminiscent of Okami or other heavily cultural Japanese games, such as Yakuza Kenzan or Way of The Samurai (although their realistic tendency is absent from Shiren). Its traditional presentation and vivid coloring make Shiren a distinctly attractive Wii game; which isn't exactly the console's forte.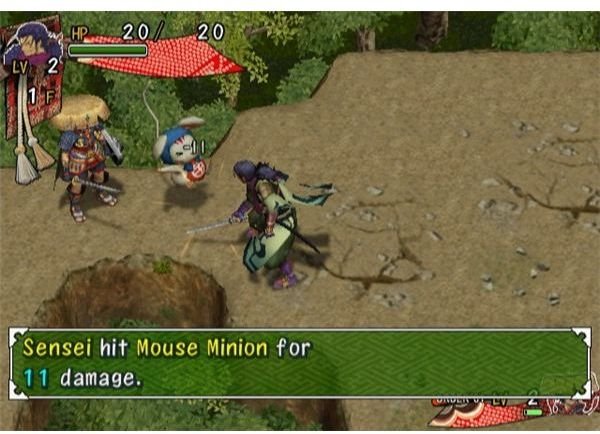 Granted, some cutesy elements within the dungeons and level designs may have weathered gamers bringing their palm into contact with a face or two, especially when it comes to typical Japanese styling's.
The soundtrack brings a gentle and impacting malaise of traditional sounds, including instruments such as the Shamisen or Taiko, setting the aural tone for the presented action. The score suits the Wii version while surpassing its hand-held predecessors. Shiren is definitely a good example of traditional Japanese aesthetics interlaced with the introspective nature of manga styled design work.
Overall Rating for Shiren The Wanderer Wii (3 out of 5)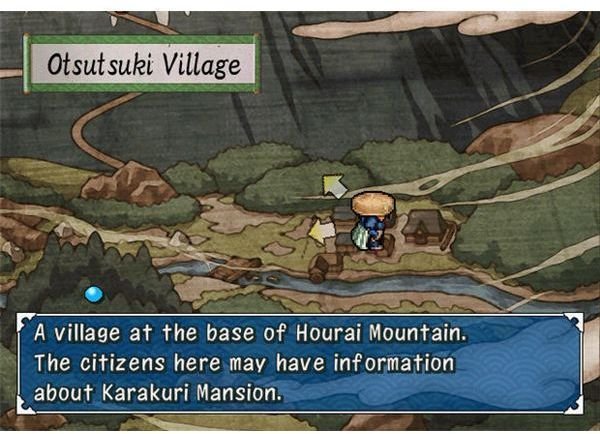 Shiren The Wanderer Wii is a decent game. Taking some cues from previous titles in the series and going back to the days of unforgiving Roguelike rhetoric in games. The accessible dungeon crawling could be a boon for newcomers to the impregnable genre seeking to acclimatise. However, its solid presentation and implacable aesthetics help alleviate the entry level of the experience, expanding upon its peers with cutscenes and a emphasis on RPG styled townships and NPC dialogue.
It is often the case that Wii games are instantly discredited due to their gnawing easiness and casual focus. Shiren The Wanderer Wii does a brilliant job of closing the gap between unforgiving hardcore gameplay and something reminiscent of a playable or enjoyable experience. Whether you enjoy the anime influenced aesthetic or are perceptible towards some dungeon crawling action, Shiren The Wanderer is a great alternative to the vestigious catalogue of Roguelike's on the PC.