Browser Game Review: Outer Empires Space Based Browser MMO game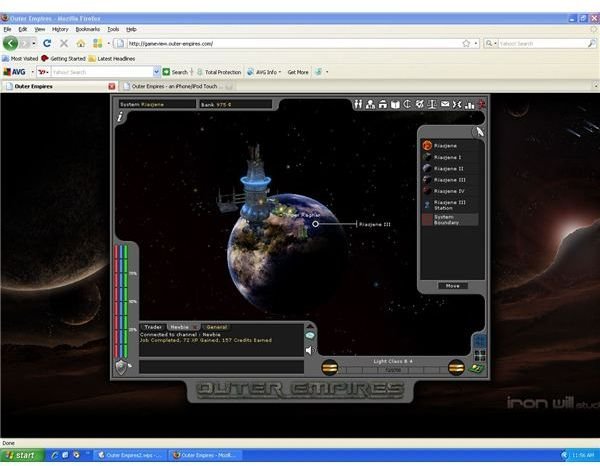 Game Interface (4 out of 5)
The Outer Empires Interface is simple but it takes some time getting used to. Across the top are all the icons in the game such as jobs, colony, market and your ships cargo. You will also find your current credits and the system you are currently in. The three colored icons indicate your fuel, power, and hull integrity. Below these status icons you will find the chat screen and on the right you will find the movement icons between planets in the current system. Clicking on a planet or station and selecting move will move your ship there. Once your ship gets to a system boundary you can select jump and use the map to move to a new system. This game is not EVE Online so don't expect great graphics but they do the job for a browser game.
Outer Empire Missions (3 out of 5)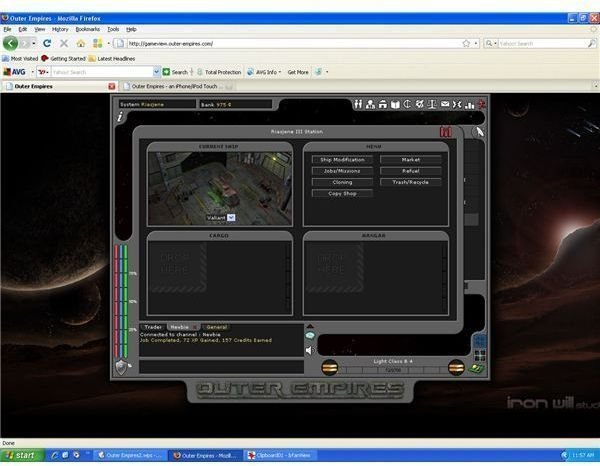 Once you have created a character in Outer Empires you will start with a basic ship in government controlled territory. You will need to get money to equip your ship with better parts or to buy a new one and the only way to do this is to take missions from space stations. These missions consist of either transporting, exploration or combat.
Transport Mission - This misson will require you to move containers of cargo between space stations. You will need to buy your own fuel at a station so your ship has enough to make the jump. You also need to take a mission that won't overload your cargo hold or you will have to take several trips to complete it. Once your cargo has been dropped off at the right space station you will receive your payment. If you terminate the job before its completed you will lose some money.
Exploration Mission - In this mission you will visit a planet and take a scan of it before transporting that scan back to the station where you received the mission from. Make sure you have enough fuel or stop off at another station to refuel before completing the mission. All government systems and planets have stations that you can refuel at so you should be fine if your target is farther away than your fuel reserves.
Combat - This mission involves eliminating an enemy vessel so you better have equipped your ship with some weaponry or your mission will be short. These missions are not recommended for new players who only have basic ships but you can try them if you have purchased weaponry.
Missions Continued.. (3 out of 5)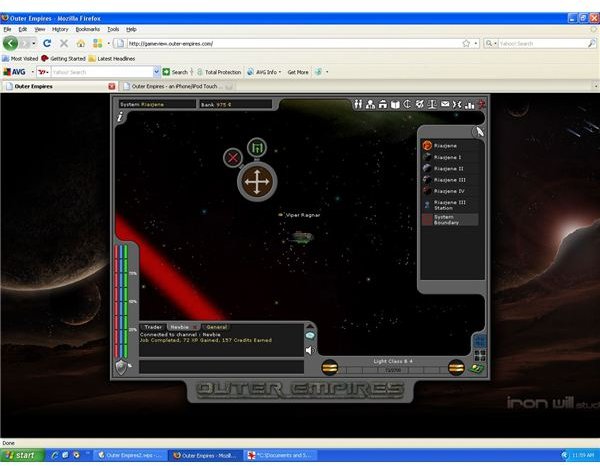 Missions in Outer Empires are your starting point in the game and you will need to do a lot of them before you can afford to buy colony "packs" which are buildings you can put on a planet and start your own colony. Colony buildings can be purchased at space stations and then deployed on a planet. These missions can also get quite boring after a while so you might want to get a new ship once you can afford one and try your hand at some combat missions.
Space Stations (3 out of 5)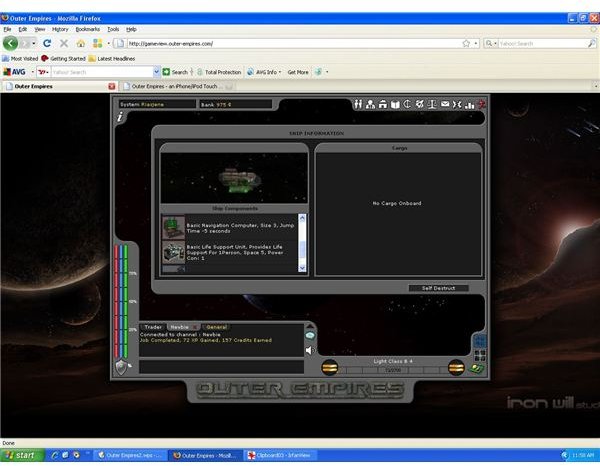 The game involves moving a lot of travel from station to station so let's look at stations and see what you can do there. Each station in government space also acts as a refueling platform. You should not venture out of government controlled space as a beginner because many of the planets colonized by other players and alliances will not have refueling station and you can get stuck there without enough fuel to make the jump back. Government space is always green on your game map.
Ship Modification - At each station you can modify your ship with parts such as new weapons, armor, engines, and hulls. You must have purchased the parts first and have enough reserve credits to complete the installation. Don't make a new ship until you have a good reserve of credits or you won't be able to fly anywhere. Ship modification is a simple drag and drop process from the hanger to your ship.
Jobs/Missions - At this section of the space station you can take a mission and earn credits. Each mission will tell you where to go and where to get your cargo from. Once the mission is done you will get paid. Completing missions earns you game expoerince and as you level up you are granted access to better ships.
Cloning - If you clone at a station you will start there again if you get killed. Only your experience that you had when you cloned will remain. Any experience you gained after cloning will be lost. It is a good idea to clone often and save your experience.
Copy Shop - here you can copy blueprints used in manufacturing only used once you have a colony.
Market - Buy goods for sale and sell any extra that you have.
Refuel - provides fuel for your ship and you can buy extra to take with you in your hold.
Trash/Recycle - Remove items from your cargo that you no longer want to keep.
Outer Empires Maps (3 out of 5)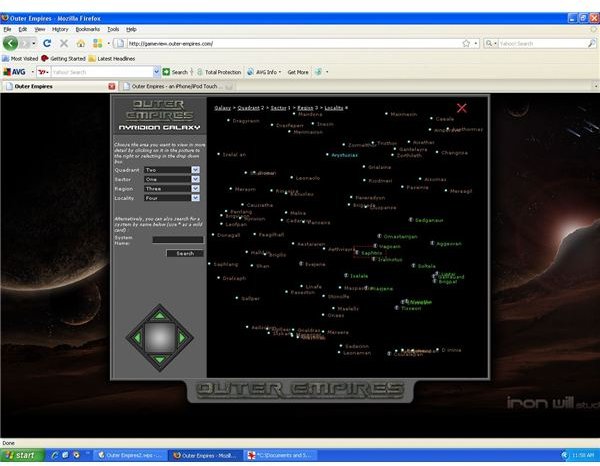 The game map consists of thousands of star systems that you can visit. The ones in green are held by the government while the ones in a different color are held by other game players and alliances. To move from system to system, go to the edge of the one you are already in and select the jump icon. The map will display and you can pick a destination. Be sure you have enough fuel to make the jump if you don't you might get stuck in that system if it doesn't have a refueling station. The bottom of your screen also contains a small map of the sector you are in as well as a tactical map showing the position of the planets in your current system. The tactical map is useful for finding any other ships in the current system.
Colonies (3 out of 5)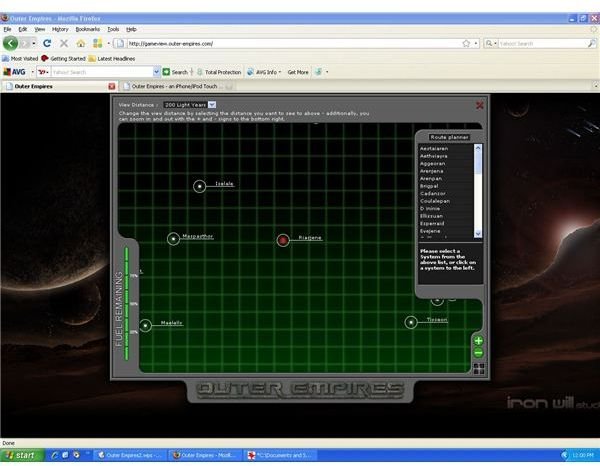 You will need to purchase colony "packs" to make a colony. A basic colony needs power, water, food and habitation packs. Once you have these items you can make a basic colony. You must also purchase workers at a space station and put them to work at your colony. If you don't have enough food, water or living space for them they will die. Once your colony is up and running you can add other buildings refine ore and turn the ore into different things to sell. You can even make your own starships eventually with many different ship types available in the game. After you have a colony you will probably want to join an alliance for protection. There are 21 different ships that you can eventually build in the game.
Conclusion
Outer Empires is a fun space based MMO browser game. it takes some time to get enough credits to develop your colony but once you do the game starts to be more enjoyable. I wish there was a better selection of missions in the game beacuse the ones currently offered can get a bit boring and as a beginner your ship isn't ready for the combat missions that are offered. The game also takes quite a long time to load on your browser and you sometime have to login again to make the game load properly. As the game continues to develop you should see dramatic improvement. Outer Empires shows some promise and could become a great browser game.
References
All images from Outer Empires
Source: Article is author's own experiences playing Outer Empires.