Planet Cazmo Review - YouTube Meets MMO Gaming

Enter The Coolest Planet In The Galaxy
Planet Cazmo is a free browser based MMO with a unique twist. Geared towards teens this hip online virtual world offers much more than games. In Planet Cazmo users can watch an assortment of YouTube music videos, cartoons, and funny short clips located in the theatre area. Users create their own character making it as human or alien-like as they wish. Equipped with a groovy skateboard and a cell phone to text buddies players can explore the planet or play mini flash games. Skateboards, rockin' soundtracks, and little green men reign supreme in this fun cosmic world. Visit Planet Cazmo for an intergalactic good time.
What You Can Do In Planet Cazmo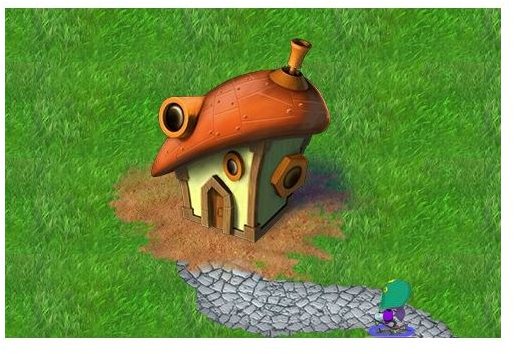 This MMO offers more than traditional massively multiplayer online games. In the wonderful virtual world of Planet Cazmo users have a special outlet to chat and watch music videos. A trip to the theatre allows players to watch a variety of different YouTube music videos, animated Cazmo shorts, and other fun clips. This refreshing spin on a MMO game creates an abundance of activities to do while in the galactic realm. For individuals who love character customization Planet Cazmo delivers. Dress up your avatar character with the latest clothing and accessories. Each player is given a home of their own. Go shopping and select cool furniture items to decorate your personal space. Planet Cazmo has 11 shops to purchase items at. Virtual pets are even available for players who want a furry companion.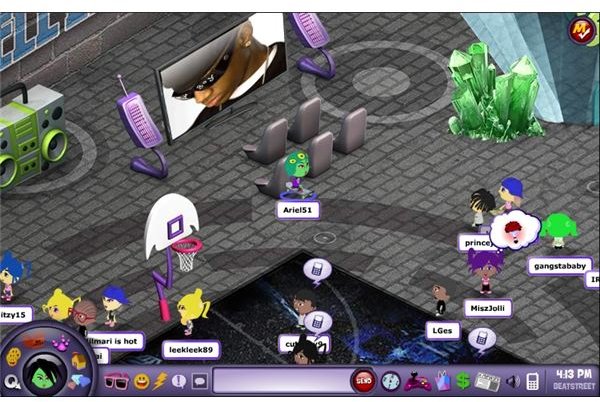 Click the What's Cool button to discover additional fun things to do. Visit the Soulja Boy Tellem area which is a designated virtual hang out spot for fans of hip hop artist Soulja boy to chill. YouTube music videos of his songs stream on giant cinema-like screens. Flip open your Cazmo cell phone and send private text messages to your cosmic buddies. When you're low on cash you can participate in a survey to earn extra coins.
Gameplay (5 out of 5)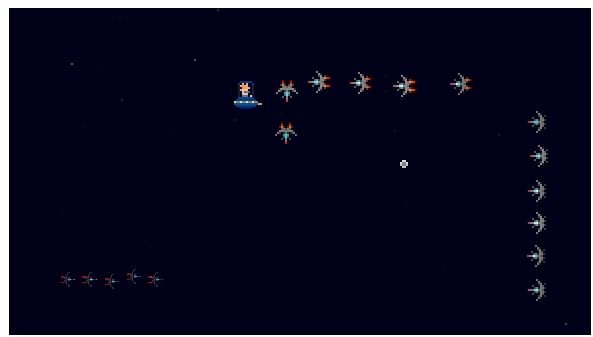 There are 15 flash games that users can play in Planet Cazmo. Some of the most popular include Gamma Bros, Cazmonaut, Alien Alchemist, and Ninja Skateboarding. In Gamma Bros players step into an 80's style arcade shooter. Hop into your spacecraft armed with a handy laser gun and blast away at the enemy. Avoid getting hit by their lasers to stay alive.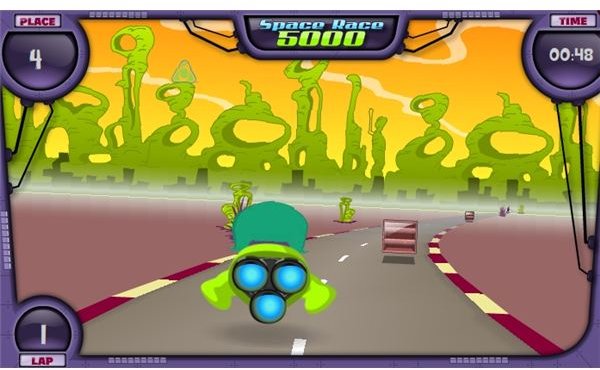 In the game Cazmonaut coins can be collected as well.Your main objective is to destroy the troublesome flying asteroids while staying out of harm's way. Alien Alchemist is a puzzle matching game. In Ninja Skateboarding you're basically a ninja skateboarding. Race through the streets avoiding obstacles to win some major Cazmo coinage. Get a high score of 25,000 points and you win a free ninja outfit for your avatar to wear.
Party Cazmo Style!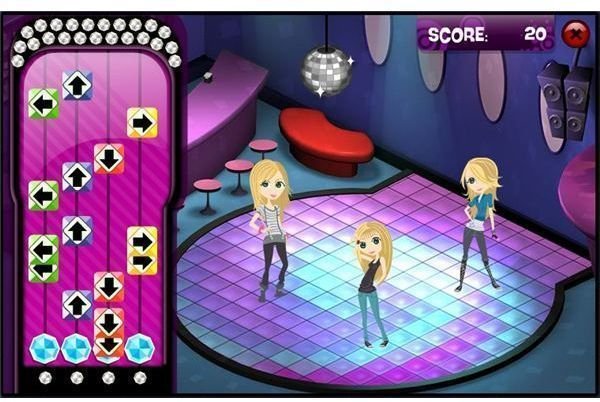 On this groovy planet players can attend concerts from your favorite artists, parties, or throw their own. Text your Cazmo buddies via your virutal cell phone to discuss where the local parties are being held. The Cazmo Arena features special events monthly. Users can check the Cazmo newspaper for listings and times. For locals who simply love to dance there are to games perfect to vibe to. The Mini-Breakin game is a competitive dance-off competition where players test their moves against others. In Dance Party the main objective is fun. Players must stay in tempo as their character dances to the latest Clique Girlz song. Similar to the popular Dance Dance Revolution games users have to hit the right arrow keys in harmony with the floating diamonds.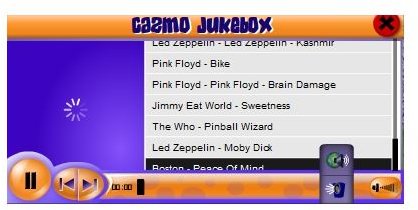 Another cool feature is the Cazmo Jukebox. When users click the sound icon the Cazmo Jukebox appears listing the current playable tracks. Songs from all genres are available in your custom Jukebox ranging from punk rock to classical tunes. Simply double click or scroll downward to select the music track of your choice. It's a non-stop party at Planet Cazmo.
Graphics & Sound (5 out of 5)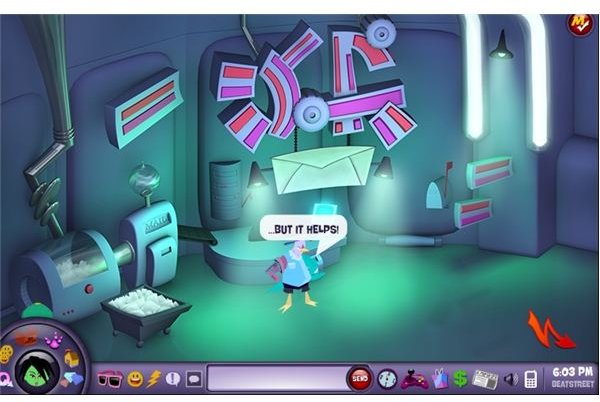 The visual aspects of Planet Cazmo are nicely done. Like traditional browser based MMOs the flash graphics and vivid coloring provides an imaginative environment worth taking notice. Planet Cazmo has a wide variety of changing interactive backgrounds including detailed cities with shopping malls. As players travel in between locations a dark space backdrop with sparkling stars appear while the page fully loads. There are animated screens that stream crisp footage of YouTube videos. The sound is impeccable. Music plays throughout the game along with appropriate sound effects. The ability to customize the music track list that plays or mute whenever needed is always there.
Cazmo Coins - Optional Subscription Model -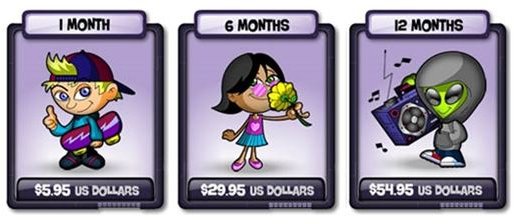 Cazmo coins can be earned by playing games and participating in specific events. Although, Planet Cazmo is a free-to-play MMO additional perks require membership. Members get monthly allowances of 1000 cazmo coins, freedom to host parties whenever they want, exclusive property, personal driver's license, cute cazmo pets, stylish clothing, special discount at local shops, and musical equipment. Planet Cazmo also has a underwater world coming soon that only subscribed members will be able to explore. Membership packages are divided by months. The 1 Month Membership costs $5.95, the 6 Month Membership is $29.95, and the 12 Month Membership can be purchased for $54.95 USD.
Overall Rating of Planet Cazmo (5 out of 5)
Planet Cazmo is one of the best teen MMOs on the Internet. The extensive amount of activities for users create a special online virtual world. There is something to satisfy everyone in this space themed environment. Games, text, chat, music, cartoons, videos, aliens, skateboarding, and sheer fun rule this cool planet. The large friendly MMO community provides a safe place for users to make friends with similar music and hobbie interests. Planet Cazmo has enormous environments filled with other users and activities to participate in. Popular games like Space Race 5000, Ninja Skateboarding, and Alien Attack keep gamers engaged. Escape planet Earth and come visit Cazmo for an awesome time!