Desperate Housewives: The Game Review for Windows PC: A Simulation or a Point-and-Click Adventure Game?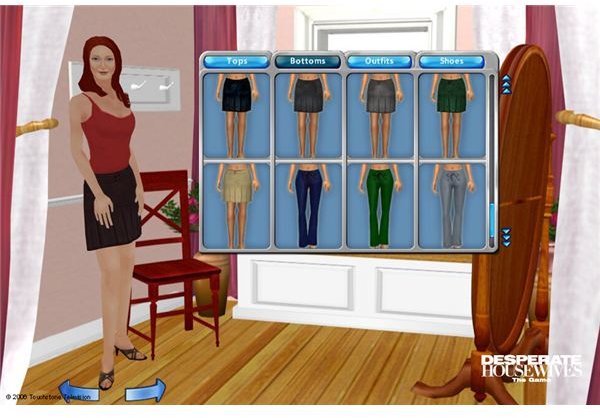 Desperate Housewives: The Game (4 out of 5)
The unparalleled success of Desperate Housewives television series spawned many types of merchandise in the form of a mini clothing line, mini gifts and sizzling wallpapers. The launch of an official video game in 2006 was a bit of surprise. Prior to release of Desperate Housewives: The Game, it raised some dubious questions: will the gameplay be similar to the plots in the original series? Is this another Sims in the making? Blah blah blah…..
To be honest, developers Liquid Entertainment tried to create something different from the original TV series and succeeded to please its devoted fans. It does borrow some gameplay aspects of Sims and tries to create a Second Life kind of a 'virtual' environment to please gamers, but does not impress in the graphics department.
Gameplay (4 out of 5)
You can call it an adventure simulation single player campaign. Yes, that's what Desperate Housewives: The Game is! There are some adventure elements where your character interacts with other characters to help the game progress. Just like any adventure game, there are multiple endings and twists. You play the character of a housewife who has just moved to Wisteria Lane, a peaceful suburban area with like-minded housewives passing their entire time gossiping, back-stabbing and shopping. There are scandals, cheats, double-crossing and a strange mystery that surrounds the main character's mysterious past, which slowly reveals as the game progresses.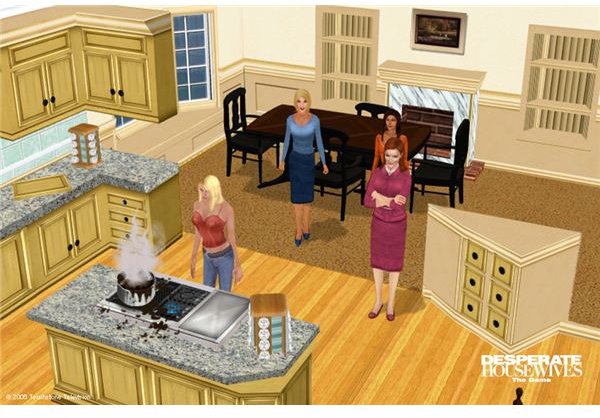 One of the drawbacks of Desperate Housewives: The Game is its too much focus on dialogues, which determines its outcome. Of course, there are some mini-games, but you have some strange dialogues to utter and interact with other housewives "desperately" to win a particular situation. Mini-games include gambling in a "fake" online Texas Hold'em or cooking variety of dishes for your husband and son. You can go out for a virtual shopping spree, upgrade furniture and flooring (hey, that's just like Sims 2) and purchase clothing. There are "Happiness Meters" that reveal whether you are contented with your life or bored. You can complete a particular level, or episode fulfilling these objectives.
Desperate Housewives: The Game features the likes of Lynette Scavo, Gabrielle Solises, Susan Mayer, Edie Britt and other popular DH stars. Unfortunately, you can never play their character. But, gossiping with your favorite characters can be fun! You can download Desperate Housewives the game Goodies from the Official site.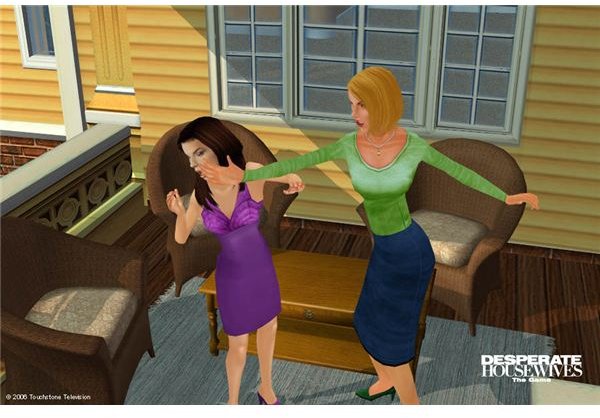 Graphics (2 out of 5)
A game like Desperate Housewives for PC should have some compelling graphics. Although the character models look similar to their Television counterparts, the game has a poor frame-rate and fake lighting effects. There are clippings galore, but the overall presentation is poor.
Desperate Housewives requires a 64 MB 32 bit NVIDIA GeForce 3 video card or equivalent graphics card, which is compatible with Direct X-9.
Sound (3 out of 5)
Desperate Housewives: The Game boasts some delightful and subtle music that soothes your ears. You will always like to hear the twangs of violin strings. The voice actors did a pretty neat job trying to ape the voices of real-life characters. Overall, the soundtrack and voice-overs are impressive.
Overall
The game is certainly for DH fans who would love to gossip with their favorite DH characters. Another unique approach by the developers is creating a storyline with a dash of mystery and suspense to it. Albeit there are some graphic problems, the game can be a fun affair for ladies desperate to grab this video game title.
Screenshots: Courtesy Desperate Housewives: The Game
System Requirements
Operating System: Windows XP
Processor: Intel Pentium 4 Processor
Processor Speed: 1.4 GHz
RAM: 256 MB RAM
Hard Disk Space: 2.5 GB
Graphics Card: 32 bit NVIDIA GEFORCE 3 (64 MB)
Direct X 9
Sound Card: 16 bit sound card with Direct X 9 compatibility