Boxing Video Games Reviews: K.O. Champs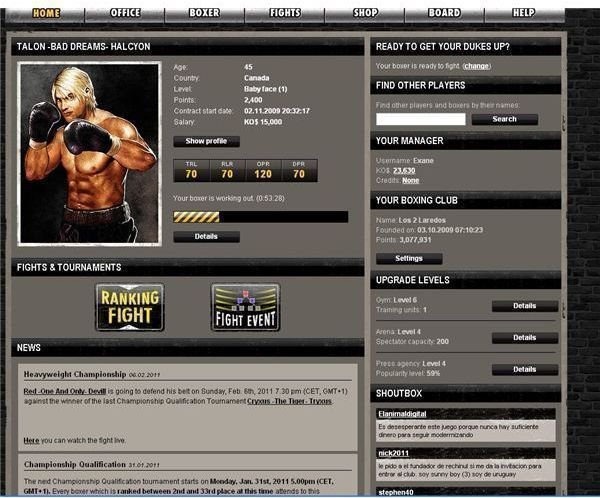 K.O. Camps Game Basics (3 out of 5)
K.O. Champs is a boxing video game you can play in your browser. This boxing simulation browser game gives you control of your own boxer as you train different moves to work your way up the ranks. Join a boxing club and fight with other users. Build your gym and get training units to spend on your boxer's training. Develop different punches and blocks such as uppercuts and haymakers. Before your fight, setup how you want your punches to work with offensive and defensive strategies. Watch the match play out and see how your fighter did. View the rankings and see where you stand compared to the other fighters in the game.
K.O. Champs – Your Boxer (3 out of 5)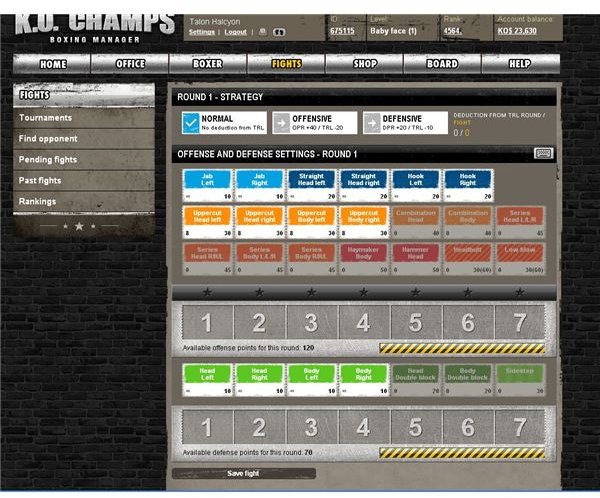 Playing a game of K.O. Champs is easy enough you pick from an assortment of fighters and you are set to go. You need to train your fighter to get better and use various punches and blocks. You can do this by building up your gym and you'll also want an arena to bring in money for your boxer. Both these structures can be upgraded as you make more money. In the game, your boxer can have a press agency and by upgrading this your boxer becomes more popular which gives you more attendance at your arena. Manage your boxer through the office tab. As you play you'll receive awards such as an award for a knockout or points achieved in a match.
Boxer Moves (4 out of 5)
The game features numerous moves your boxer can perform in matches. Some of these include jabs, hooks, uppercuts, combinations, haymakers, low blow, head butt, power punch, and more. On the defensive side you'll find body blocks, head blocks, sidesteps and more. As you play, you'll gain access to more moves for your boxer. With game credits, you can buy new moves in the game store or train them. Some punches and moves require higher number of points to use in matches so you can't use all moves in a fight. You need to decide before the fight begins what moves you want to use. This gives the game a tremendous amount of variety and strategy since every fight will be different depending upon what the other player is using against you.
Graphics and Sound (3 out of 5)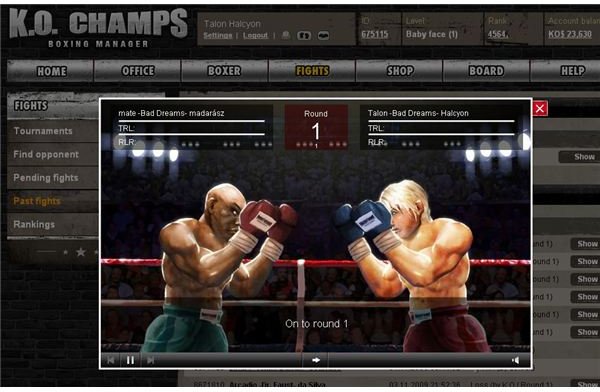 K.O. Champs features minimal graphics and has mainly text menus. There's a graphic depiction of the fight but this is the only animations in the game. You have no control over your fighter however, moves are made prior to the fight you just get a graphic review of it to see how you did. The fights also feature sounds such as the crowd and the sound of punches landing on your opponent. There are not a lot of options for the look of your fighter you want as well, which could be improved.
Interface (4 out of 5)
The game laid is out well and the menus are all clear and easy to understand. You get a nice overview of your fighter from the main page. You can find other players to fight from the search box on this page. The boxer tab brings you to your fighter to set up training, while the fights tab gets you into the action of the game. You won't have a problem with this easy to use interface and there's a forum section too to ask questions about the game.
Multiplayer (3 out of 5)
The multiplayer side of the game is a bit weak since you can challenge other players but that player will lose the match if they don't accept within three hours of receiving it. Thankfully, players can only challenge you if you are online in the game but if you log off and forget to accept a fight you'll lose the match. The game needs a better system of accepting and offering challenges for more fairness. There are tournaments you can enter too once you get better at playing and have a decent fighter setup. Players are also ranked with their club showing if they are in a boxing club.
Game Play and Conclusion (3 out of 5)
While K.O. Champs is mainly a text based MMO browser boxing game it is still fun to play. There's a nice review of the match with some animated graphics. You'll find plenty of moves to train for your boxer. K.O Champs is a game worth playing if you are looking for a simple sports game you can play in your browser.
References
All images from K.O. Champs
Source: Article is author's own experiences playing K.O. Champs