Need for Speed: Carbon Review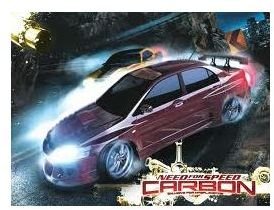 Need for Speed: Carbon Game Overview
Need for Speed: Carbon bursts from the start line and takes you on an adventure of pure fun and adrenalin. Gamers who loved the thrill of speed and competition of previous Need for Speed installments will fall in love again, while new players may soon be fanatics. The game is not without negative aspects and the game isn't full of innovations, but the game remains afun and entertaining ride!
Need for Speed : Carbon Sound Design (2 out of 5)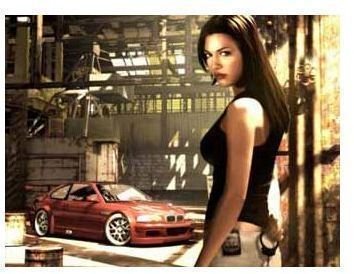 The sound effects are great, but the soundtrack for this title sucks. All the tracks have a kind of cinematic feel to it that is not usual to the serie. When you're listening to the music in game, you don't feel the ''Need for Speed''. When playing the game, open your favorite music player, listen to epic songs and cut the music of the game.
They appear to have used the same sound effects from previous Need for Speed titles, the effect almost gave me a sense of deja vu as I interacted with objects in Need for Speed: Carbon, but they are still outstanding and help to immerse your senses in the scenes. Certainly, the squeal of tires or distinctive growl of a car engine sound great, but hearing the same police radio chatter I did in "Most Wanted" feels weird.
Need for Speed : Carbon Storyline (4 out of 5)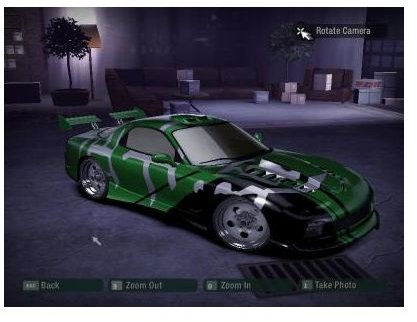 Need for Speed: Carbon continues where "Most Wanted" left off - you've just recovered your stolen car and are bailing out of Rockport before the over zealous, anti-street racing Sergeant Cross can catch up to you. At the start of Carbon, you're on your way to Palmont City, when Cross, now a bounty hunter, catches up with you and totals your car in the subsequent chase.
Escaping his clutches, you assemble a crew and build your car, before heading out onto the street to compete against other street-racers for the right to control turf in Carbon's valuable street-racing territories. You will race against the best in each of the four territories, until you meet and defeat the boss. There's only one thing harder than being on top though, and that's defending your territory against every want to be racer with a fast car, and you will have a continually defeat rivals to stay on top. Make proper use of your wingman and many of the races and opponents should be easier to handle, especially with the variety of race types you will be forced to race in.
Need for Speed : Carbon Gameplay (3 out of 5)
Need for Speed : Carbon tries to innovate with the addition of the dramatic and exciting cinematics with actors and with the interactive world map. However, the core of the game and it's goals remains the same. The arcade type of gameplay hasn't change since Need for Speed: Underground. The physics engine has been slightly improved with the addition of more interactive objects in the environment, but it's nothing impressive. The devs copied a style that works in the Need for Speed franchise and put it with a new storyline. The nitro and the slow-mo mode make their comeback to handle tricky corners and oncoming traffic. If you really like Need for Speed games, you'll like this one. However, if you're looking for innovation in term of gameplay, you may want to think before buying it.
The race modes aren't original and are pretty much the same that the other NFS Games. You got classic races, checkpoint, drift tracks and sprints that are normal races but with more dangerous terrain such as canyons. This time, when you drift a mountain track and smash in the protection railing, you fall of the mountain. Don't worry my friend, you can always press start and restart the race if you missed that tight turn at the end of the race.
The big addition to the franchise is the wingmens. While they are not really useful, it's a nice try from EA to implement something better in the franchise. These wingmens can have different roles like boosting ahead to find shortcuts or take a position behind you to block the passage to opponents. Think of them like the wingmens in Wing Commander. They're interacting with you and encouraging to take several actions such as taking the lead or roaming an opponent off the street. However, you can only call your wingmen a limited number of times per race. It adds a very little element of strategy where you want to decide when you use your wingmen. You don't need them to win the races, but they can be useful if you're having a hard time scoring the first place in a race.
Need for Speed : Carbon Graphics (3 out of 5)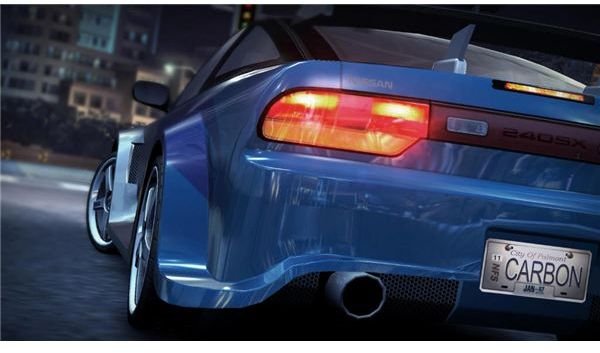 Live actors in a cinematic environment were used to create the story scenes in Need for Speed: Carbon, and the difference becomes self evident with the first look at the in game scenes, even if the actors over acted a bit. The story scenes have a distinctly West Coast feel, with wonderfully rendered scenes in rich districts of Los Angeles and Las Vegas.
Need for Speed : Carbon System Requirements (5 out of 5)
Here are the recommended system requirements to be able to play Need for Speed: Carbon on your PC. With an actual PC, you shouldn't have any problem making it run on Windows 7:
Processor: Intel Pentium 4 (or equivalent) CPU running at 1.7GHz or higher
RAM: 512MB
Video Memory: 64 MB (NVIDIA Geforce4 Ti/ATI Radeon 8500 or higher)
Only supplied on DVD?: Yes
Hard Drive Space: 5.3 GB
Operating System: Windows XP Service Pack 2 (32Bit Edition only), Windows 2000 Professional Service Pack 4.
DirectX Version: 9.0c
Verdict (4 out of 5)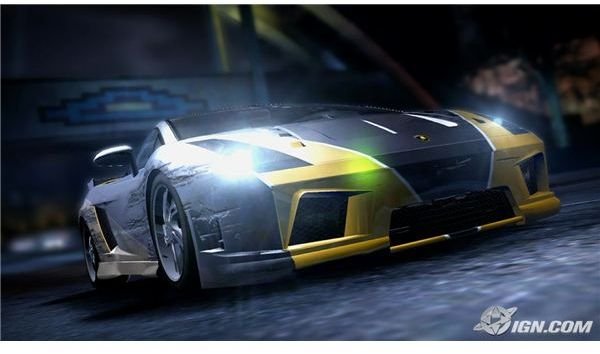 EA tries to innovate with NFS: Carbon, but the accelerated releases in the NFS franchise seems counter-productive. All in all, Need for Speed is a good arcade racing game, with all the adrenalin-filled elements game-racing fanatics have come to expect in yesterday's racing titles for the PC. The addition of the wingman concept is entertaining and helpful in the battle to take over the mean-streets of Carbon, but in the end it comes down to your driving skill and determination. It's good to know that EA took the multiplayer servers down not so long ago. A great game for racing fanatics who like to mix and match cars and trick-out their rides continually, Need for Speed: Carbon gets a nod of approval.