Preview: God of War 3 - The Awaited Continuation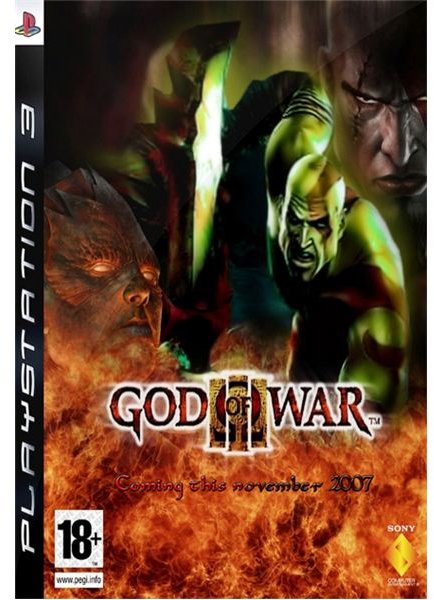 Introduction
The rumors and speculations about Gof of War started in 2007. At one conference of Sony, Cory Barlog – the official producer of GoW 2, said in between the lines that we will see even better graphics and visual extras in an eventual continuation. He mainly meant full HD, but Sony corrected him later in a statement that Full HD would be too much for the already hard engine and the minimal 60 FPS.
I'm just making a remind note here for you know what it was when the game was just some scratches in Mr. Barlog's personal diary. Afterwards we saw dozens of speculations. However, before the real work on GoW 3 have started, core members from the Sony Team left, including Cory Barlog who wanted a personal game studio. No matter being a producer of such game title is so important and can open you so many doors, he still left.
That's all the information the public had about the game, except some multiplayer speculations into which I'm not going. What else then?
Behind The Scenes - Story and Features
Once again there was nothing but guesswork here. However, one of them is very important for the gamers – not once it has been said that God of Wars 3 is the "last chapter" or "the epilogue". Not to mention what Kratos said that everything comes to an end in one of the early trailers. So what now? We should think this is the last GoW game? Yeah right! No matter who leaves Sony, the only thing that would stop a further continuation is a financial hesitation due to the financial crisis. And one more thing – GoW is anything but a game with bad rating, so far at least.
Notice the new producer's comment thatwe will see what the future has prepared for Kratos. As for the rest of the story, in the trailer from E3 it was said that the sacred borders of Olympus are desecrated. It seems that Kratos had some heavy disagreements with Zeus and his friends. It's also known that the Titans will play their key-role. Everything else is still a myth.
Talking about Titans, they are the core part of a myserious feature around God of War 3's gameplay. There was a gentle hint for it in the last trailer – it seems that the Titans will play the role of mobile game levels, no matter how weird it sounds. They were compared to walking mountains in one interview with the designers.
The new features doesn't end here. Again in the same trailer, the one released December 2008, a hint about a more or less new element was done – multiple enemies fighting, and I don't mean just 5 or 6 – dozens! In the trailer Kratos even demonstrated a special ability when he is surrounded by lots of zombies and skeletons. The designers assured as that we will be able to still concentrate on a chosen enemy even in the crowd.
Another new features are the rideable beats, or beasts that you can control. For the purpose Kratos has to jump on one of them, and then take control by causing pain to it. Just like Dune's worms – sounds fun. In the video we saw the control of a Cyclops, but this is just one of the few available. The beasts will have their pros and cons, just like in a shooter game with rides. In our case, the Cyclops is a tank – slow and steady, great damage.
The producer mentioned that one of the main tasks the team had is to create new weapons. It's not clear yet how many they will be and if they are all new, because some might be reworked. No matter what the case is, they've promised that the weapon changing will be more natural – whatever that means. Maybe something like changing battle stances, who knows?
Graphics
For the ordinary eye, it will be amazed. Me however, I have those mixed feelings. Why? Well, first I'm happy to announce that the engine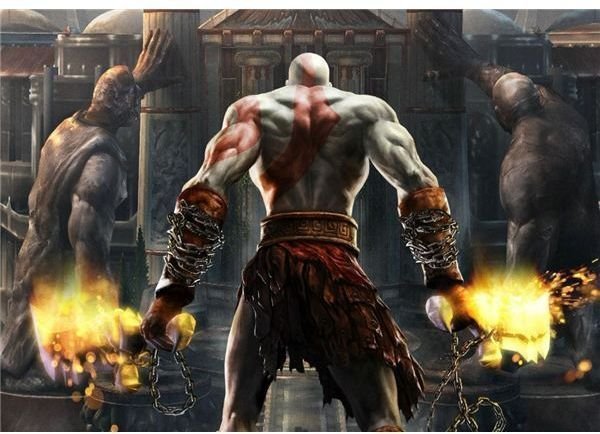 is rewritten from scratch. The idea behind is to offer the gamers one better and bigger environment with enormous view range. And don't worry, this is how it looks in the trailer – bigger, better, longer, even Sony confirmed it.
So the bad part? First of all, personal preference. It's like something is missing in the whole picture. Yes, everything is very detailed and shiny, but without its own style. It's like a limited edition of a promising engine, maybe it's too early to guess but I still got this strange feelings of minor disappointment.
Release date, please?
If you are looking for a release date, you won't find it, yet. We can start again with the common speculations here, the last two releases were in the first half of the respective year. On the other hand, there is not a single hint that God of War 3 is in its final stage. My personal guess is the second half of this year, 2009. Bu then again, we might not even see it this year.
I read an interesting guess that it might get released with the price reduction of PS3. A pack of brand new PS3 and God of War III – priceless! Meanwhile, there are few more interesting titles to be released, so just hold your breath and wait.