Kids, even those who are normally very careful with their toys, can be rough on consoles designed for adults. The V.Smile was created with kids in mind. The controller's brightly colored buttons are easy to use and the joystick can be adjusted to accommodate both left and right-handed players. The system is sturdy enough to withstand a fair amount of dropping, throwing, and pulling—which is a definite plus if you have a temperamental child in the house.
The V.Smile and the accompanying games are very affordable, with many stores having great specials between Thanksgiving and Christmas. The average retail price of a V.Smile system is approximately $60, with sale prices between $40 and $50 being fairly common. Games can be purchased from between $15 and $20, although the system does come with one "Alphabet Park" game to get you started. A second controller is an essential accessory, especially if you have more than one child at home. If you don't have access to rechargeable batteries, an AC adapter may also be helpful.
V.Smile games are divided into three categories. "Early Learner" games are for children ages 3-5, "Junior Thinker" games are for children ages 4-6, and "Master Minds" games are for children ages 6-8. With popular characters like Thomas the Tank Engine, Shrek, Scooby-Doo, and Dora the Explorer, you can find something to suit every child's taste. There is also a V.Smile keyboard to teach typing skills, a V.Smile Art Studio for kids who want to explore their creative side, and a Smart Book system that lets you use the V.Smile to read interactive storybooks.
"Turn game time into brain time" is the V.Smile slogan, so it should come as no surprise that each V.Smile product is intended to teach skills such as spelling, phonics, vocabulary, problem solving, and basic mathematics. There is a fair amount of trivial game play involved as well, however, so don't plan on using the V.Smile as a substitute for other educational enrichment activities. The V.Smile is best viewed as a fun and affordable way to introduce your child to the world of video games, not a tool to turn him or her into the next Einstein.
Images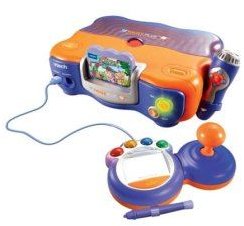 V.Smile Alternatives
The V.Smile is VTech's flagship gaming product, but the company does offer two other systems you may want to consider as well. If your family takes frequent road trips, the V.Smile pocket is a portable alternative that plays all standard V.Smile "Smartridge" games. If you enjoy playing the Nintendo Wii, you can give your child a similar movement-based gaming experience with the V-Motion and its newer line of kid-friendly games.