Decorate a Christmas Tree Games Online: Free Interactive Games to Play This Christmas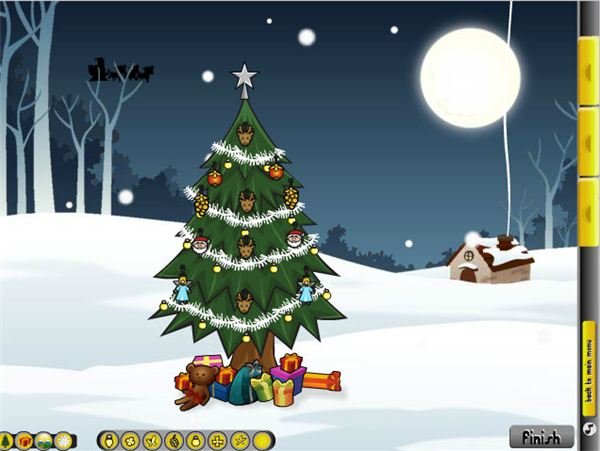 The Best Interactive Decorate a Christmas Tree Online Games
It's that time of the year again! Christmas brings joy to the world, particularly to kids waiting eagerly for Santa riding on a sleigh. And besides anticipating Santa's surprise entry via the chimney, kids wait for the Christmas tree so that they can decorate it with colorful bulbs, ornaments, garlands and tinsel. The tradition of decorating the evergreen coniferous tree began in the 16th century in Germany and since then Christmas tree decoration has always been an important part of the festival.
While decorating an actual Christmas tree can truly be quite an exhilarating experience, trimming a virtual tree is what most kids love to do in their free time. There are several interactive decorate a Christmas tree games online. All are free and require the latest Flash player to play. Children can dress up their virtual trees with colorful garlands, gifts, ornaments, baubles and toys. So, what are you waiting for? Check out these cool Christmas tree dress up games online: (Links at the bottom of the article, in the references section)
Christmas Tree Evergreen
Unleash your creativity by decorating your own virtual Christmas tree. This online game has numerous ornaments to adorn your Flash tree, including cool decorative items like colorful baubles, electric lights and a variety of angels and stars. Click on one of the three drawers to your right to slide them open and drag and drop ornaments and tinsel onto your Christmas tree. Once you have finished decorating, click on the Finish button to unveil your beautiful tree with a special "Merry Christmas" tag to add to the festive mood. You can also share your newly created Christmas tree with your friends and show them your creativity.
Flash Christmas Tree Dress Up Game
This online interactive Christmas tree dreassup game is for girls who love to decorate their trees with numerous colorful ornaments. There are lots of decorative items to adorn the virtual evergreen tree. You can decorate the tree as well as the background with a variety of colorful designer garlands and tinsel.
To adorn your tree with ornaments, just click on an ornament at the bottom of the screen and a list of designs will be displayed. You can then drag-and-drop them onto the tree. You can also discard any items on the virtual dustbin. After dressing up your tree click on the Done button for a sparkling surprise.
Christmas Tree Decoration Game
If you love adorning a Christmas tree with glowing ornaments, then do spend a few minutes playing this fun game. You have several objects to bedeck the virtual tree. These include stars, Christmas stockings, mistletoes, glowing candles, electric bulbs, Santa dolls and angels. Just drag and drop the item on to the desired spot and let your virtual tree glow. You can also make small ornaments bigger. For example, if you want the Christmas bells a bit oversize, click on the bell, drag and drop on to the tree and click on the green button located in the bottom-right corner of the screen. You can also discard any ornament on a virtual dust bin to your right.
After completing decorating your tree, click on the electric socket plug to liven up your virtual tree. Everything, from the snowman, gifts, the Halloween pumpkin and ornaments will glow in the dark background.
Bowbie Christmas Tree
This interactive decorate a Christmas tree online game is different than other games. Here you can choose a Christmas tree from a variety of evergreen trees and then decorate it with the choicest ornaments. You can choose from a variety of coniferous, snow covered alpine, slim and fat trees. All ornaments, candles, gifts are stuffed at the corner. You will have to search for the right item and then drag and drop it on to the tree to to make it sparkle and beautiful. Once you finish decorating your virtual tree, click on the show button (shaped like a Christmas bell) to get an awesome display of colorful lights and twinkles.
References