Best Free Online Hulk Games: Free Hulk Smash'em Up Online Games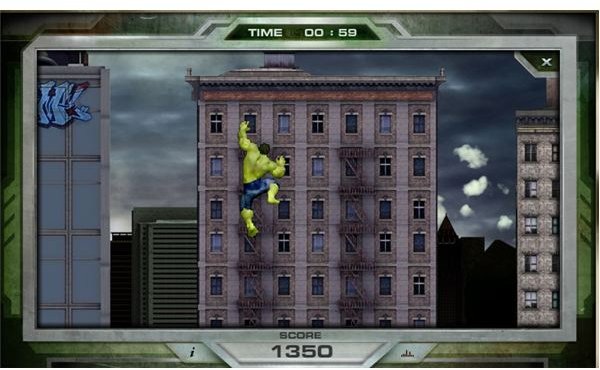 The Incredible Hulk Online Games
With near-infinite physical strength and uncontrollable fury, The Incredible Hulk showed comic book fans what it looks like to be a Frankenstein/Dr. Jekyll and Mr. Hyde hybrid. This unique fictional comic book character is the brainchild of Jack Kirby and Stan Lee and was first seen in May 1962 in The Incredible Hulk#1 comic book.
The reckless and enraged alter ego of a meek physicist (Dr. Bruce Banner) received excellent reviews as was named as the 14th greatest comic book character of all time by the Empire Magazine. Although The Hulk enjoys being one of the best Marvel characters, the humanoid monster has featured in very few video games. The first Hulk game was released for the Super Nintendo Entertainment System in 1994 and the two new ones, The Incredible Hulk and Hulk were plain movie adaptations. However, there are some excellent free online hulk games on the internet. Aimed basically for teenagers, these flash games are basically smash'em up online games that guarantee hours and hours of fun and entertainment.
The Incredible Hulk Smash Game
This flash online Hulk Smash game is action-packed and has great visuals as the 3D characters on 2D background look awesome. Hulk Smash game allows players to destroy city buildings, cars and other objects freely while fighting different enemies.
Players have to save Hulk from getting entrapped from the clutches of General Thunderbolt Ross and his troops. Hulk has to fight off waves of enemies and accumulate power ups to destroy all of them in the finale. Gamers have to use the Up and Down arrow keys to help Hulk climb buildings and 'X' key to grab and throw cars. The humanoid super hero can also jump and inflict maximum damage when the Space button is pressed. When max damage is inflicted,The Incredible Hulk enters Rage mode where he remains invincible for a shorter duration and creates twice damage than normal.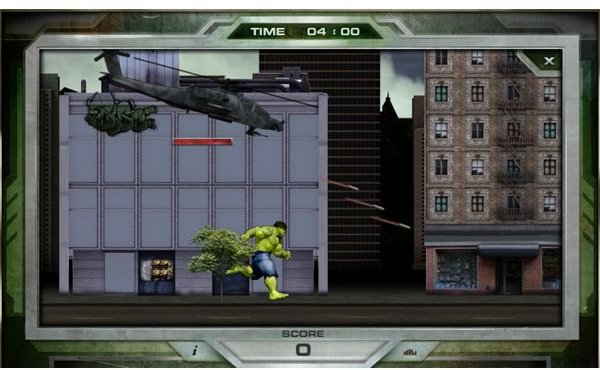 In Rage mode, players can also enter into Super Grab mode which requires both Space and 'X' keys to be pressed simultaneously. The incredible Hulk Smash game is for those who are looking for non-stop carnage and is one of the best Hulk games online.
Play Incredible Hulk Smash Game Online
Hulk Central Smash Down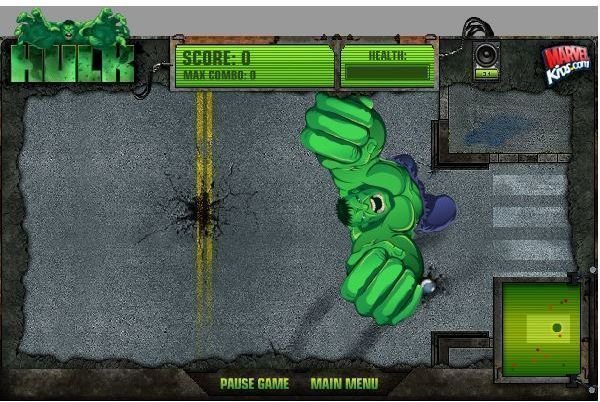 This Marvelkids.com game is aimed for maximum fun and entertainment. Like other free Hulk games online, Hulk Central Smash Down is an extremely addictive and action-packed game. This top-down game is all about jumps and smashes. Players have to use the mouse to move Hulk and click to make him jump and smash enemy robots. Click and hold for a few seconds to make a bigger jump, which definitely guarantees more damage when The Hulk lands on enemies. You can also get power-ups by smashing wheeled robots. Once this robot gets smashed, you gain access to Invincible and Rage power-ups which boost Hulk's abilities to destroy enemies.
Smashing up as many robots in one jump earns you combo points, but make sure you don't touch them as this can weaken Hulk and ultimately transform him into Dr. Bruce Banner.
Play Hulk Central Smashdown Online
Hulk Smash Up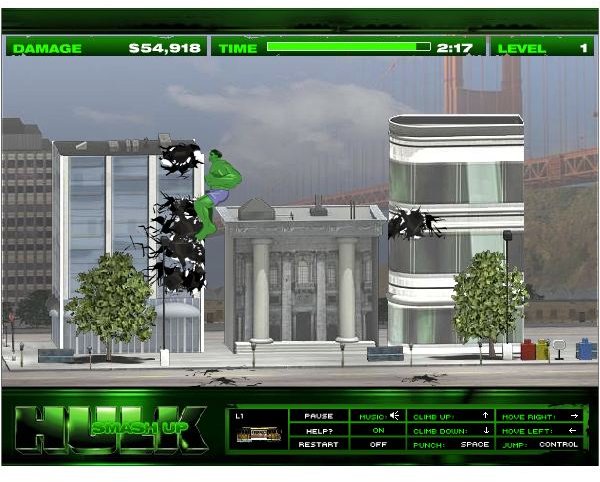 This online flash game is a simple smash'em up title that requires players to destroy buildings within a time limit. You have to move Hulk by pressing the arrow keys and Space bar to punch and pound buildings and vehicles. You can also leap and jump by pressing the control key and the desired direction key. But make sure you destroy all buildings before the time runs out; otherwise you will transform yourself into Dr. Bruce Banner. There will be occasional attacks from assault tanks, Humvees and choppers. You will have to smash them up using Space bar before they turn your character into a mortal human being. If you love playing free online Hulk games with simplistic control schemes, then Hulk Smash Up is title of your choice.