Best Free Online Cricket Games From Quick & Easy to Addictive and Difficult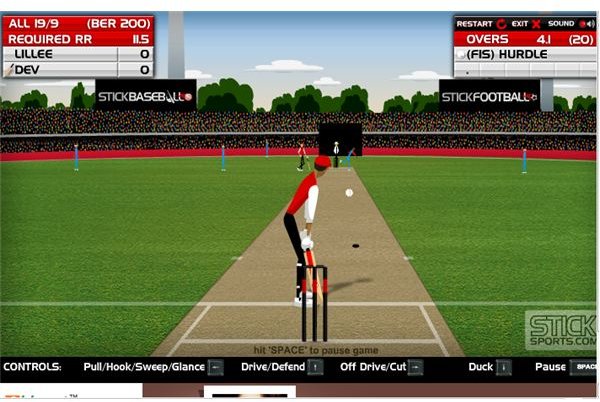 I Don't Like Cricket, Oh No, I Love It!
Cricket is a popular sport played in countries, such as India, England, Australia, South Africa, New Zealand, West Indies etc. The game was first played in Southern England in the sixteenth century. Today, the ICC (International Cricket Council) is the game's chief body that frames and maintains all rules and regulations of the game. The popularity of cricket spawned several video games including the EA Cricket series, the Brian Lara Cricket series (Codemasters), and the International Cricket Captain (Empire Interactive). There's also an array of free online cricket games on the internet. Some emulate tabletop cricket games, while others allow players to chase runs by batting for a limited number of overs. There are also a few cricket challenge games that allow players to hit a four or six in one over. Here are some of the best cricket games online:
Stick Cricket
The Stick Cricket website has a collection of challenging online flash cricket games. It presents a set of different scenarios to players, which are all from the batting point of view. This means there's no bowling, but limited-over batting that requires a player to survive overs and chase a huge score to win a match. Different games like All Star Slog, World Domination, and World T2 are fun to play.
All Star Slog allows players play against legendary bowlers like Richard Hadlee, Kapil Dev, Dennis Lillee and Shane Warne. Gamers are given 5-50 overs to play against stars of 16 countries and score runs to get past the required total number of runs. World Domination is similar to ICC World Cup, where players can compete with 16 international teams. Players need to register with the website to access additional benefits such as customizing team names etc. World T2 is also a challenging game of flash cricket that enables players to score runs in a 2 over game.
To make controls easier, there's a training section in the site which allows players to learn the basics, including controls and strokes, to play more freely. The batting strokes, pulls and cover drives can be accomplished by pressing arrow keys.
With an array of different scenarios and challenges, Stick Cricket is one of the most entertaining free online cricket games on the internet.
Flash Cricket 2
This online cricket game challenges players by putting difficult tasks on the leader board. There are tasks that challenge players to hit a 4 in or 6 in an over. There's no choice for bowling as Flash Cricket 2 is batter-centric. You will have to enter a profile name, select a favorite cricket team and then begin your inning. The mouse-keyboard combo will let you position the batsman and hit the shots. You can pull, drive or square-cut the ball using z, x, and c buttons respectively. Batsman can be positioned using the mouse button during the game. To hit a six, you just have to tap any button twice and loft the ball to ensure maximum runs.
Table Top Cricket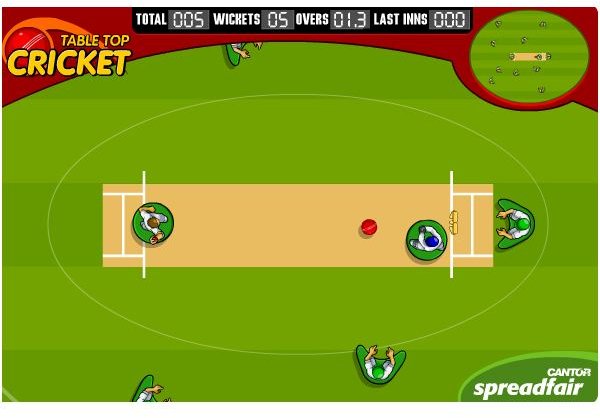 This is an excellent online version of the classic tabletop cricket board game. It is based on the legendary Ashes series played between cricketing rivals England and Australia. Unlike other online cricket games, Table Top Cricket allows you to play two innings as a batter (batsman) and bowler. While batting, you will have to click on the batsman and drag the mouse. When the bowler throws the ball, just leave the mouse button at the right time to hit.
Batting is all about timing and a slight miss can uproot your stumps for sure. In the same way, you will have to click and drag the bowler in the right manner to ensure a slower or quicker delivery. You can also set the fielding strategy by putting the right fielders to stop the runs taken by the AI batsman. The fielders inside the cricket stadium exactly resemble the magnetic crouching fielders of a classic tabletop cricket game.
Table Top Cricket can be really very fascinating and addictive because it allows you to bat, bowl and place fielders in strategic positions to stop runs. Compared to other free online cricket games, Table Top is a "complete game of cricket".