Fallout: New Vegas Achievements and Trophies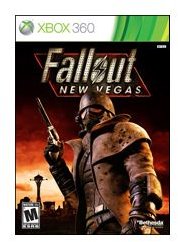 Fallout: New Vegas is sure to be one of this fall's most massive hits. If it's anywhere near as good as Fallout 3, players will undoubtedly want to put in many hours tracking down the game's many achievements.
There are 50 achievements in total, and in the spirit of helping you plan your strategy for grabbing them all, we present the full list:
Leveling Awards
Perhaps the simplest of the achievements in Fallout: New Vegas are those awarded for reaching certain levels, three in all. Get the New Kid achievement when you reach 10th level, the Up and Comer award at 20th level, and the The Boss achievement when you hit level 30.
Companion, Crafting, and Discovery Awards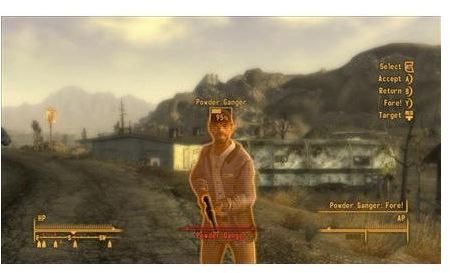 It wouldn't be Fallout if you didn't spend your time exploring and crafting new items, and the achievements for Fallout: New Vegas reward these types of behavior.
Get the Ol' Buddy Ol' Pal award when you recruit your first companion and The Whole Gang's Here after you've recruited them all.
If crafting is more your style, you can earn the Crafty award when you craft a total of 20 items and earn the Mod Machine achievement after you install 20 weapon mods.
For those who enjoy taking in the scenery, become a Walker of the Mojave when you discover 50 locations and Master of the Mojave after you discover 125 total locations.
Collecting all of the game's snow globes will earn you the Globe Trotter achievement.
Finally, You Run Barter Town once you sell 10,000 caps worth of goods.
Combat Awards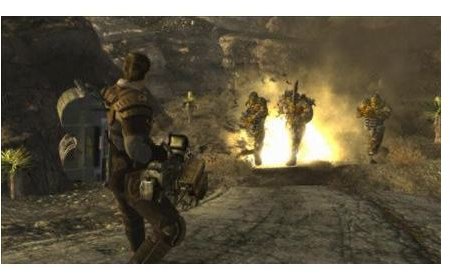 If fighting is more your thing, check out Fallout: New Vegas achievements related to in-game combat.
Get the Blast Mastery achievement once you 10,000 damage with energy weapons, the Love the Bomb award once you cause 10,000 damage with explosives, and the Lead Dealer achievement for dealing 10,000 total damage with guns.
If up close and personal is more your style, you can earn the New Vegas Samurai achievement for dealing 10,000 damage with melee weapons and the Old-Tyme Brawler award for causing 10,000 damage with your bare hands.
Of course, all this fighting is going to take it's toll on you, so you can also earn achievements for healing yourself up afterward. Get the Stim-ply Amazing award for healing 10,000 damage with stimpacks and the Desert Survivalist achievement for healing 10,000 damage with food items.
Skill-Based Awards
For those into more subtle approaches, a handful of achievements can also be earned by using the game's various skills. Become a No Tumbler Fumbler when you pick 25 locks, a Jury Rigger after you repair 30 items, Hack the Mojave when you hack 25 terminals, declare yourself the Artful Pocketer after you've picked 50 pockets, and become an Outstanding Orator once you make 50 speech challenges.
Gambling Awards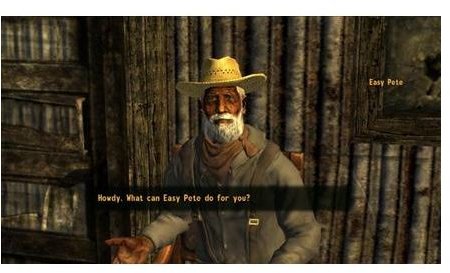 New Vegas is filled with casinos, so it's only natural that you can earn achievement points through the games you'll find within.
Make like Kenny Rogers and Know When to Fold Them when you win 3 games of Caravan. Get the better of the One-Armed Bandit when you play 10 spins of Slots, and try your hand at the Little Wheel when you play 10 spins of Roulette.
Play ten hands of Blackjack to earn the Double Down achievement.
Keep up your gambling ways and you can earn the Caravan Master for winning 30 games of Caravan. Get really good at gambling and you'll find yourself banned from casino after casino. Get banned from them all to earn the The Courier Who Broke the Bank achievement.
Mission-Based Awards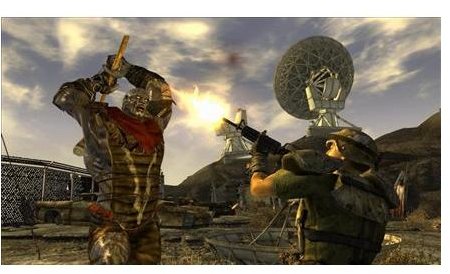 There are 20 achievements that are earned by completing the game's various missions. Each one shares a name with the mission you'll have to complete to earn it. They are:
"Ain't That a Kick in the Head," "They Went That-a-Way," "Ring-a Ding-Ding," "The House Always Wins," "For the Republic," "Render Unto Caesar," "Wild Card," "All or Nothing," "Veni, Vidi, Vici," "Eureka!," "No Gods, No Masters," "Come Fly With Me," "Talent Pool," "Return to Sender," "Arizona Killer," "You'll Know it When it Happens," "G.I. Blues," "That Lucky Old Sun," "Volare!," and "The Legend of the Star."
Perhaps the game's toughest achievement requires you to play the game from start to finish in Hardcore mode. Do so, and you'll be able to truly call yourself Hardcore.
References
All screenshots and references from Fallout: New Vegas.