Fallout: New Vegas - Dead Money Walkthrough - Fires in the Sky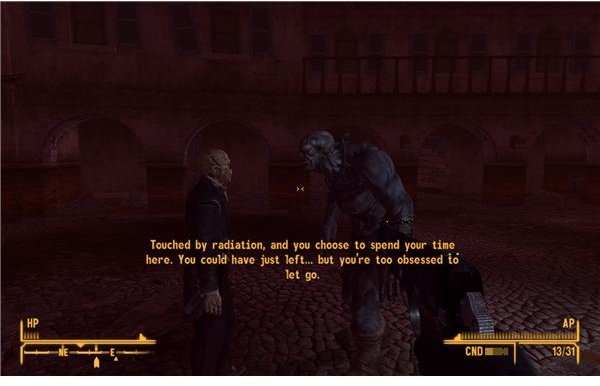 Fires in the Sky - Reaching the Station
This is actually surprisingly easy, especially if you brought Dog along instead of God. Note that if you want to bring God along, you just need to do it through the tactics menu. Telling him you need to go to the Gala Event will just make him voice his complaints. Tell him that you want him to follow you as a companion, then drag him over to the switching station. Things will work normally then.
Go to Salida del Sol. It's one of the marked doors at the edge of the villa. Note that this is genuinely pretty easy once you get inside. There don't seem to be many lingering clouds of gas, and there weren't too many ghost people on my run through the area. You probably won't find any groups of more than 2. Even God can handle that small of a group, so it's no real threat to you. There are a few side rooms you can loot while you're here, but it seemed to be standard random loot. It's up to you as to whether you'll want it.
The path is fairly simple too. Follow the alleys until you make it to a larger fountain area. You should see a gate and a terminal in the wall. Use the terminal to reset the fans and vent out the area, then open the gates and go inside. Dog/God will talk to you now.
Fires in the Sky - Convincing God and Dog to Stay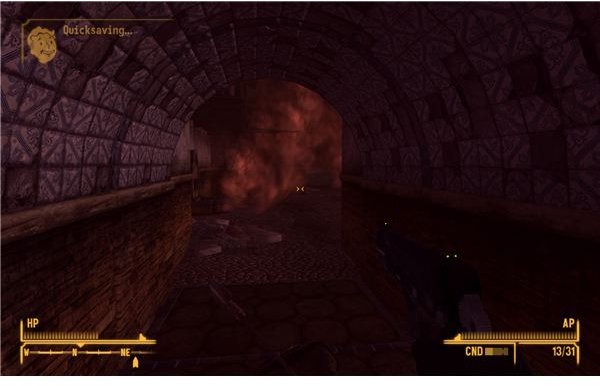 If you're using Dog, then you're done. Just lock him in and order him to wait for the signal. He'll be safe and fine, if not that happy.
God takes a bit more convincing. You'll need to talk to him and either use some Intelligence checks to gain his trust and cooperate, or agree to find him some ghost people remains to keep Dog at bay. If you agree to hunt for him, two additional ghost people will spawn on the map. They're marked, alone and usually just a block away. Use a few shots or a cosmic knife to bring them down. You should know what to do by now, especially for solitary ghosts. Loot their bodies for the special remains. Once you have both sets of "meat", you can go back to God and hand it over. He'll agree to wait by the switches until you trigger the gala.
Backtrack to the fountain for your next mission.
References
All screenshots and references come from "Fallout: New Vegas - Dead Money"
This post is part of the series: Fallout: New Vegas - Dead Money Walkthrough - Part 1
Our time at the Sierra Madre has just started. We need to gather up our allies and start preparing for the heist. This means finding Dog/God, Christine and Dean Domino, and also getting Dog and Christine into their positions before the heist starts up.