Fallout: New Vegas Side Quest Guide - I Don't Hurt Anymore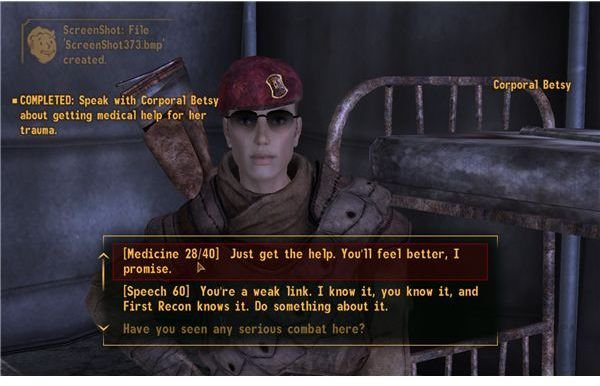 I Don't Hurt Anymore - Asking Around
This is a really quick quest that tends to be a little buggy. You can help Corporal Betsy at Camp McCarren get over her recent trauma with a little bit of Medicine, Speech or just conversation. It's a really good way to get easy experience and learn more about First Recon, plus if you've got the relevant skill points you can finish this really quickly.
Note: If you do "Three-Card Bounty" before you finish this quest, you'll probably bug this quest. After killing Driver Nephi and working on the other fiends, First Recon will move to Camp Forlorn Hope to report for duty. Their conversation signals also don't seem to work so well, so you may just be stuck with it. Do this one before you kill Driver Nephi to make sure that you can complete it.
You can learn about Corporal Betsy's problem by talking to Lieutenant Gorobets. He's usually standing outside or sitting inside the First Recon tent. It's off by itself close to the terminal, and is quite close to the punching bag targets they have set up near the entrance. Talk to him and ask about his squad to learn about their recent trouble. You will notice yourself that Betsy's being quite outwardly blunt and barely holding it together, if you talk to her first.
Gorbets will ask that you convince her to get some help before he's forced to discipline her.
I Don't Hurt Anymore - Investigation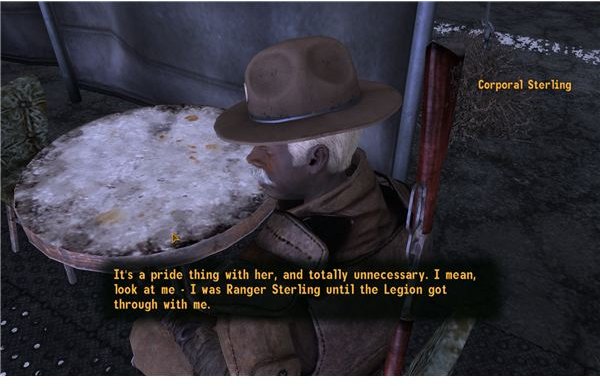 For starters, you just need to convince her to go to therapy. If you've got 60 points in Speech or 40 points in Medicine, you can just use the initial skill check when you start your discussion with her. She'll agree with you and agree to the therapy.
If you can't pass the skill check or don't want to use those options, you can break off the conversation and talk to the other people in First Recon.
Start by talking to Sterling. You can mention the attack and he'll offer a few more details on his own misfortune. After you listen to his story, you'll have one of the three points you need for your argument (Don't let pride get in the way).
You can talk to 10 of Spades next, and talk about the attack. He'll mention his own guilty feelings, but more importantly, note that he worked with a good doctor, called Doctor Usanagi (if you want to get special implants, you will need to go to her too). She was able to help fix his stutter and apparently she helped Bitter-Root out a bit.
Talk to Bitter-Root and mention his past work with therapy. Note that you can only talk to him about this after 10 of Spades mentions it. He'll confirm what 10 of Spades said and give another recommendation.
You should have enough proof to convince Betsy without a skill check.
I Don't Hurt Anymore - The Wrapup
Talk to Betsy and mention any one of the stories to her to convince her to apply for therapy. Report your success to Lieutenant Gorobets to move on to the next stage of the quest. Your final step will be to go to Doctor Usanagi at the New Vegas Medical Clinic to confirm Betsy's appointments and hopefully expedite the process.
Once you confirm the appointment, you should be finished with the quest.
This post is part of the series: Fallout: New Vegas Walkthrough - Camp McCarran - Part 2
There's a lot of quests at Camp McCarran and I'll try to cover all of them. I'll cover how to get Corporal Betsy to go to therapy, fix the stove, secure good food for the camp and also handle how to blow up the monorail for Caesar and interrogate or free the prisoner.