Civ 5 Scenarios - DLC from Steam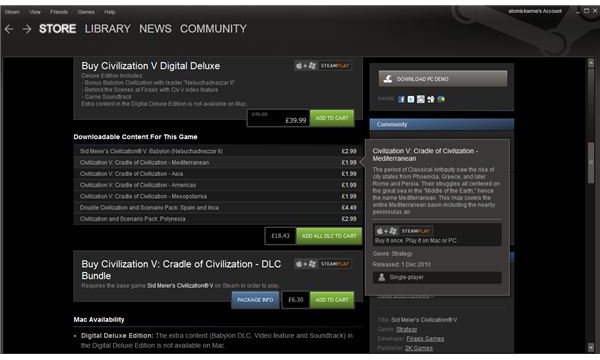 Get More for Civilization 5 - Civ 5 Scenarios
Since its release in September 2010, Civilization 5 has been played extensively across the globe with gamers developing unique tactics and strategies, taking advantage of bonuses and selecting specific leaders with which to dominate the game.
In the process, various user mods and scenarios have been developed that offer a way to extend the game. These are easy to set-up as Civilization 5 is particularly friendly to the addition of modifications and custom maps and scenarios.
The main reason for this is that Firaxis intended on releasing several scenarios themselves as downloadable content – something they have recently done with the map pack bundle Cradle of Civilization, available on Steam.
Double the Size of Civilization 5!
In truth the number of expansions and scenarios that are available for Civ 5 via Steam is on course to double the size of the original game, with several listed to buy for just a few dollars.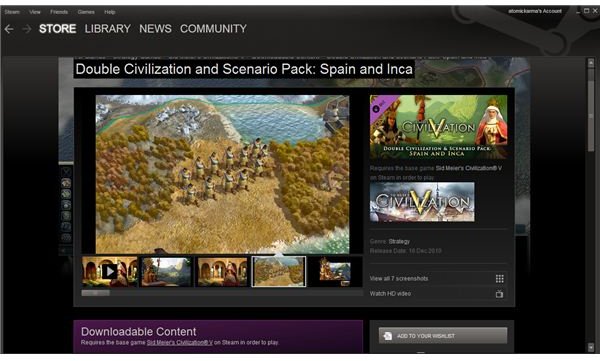 The Cradle of Civilization bundle can even be split up into its constituent parts of Mediterranean (featuring the rise of the city states of Phoenicia, Greece, and later Rome and Persia), Asia (featuring an ancient Indo-China map), Americas (featuring the territory from Peru to Mexico) and Mesopotamia (south east Europe and the Middle East).
Those Firaxis people are spoiling the hungry Civilization 5 fans even more with further expansions, such as the Babylon (Nebuchadnezzar II) pack, which adds a new civilization and ruler to the game or the Polynesia civilization and expansion pack for Civ 5. Finally there is the Spain and Inca pack, possibly the closest we will ever get to a new version of Colonization…
There are different ways of purchasing these expansions, but the most popular is via Steam. If you haven't already added your copy of Civilization 5 to a Steam account this is easily done by visiting steampowered.com, downloading the client and signing in (or you can create an account if you don't already have one). Once you are signed in to the Steam client, go to Games > Activate a Product on Steam and enter your Civilization 5 product key.
With the game activated you will then be able to see the downloadable content.
Choosing the Right Civ 5 Scenarios
With so many expansion packs on offer, it can be difficult to know which one to go for. It really all decides on whether you want new Civ 5 civilizations and their related units or if you want a new map and scenario challenge.
Either expansion type is probably best avoided until you have completed at least one successful campaign in Civilization 5, but with a useful bundle option for the Cradle of Civilization scenarios you can at least experience the game in its more customized form.
And if the cost is holding you back – after all, each of the expansions amounts to around the same price as Civilization 5 itself – watch out for reduced price offers on Steam, where you can regularly pick up bargains on big name titles.
References
All screenshots and references from Steam
This post is part of the series: Civilization V Mods and Maps
Articles based on using the Civilization V SDK and WorldBuilder tool.