The Top 5 Alien Shooting Games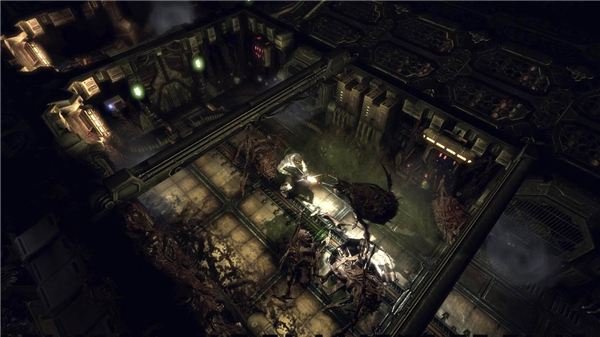 An abandoned spaceship lost in space, dark unexplored chambers harboring your most unimaginable fears and a disgruntled, lone ship member struggling to survive hordes of reptilian creatures – all part of an alien shooter genre of video games that have always entertained fans ever since the release of Alien Breed in 1993.
The excitement of squishing swarms of virtual extraterrestrial creatures with an arsenal of weapons and encountering the most hideous bosses best describes the addictiveness of old school alien shooters. Thankfully, indie developers and major game development companies have resurrected this forgotten genre by unleashing some of the best top-down PC games. With excellent graphics, creepy sound effects and intelligent AI, today's alien shooting games offer more than just plain shooting fun.
Alien Breed: Impact
Back in the early 90s, the Alien Breed series graced the MS-DOS platform and offered the same level of intensity and excitement anticipated from an old school shooter game. This time. the developers of Alien Breed resurrected the classic franchise with an impressive story, extremely clever AI and highly detailed environment. A remarkable change can be noticed in the graphics, character development and the ambience, but the old school shooter style has been kept intact.
Alien Breed Impact lets hard-core shooter fans shoot down swarms of re-imagined, hideous and highly intelligent alien creatures in single-player campaigns and multiplayer battle modes. However, if you compare this title with old Alien Breed games, you will find that the controls are a bit clunky, particularly the camera movements. But, gamers will get used to with the controls after some time. Impact also has a two-player online co-operative mode that allows players to team up and crush down hordes of grotesque ET enemies. This shooter-survival horror mash-up also lets players to upgrade and customize their weapons, which can really help them to eliminate swarms of creatures in a few clicks. The game has some pretty chilling moments and is a must-have for all fans of top-down alien shooters.
Shadowgrounds: Survivor
Survivor is your typical RPG-meets-shooter game having new features and impressive graphics enhancements. There are two modes of gameplay: Campaign and Survival mode and new gameplay elements like Powerful Mech and Sentry Turret, which adds more variations to the overall shooting fun. The game has a number of special attacks, including Napalm Flame, which can engulf multitudes of alien breeds with just one click and Brute Slayer.
Shadowgrounds: Survivor lets player choose their favorite class out of three classes and blast down enemies in Survival mode. The Campaign mode is equally impressive. It takes the player through atmospheric locations such as abandoned tunnels and icy environments. The game focuses on tactics as players can plan and attack enemies and use their special abilities to tackle huge alien enemies.
Space Siege
Replace dungeons with a spaceship's unexplored chambers, hordes of monsters with swarms of gruesome alien entities, and swords and daggers with state-of-the art weaponry and cybernetic upgrades – you get an extremely fast-paced space RPG with single player and cooperative multiplayer modes.
The makers of Dungeon Siege came up with this space RPG idea a couple of years ago. Space Siege isn't like Diablo or other button-mashing RPGs. It does involve tactical combat where players can set up ambushes, duck behind cover and use special abilities to dodge and destroy alien enemies. Of course, the shooting part cannot be missed, especially when you have a robot companion blasting down enemies with its ultra-modern special attack combos. Your AI partner, the HR-V boasts weapons and special equipment to perform defensive and offensive tactical maneuvers to track and kill hiding alien entities. If you like RPG and love the ET backdrop, then you should add this title to your video game collection.
Alien Shooter: Vengeance
Vengeance resurrects top-down alien shooting games with new and improved graphics and awesome sound. This alien shooting game will remind you of old-school retro shooters and can be dangerously addictive. There will be occasions when a player will get outnumbered by swarms of reptilian entities coming from all sides. To tackle this, the player can take advantage of the arsenal of weapons at his disposal. He can also upgrade his weapons from the cash retrieved from dead bodies of crew member and alien enemies. The player can also select a unique class from a variety of classes such as Vampire, Hypnotist and Boxer. Some of the classes give the ability to drain enemy health, while others let players excel in hand-to-hand fights with swarms of aliens (now that's something you won't try even in your most horrid nightmares). The game has an isometric camera perspective, much like Diablo and contains co-op mode, which allows you to kill AI enemies with your friend, and the famous deathmatch arena mode. Overall, Vengeance is a complete thriller and is one of the best alien shooters available, period.
Alien Swarm
If you prefer squad-based strategy to eliminate hordes of aliens, then Alien Swarm might be the game you are looking for. This top-down four player co-operative game mod adds a strategic depth to the old school alien shooter by introducing squad-level tactics. Gamers can form a squad of IAF Marines and plan an attack on alien enemies using a wide variety of weapons. The game's quite intense and has some impressive environments ranging from icy surfaces to a mining facility infested with a wide variety of hideous enemies.
The game has 4 unique classes and 8 characters to choose from. Players can unlock items and achievements, configure and upgrade over 40 weapons and upload their stats. Alien Swarm is available free on Steam and requires Unreal Tournament 2004 to be installed on your system. While the game is played from a top-down perspective by default, players can play the game in the first person perspective as well. All they have to do is use some console commands and switch from top-down to first-person view.
References
Screenshot, Courtesy of Their Respective Developers