Review of Assassin's Creed WP7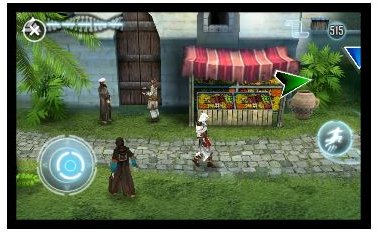 Assassin's Creed for Windows Phone 7
One of the new Windows Phone 7 games for Xbox LIVE is Assassin's Creed: Altair's Chronicles, a side-scrolling action-adventure 3D platform game in which you guide your assassin through a mission over several levels to steal the Chalice from the Templars and end the Crusades in the 12th century.
Featuring a stunning opening sequence, great graphics and lots of swordplay, Assassin's Creed: Altair's Chronicles is a popular choice among fans of the platform, with varied gameplay and a strong narrative.
This title is one of several RPG/adventure games for Windows Phone 7 with Xbox LIVE integration.
Gameplay and Controls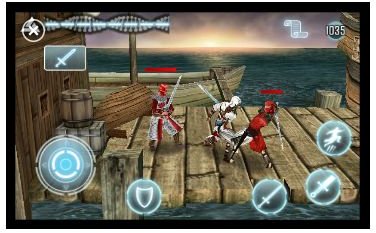 Employing an on-screen control pad, Assassin's Creed: Altair's Chronicles also introduces additional controls as the game progresses that are both well-organized, so as not to interfere with gameplay, and contextual, appearing only when appropriate. In addition to this there are 19 achievements to unlock in order to improve your Xbox LIVE Gamerscore, from basic unlocks like a stealth kill to more complicated tasks.
Gameplay is fun and varied, mixing the stealth elements of the original with a bit more platform-style action. Sword fighting brings a nice added dimension to gameplay as does the overall mission to retrieve the Holy Grail-esque "Chalice" from the Templars.
Graphics and Sound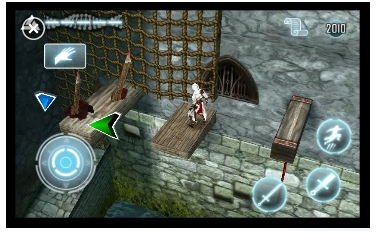 The first thing that strikes you about Assassin's Creed: Altair's Chronicles is the opening intro, a beautifully presented piece of CGI that demonstrates the Assassin's Creed world. Sadly you can't skip this, so appreciating it is the only choice available!
Graphically, this is probably the most impressive Windows Phone 7 title yet, offering a main character with a range of animations for different actions and attractive backgrounds and structures.
Similarly the sound on this game is the best I've come across so far on the platform, with speech and FX both making an important contribution to the game.
Pricing and Availability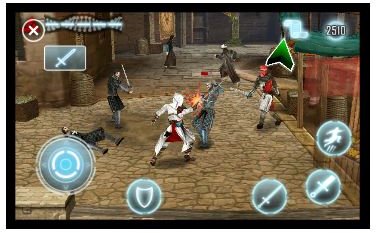 This is the contentious bit. A free trial of Assassin's Creed: Altair's Chronicles is available which lasts into the second sub-level of the game. This is worth trying out before purchasing and if you're interested in purchasing the full game this trial will tell you all you need to know as well as hinting at some interesting new abilities to come later in the game.
In fact the trial ticks every box – but probably doesn't prepare you for the £5.49 (UK) price for the full game.
Xbox LIVE game pricing on Windows Phone 7 is slowly becoming quite an issue; as more phones are bought or adopted on new contracts, more games are being sold, yet the price of Assassin's Creed: Altair's Chronicles in no way matches that of similar games on other mobile platforms. If a comparative iPhone game is available at under £1, then just what is going on?
Should you choose to purchase Assassin's Creed: Altair's Chronicles, you will find it in the Windows Phone 7 Marketplace or via the Zune client on your Windows desktop.
Conclusion
Assassin's Creed: Altair's Chronicles is an absolutely superb mobile game with great graphics and sound, interesting, varied gameplay and a good user interface. Perhaps if an update could be released that allows the intro to be skipped as easily as the in-game plot scenes, this would help to push the score up to 5 stars. It will take more to actually get the game to five…
Again, we find ourselves back on the subject of Windows Phone 7/Xbox LIVE game pricing. It is easy to make the mistake that all games on Windows Phone 7 are this expensive (£5.49 in the UK) – they're not, and there are many independent and non-Xbox LIVE titles that will prove this.
However – and Assassin's Creed: Altair's Chronicles is not the most expensive title by any means – there does need to be a rethink about pricing because people are literally being turned off buying top titles, as revealed on sites like XDA-developers.com and on the review notes on the Windows Phone 7 Marketplace.