Age of Empires III: The Asian Dynasties Review for Windows PC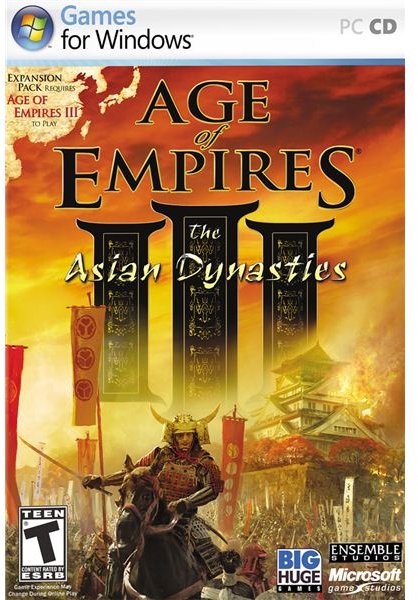 Age of Empires III: The Asian Dynasties Expansion Pack (4 out of 5)
The Age of Empires (AoE) series opened new chapters in historical real time strategy gaming. The first two installments covered the Roman Empire and Medieval Era while the third focused on colonialism and European Exploration. Age of Empires 3 was more successful than its predecessors because it offered new depth in graphics as well as gameplay. With the huge popularity of AoE3, the release of expansion packs was on the cards, and so The Age of Empires III: The Asian Dynasties was released for the PC.
Gameplay (4 out of 5)
Age of Empires III: The Asian Dynasties is the second Age of Empires 3 expansion pack developed by Big Huge Games, creators of the award-winning Rise of Nations and Rise of Legends. The first expansion called Warchiefs covered Native American civilizations. Asian Dynasties focuses on three Asian Civilizations (China, India and Japan)and covers three campaigns each with five scenarios. Each civilization has its own story to tell. Though fictional, the storylines are inspired from major historical features and battles of Asia.
The developers did a great job weaving fictional stories that revolve around each campaign. The Chinese campaign looks to expand the Ming Dynasty and tries to colonize the New World. The Indian campaign is all about the struggle to overthrow the East India Trading Company, whereas the Japanese campaign puts you into the shoes of a general trapped between internal struggles within his family and his rivals.
Each civilization has different features and qualities in terms of technologies, units, buildings and combat strategies. The Chinese train their combat units in the War Academy. Players can train combat units consisting of melee and ranged units. Individual units can also be selected manually and grouped into either melee or ranged infantry. The Indian civilization relies on its melee as well as animal-based units comprising of huge elephants and camels. These units get trained to trample human armies and buildings within seconds. The Japanese army has an interesting line of samurai warriors such as the Daimyo, who can train units and group them into small armies anywhere.
New to this expansion pack is the Build-a-Wonder feature, which was earlier seen on Rise of Nations. This feature was missing in previous AoE games. Big Huge Games again introduced this feature, and it works well. There are 15 unique Wonders to built, from the great Indian Taj Mahal to the delicate Chinese Porcelain Tower to the Great Buddha of the Japanese civ. Each wonder allows strengths and combat bonuses after a civilization completes the building process. Some heal units and offer economic benefits while others allow temporary cease-fires. The wonder feature adds more fun and excitement as it allows you to advance from one age to another.
Graphics (5 out of 5)
Age of Empires III: The Asian Dynasties added some visual zing by using Asian-themed visual styles. Each civilization has distinct character models. You can easily distinguish between Japanese Samurais, Chinese warriors and Indian Mansabdars. Characters have their own distinguished combat features and attire.
All 15 wonders have a brilliant aesthetic design, courtesy of some intricate and lively detailing by designers at Big Huge Games. The minute touches to buildings and wonders add realism to the game. The battles between civilizations look more intense when burning houses and smoke filled barracks appear to be very real and believable. Before installing the game, make sure your PC has a 64 MB video card with Hardware T&L (Texture and Lighting) support.
Age of Empires: The Asian Dynasties Screenshots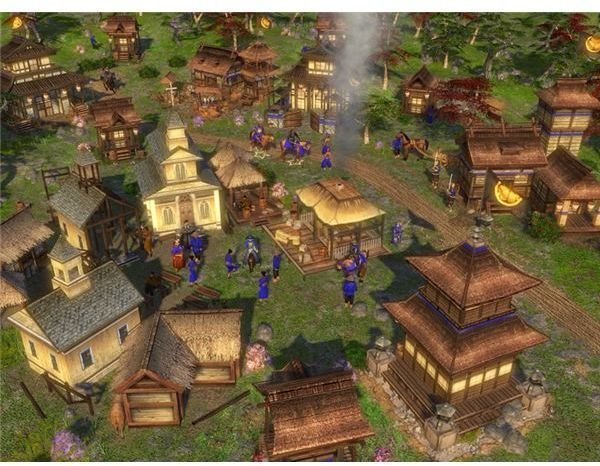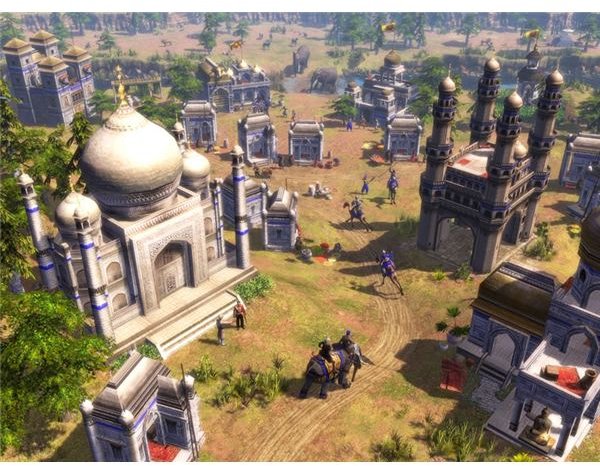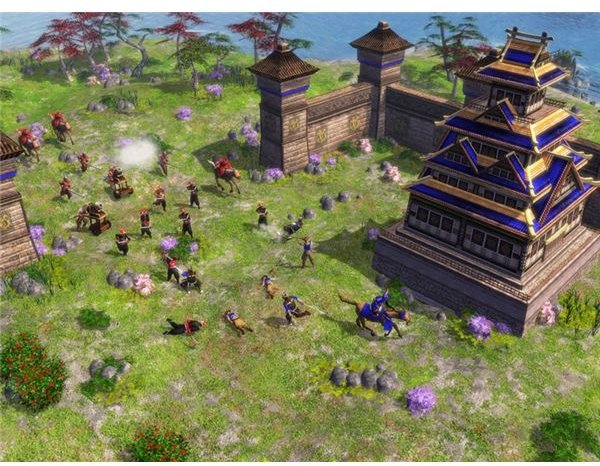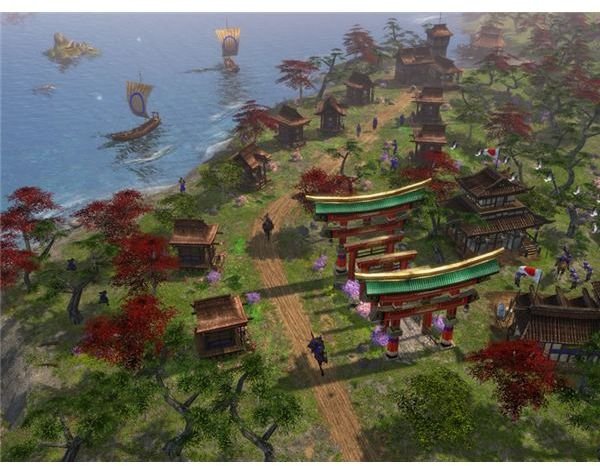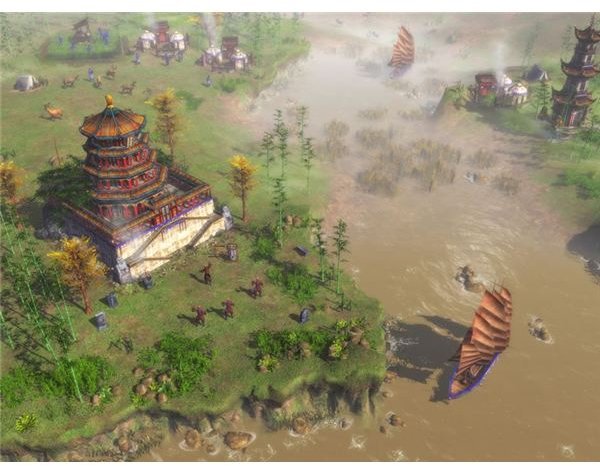 Sound (4 out of 5)
The music in Age of Empires III: The Asian Dynasties is not unique as it borrows scores from Age of Empires 3. However, this is compensated with some brilliant voice acting and lively environment sounds. The war-cries and death shrieks make you feel you are amidst an intense battlefield fighting for victory and dominance.
Overall
Age of Empires III: The Asian Dynasties adds a new chapter to the Age of Empires series. The units are vibrant, the battles are intense and the fictional storyline is quite gripping. Serious AoE aficionados and people having deep interest in Asian Civilizations will certainly enjoy this game.
You will see many new features available with Age of Empires III: The Asian Dynasties including in-game bonus cards, new units and abilities and different game modes. Since it is an expansion pack, you need to have Age of Empires 3 installed in your computer. The Asian Dynasties expansion also lets you play skirmish battles between the Asian and the European civilizations. Download Age of Empires 3: The Asian Dynasties expansion pack and see the difference!
System Requirements
Operating System: Windows XP
RAM: 256 MB
Processor: 1.4 GHz processor
Hard Drive Space: 2GB
Video Card: 64 MB Graphics Card with Hardware T&L