E3 2009 Top 5 Games For The Xbox 360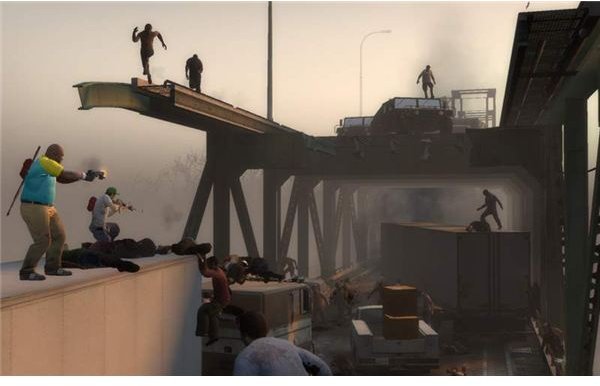 Left 4 Dead 2
Developer Valve returns with a sequel to last year's zombie infested action game, Left 4 Dead. Now you and your squad will be using your teamwork down in Southern USA, from Savannah all the way to New Orleans. Familiar foes like the Smoker and the Boomer make their return, but Left 4 Dead 2 promises to be a bigger game than the original, promising an improved co-op experience, more boss zombies, new weapons and items, more maps for the Versus campaign and Survival mode, as well as new playable characters. Melee combat will be a central part of the cooperative gameplay in L4D 2, as the Survivors will be able to use chainsaws, frying pans, axes, and baseball bats. Left 4 Dead 2 will be console exclusive to the Xbox 360, dated for release on November 17, 2009.
Crackdown 2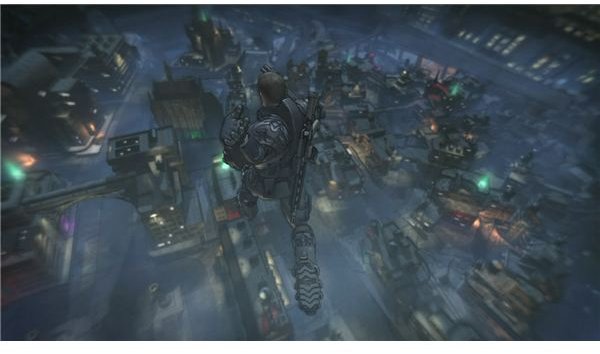 The original Crackdown's well designed sandbox gameplay and fast paced action was considered one of the best multiplayers on the Xbox 360. Now this this open-world third person shooter will have a sequel in Crackdown 2. Instead of Real Time Worlds making Crackdown 2, it will be developed instead by the studio Ruffian Games. In the sequel you will be up against infected people who have turned into zombies; this concept may fit like a glove since crazy zombies running around town would be a wonderful playground for a Crackdown player to experiment his superhero powered abilities on. Right now no other specific details about the gameplay and release date has been announced. What Microsoft does promise for Crackdown 2 they say is, "take multiplayer gaming to unprecedented levels for the ultimate cooperative and competitive multiplayer experience, providing you and your friends with the freedom to explore, destroy and play as you return to restore justice and peace to Pacific City."
Joy Ride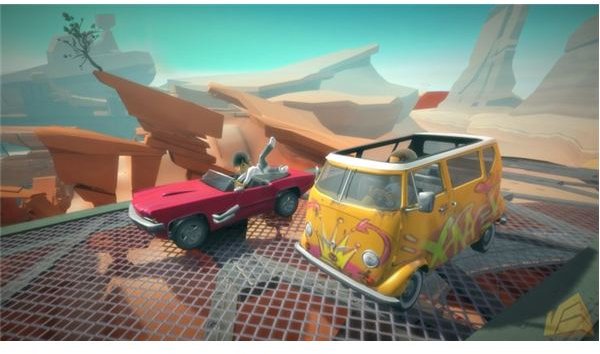 Some people think that Microsoft has Wii-envy, especially when motion controls and avatars are now important players for the Xbox 360. So what else are they going to do in the future to lure the Wii Sports and Wii Fit audience? At E3 Microsoft announced another Wii-like game in Joy Ride for Xbox Live Arcade. This cartoonish game is a family friendly kart racer similar to Nintendo's smash hit, Mario Kart Wii. One important feature in Joy Ride is that you will be playing as your Xbox Live Avatars, racing up ramps and performing tricks on your karts with your friends. The game will be free to play, but fees will be applied for additional karts and tracks players can buy; purchased tracks can actually be shared with others as well. Joy Ride is schedule for a December 2009 release.
Next Page: Metal Gear Solid Rising and Shadow Complex
Metal Gear Solid Rising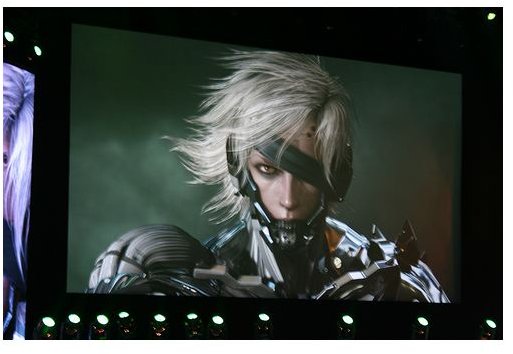 Microsoft has done an admirable job so far of convincing Japanese developers to make games for the Xbox 360, something which they missed on the original Xbox. Dead Rising for the Xbox 360 was a successful hit, enough to turn it into a franchise, with a sequel coming this year. Japanese role playing games like Star Ocean 4 and The Last Remnant were console exculsives to the Xbox 360 too; in the past it used to be Sony that people expected only to have good Japanese rpgs. Microsoft can also brag about Final Fantasy XIII coming to their console, more so at this year's E3 when they showed new footage of the game for the first time in English running on the Xbox 360.
Now that the Xbox 360 has plenty of Japanese games, who is next in line from the East that Microsoft should turn to? Well, rumors have spread for a while that Hideo Kojima, the brain behind the Metal Gear Solid series, may bring his franchise to the Xbox 360. Those rumors are now true as Kojima is finally bringing the Metal Gear franchise to the Xbox 360 with his new game, Metal Gear Solid Rising. A short teaser trailer was shown without saying anything at all about the game except that the ninja named Raiden, a well known veteran in the Metal Gear series, will probably be the main character.
Shadow Complex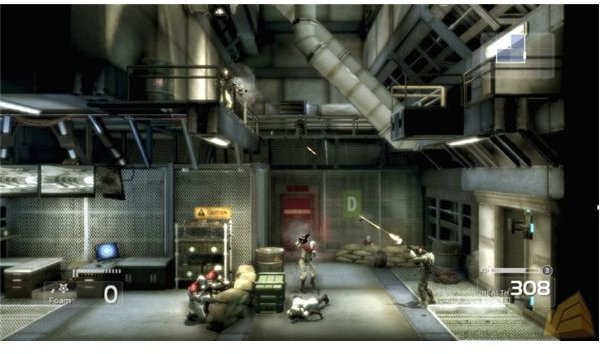 Epic Games, known for the Unreal Tournament and Gears of War series, is going digital with their new game, Shadow Complex, an action side-scroller exclusive to Xbox Live Arcade. The game's world is based on Orson Scott Card's Empire novel, about an America that is under threat of a civil war; the protagonist is a hiker named Jason Clement who stumbles into an underground military complex. Shadow Complex is inspired by the classic games of Metroid and Castlevania; what can be expected then is weapons and upgrages that will be available when you explore the wide open areas shown on the map. Using Epic's Unreal Engine, the game looks quite impressive in 2D , with a visual style similar to Capcom's Bionic Commando Rearmed.