Sweet Xbox 360 Accessories You Have To See

Xbox 360 Accessories
There are tons of different Xbox 360 accessories out there, and while some are really functional, let's face it - they just aren't that cool. So, I have gathered up four of the coolest Xbox 360 accessories online that any hard core console gamer just has to see.
NFL Xbox 360 Controllers
Want to show your team colors? Or maybe you just would like a little edge to your game play? Well, these kick butt NFL controllers feature 32 different team designs, and allow you to show who you're really rooting for. Also, these xbox 360 controllers are made to help get you the edge in any Xbox 360 game by giving you extra grip, a super impact resistance (not that you'd ever throw your controller), upgraded vibration technology, newly angled shoulder buttons, and a great 8-way-D pad as well as a lower analog stick that will fit anyone's hands better. With these, you'll find it easier to control the action on your favorite game - sports-related or not. And, best part is, they are also compatible with your PC with a special USB cord. You can find these controllers online for less than $40 so they also make great gifts for your favorite gamer.
NFL Controllers




Street Fighter IV FightStick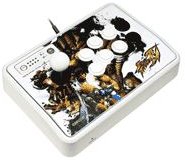 This specialized Street Fighter IV FightStick was designed for the Xbox 360 to help gamers head back to the old school days of arcade gaming. This specialized controller has specific buttons that are spaced on the controller that mimic classic arcade feels, and hold an 8-button pad on them as well as a toggle button to help you move your characters with ease, and fight just a little bit better. There are also special turbo settings for the controller to help give you even more of an edge over the competition. To top it off, these all come with some super sweet Street Fighter IV graphics to help show off your true fighting style. These range online from $65 - 80, and most sites limit how many you can buy. But, no matter if these are for you or for your favorite gamer, they are a super cool controller to have and will up your coolness points with anyone that sees them.
Resident Evil Faceplates & Skins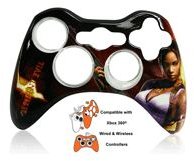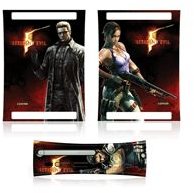 Don't want to go all out on new controllers but still want something that looks super sweet? Well, you canalso find some great new Xbox 360 faceplates and skins out there to help upgrade your current controllers. One of the coolest faceplates and skin set out there are the Resident Evil sets that you can find online for your Xbox 360 controllers. These faceplates simply snap on and off of your controllers and will help protect the controller itself from normal wear and tear so that it keeps it looking brand new. Want to go a little bit further and show off how good you really are at Resident Evil - or at least appear so? You'll also find Resident Evil skins for your Xbox 360 console that will also help protect the normal console from wear and tear and give it one heck of a cool look. You'll find both of these products online from $25 - 30 and you can easily use them to update and upgrade the look of your Xbox 360 controllers and console.
Rock Band Skins & Faceplates
But hey, it's not just fighting and sports games that get all the fun! You can find some super cool skins and faceplates sets for any Rock Band lover out there. With several to choose from, including the Tiger, the Scorpion, and a sweet looking Tattoo set, you'll easily upgrade the look and feel of your Xbox 360 and impress anyone that sees it. The best thing is that these entire sets are found online for around $30 (that includes the skin and faceplates). So, you can easily bump up your game play without compromising your wallet.
Rock Band Skins & Faceplates