Feigning, pillar-humping and juking: A guide to the WoW PvP healing fundamentals that separate the average -- and good -- healers from the great ones.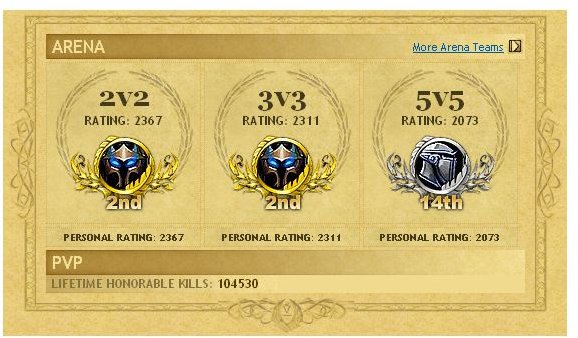 Learning to do more than just heal
As a PvP healer, you're the combat medic. It's your job to keep your damage-dealing partners alive, and oftentimes a match comes down to your timing or your judgment in choosing which spells to cast, when to cast them and when to use your limited array of important cooldowns to maximum advantage in an arena setting.
But being a PvP healer is so much more than that. The sub-1500 teams are the ones with healers who view their role strictly as healing. The above-par teams who find themselves fighting through the 1700s and 1800s have as their backbones healers who think strategically and realize there's more to it than spamming their most efficient healing spells.
Joining the elite
The elite teams, those that pour days and weeks into reaching the 2000-rating milestone, employ only the best of the best – those healers who understand their job encompasses not only healing, but mana efficiency, feigning casts and expert line-of-sight manipulation. They know that in order to win against top-rated competition, they've got to do all the little things that take the opposing team out of its comfort zone and force it to play a different tempo.
In this article, we'll take a look at the things that separate the great healers from the merely good ones, and the small actions that add up to victories in ranked arena matches.
Keybinds, addons and reaction time make the difference
Though for some players it goes without saying, the most fundamental and important aspect of being an effective PvP healer is to employ an interface and hotkey system that you're comfortable with. This is paramount, because the healer who has to go searching for that lesser-used cooldown button will not be the healer riding a pro team to the upper brackets. The common view is that clicking is wrong, and in most cases it is, but for every player who has their entire repertoire bound to a pro gaming keyboard, there are others who make things work through a combination of keys and clicking, using addons like QuickHeal.
The rule of thumb for effective healing is to be comfortable with your set-up. You want to make sure that your response time is lightning-quick. You'll only have a tiny window of opportunity to interrupt that Mage who stacks so much haste, his cast bar moves like a cheetah – but if that comes at the expense of overpopulating your keyboard with binds, consider other options to make yourself more comfortable.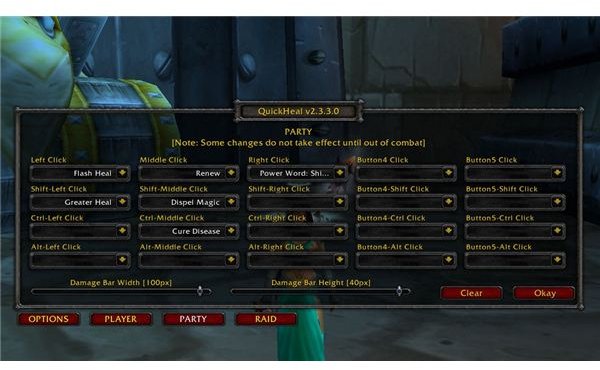 You Cannot Rely on Mouseclicks Alone!
Whatever you do, realize that relying on clicking entirely is unacceptable. You will not have time to manually click over to your focus target when an incoming Hex or Polymorph could cost you the match. It's important to be able to have your back to your partner while you top them off with a quick heal, while at the same time being in a position to interrupt or employ your crowd control instantly if the need arises.
Spell books, interrupts and cooldowns
Another fundamental key to great PvP healing involves thinking differently about the abilities in your spell book, and communicating to your teammates the situational value of their own abilities. Wind Shear and Kick are interrupts, and their value cannot be overstated, but a great healer realizes other abilities can be repurposed in the heat of a match. If you're a Tauren, Warstomp is an invaluable interrupt that does not share a cooldown with other class-specific abilities. A well-timed Warstomp can stop a big heal and can mean the difference in the outcome of a match.
Likewise, if you've got a Death Knight partner, make him understand that Death Grip isn't just a distance-closer – it can be an interrupt, and it can be used to extreme effectiveness when chained with Strangulate and your own class-specific interrupts and silence spells. The same thing applies to Paladin stuns, Warriors who macro sword-and-board for Shield Bash, and Mages who see Polymorph as a tool to stop a spell as well as force an opponent to use their trinket. This is one of the things that really separates the skilled players from the average ones – anyone who's seen a Resto Druid shapeshift to Bear for the sole purpose of landing a spell-interrupting Bash can attest to that.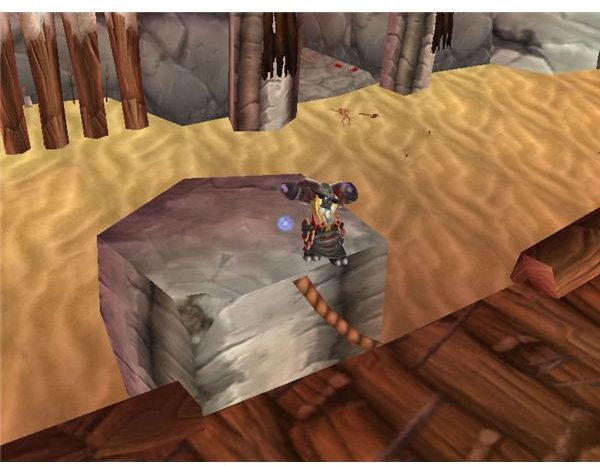 The Added Benefits of Being a Tauren Shaman
Similarly, if you're a Tauren Shaman and you know your class, you can make it extraordinarily difficult for a caster opponent to get a spell off on you. By chaining Wind Shear, Grounding Totem, Hex, and Ghost Wolf-into-Warstomp, it's possible to cycle your interrupts and prevent four or more spells in a row. Every healing class has abilities that can be repurposed.
Keybinds don't have to be complex – a Shaman, for instance, can get away with binding PvP-centric spells and only those totems that have situational value. Binding your healing spells and your crucial totems, and leaving the rest unbound to keys, is always better than being that guy who has every last ability, even useless ones like Sentry Totem, bound to his keyboard. Likewise, any class that can summon a pet should have macros binded to their primary keys to avoid the extra time it takes to click on the pet bar.
Situational awareness, deception, pillar-humping and baiting opponents
Another hugely important aspect is situational awareness, and using your environment to your advantage. You've got to think like Jackie Chan, using pillars, tombs, crates and other obstructions to make life more difficult for the caster or melee looking to put a hurt on you or your partner.
A common mistake, particularly among Paladin and Priest healers, is to use your lack of mobility as an excuse not to engage in what PvP healers call 'pillar humping.' Pillar humping's just a crude way of saying you should do everything to line-of-sight your opponents – both damage dealers and opposing healers – by using obstructions such as the pillars in Nagrand Arena or the tomb in Ruins of Lordaeron, at constantly shifting angles that provide you cover and quick access to your teammates should they need a quick heal or cleanse. The term comes from the fact that you'll be running back and forth from those pillars to heal, apply crowd control and interrupt casts.
This is a huge key to mana conservation, because a pillar, ramp, fire wall or water burst can mean the difference in having to heal an incoming 7k crit. Each map has its own obstructions, as well as invisible "walls" that jut out just relative inches (in game terms) from their corresponding graphics. A wise time investment for all arena players would be to study those maps, memorize the locations of every obstruction, and use practice matches to hone your skill at using them to break line-of-sight.
For Priests and Paladins, in fact, it's just the opposite – because you don't have the unlimited mobility of a Druid, or the quick-escape mechanism of a Shaman's Ghost Wolf and Earthbind Totem combo, to be successful you must be intimately familiar with the layouts of all arenas. If you're a Shaman or a Druid, you should be well-practiced in using shapeshifting as a means to line-of-sight your opponent or separate their damage dealers from the main group. Oftentimes, separation means death, and by line-of-sighting your opponents, you might have the secondary benefit of moving their teammates out of line-of-sight of their healers, particularly if they're determined to chase after you.
Develop good habits early
It's important to get in the mindset that if you're not using those obstacles to make things more difficult for your opponents, you're hurting your team. You may not pillar-hump, and in the 1600 bracket you may not need to, but once you get to the higher brackets it becomes a necessity and not an option. By getting into that practice early, and making it part of your repertoire, you're laying the groundwork for success in the higher brackets. More importantly, you're doing your part to ensure your team doesn't stagnate through multiple adjustments when the competition becomes more skilled.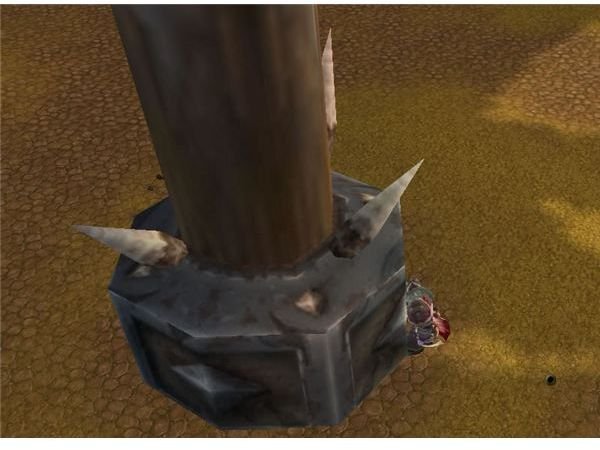 The Art of Deception - Important in PvP Healing as Well
Another thing to keep in mind is that no healer or team is ever successful in the higher brackets without the equivalent of some digital ninjitsu, and we're not talking about Stealth. In arena, deception is king. The old hearth-as-interrupt bait trick may be tired, and most players may not fall for it, but there are other ways to bait your opponents into doing things that work to their disadvantage. For instance, some healers can put out considerable firepower if the situation and their mana pool allows for it. Opponents fear the insta-crit of the Flame Shock-Lava Burst combination so much, it's almost guaranteed they'll try to interrupt it. If they do, you're in luck – they just wasted their interrupt on an offensive spell, freeing you up to cast a large heal. Druids and Priests can pull the same trick, chaining feared offensive abilities in an effort to draw an interrupt.
Communication, execution and practice
In all these things, communication and execution are key, and you'll need a healthy amount of time in the practice arenas and on Ventrilo to pull off some of the more coordinated feints and combinations. Remember there are real people on the other side of those computer monitors, and the best way to get people to work together is through encouragement and constructive criticism. If you nerd rage, you're not only making yourself look stupid, you're hurting your team.
But most of all, to be successful as a PvP healer, you've got to stop thinking about yourself as a healer and start thinking of yourself as a jack-of-all-trades utility player. You're a WoW equivalent of a Charles Oakley or Dennis Rodman, not content to just pull down rebounds, but comfortable in the knowledge that to help your team win, you've got to do all the little things that make the difference.
If this guide was a bit overwhelming, you might want to start with our basic guide to MMO healing. Then come back and give this one another read.
This post is part of the series: WoW Healing Classes
Read this 3 part series to explaining World of Warcraft healing classes and general healing fundamentals.
World of Warcraft Healing Classes: Strengths, Weaknesses, Pros, and Cons - Part 2 Shamans and Paladins