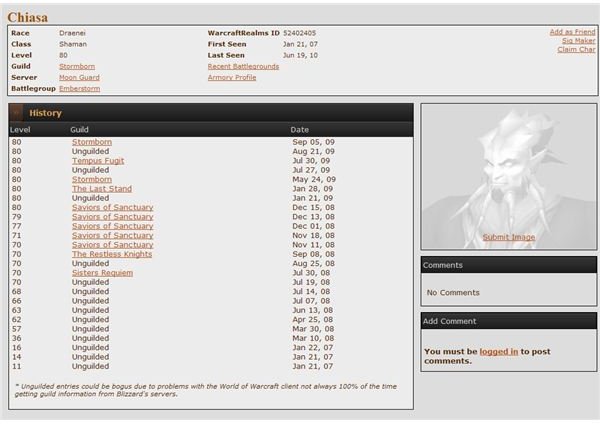 What is Character History?
From time to time, guild masters in World of Warcraft have wanted to know the history of a character applying, especially to know if they've had a habit of leaving and joining guilds, or if they've been in with the wrong crowds. Similarly interested individuals want to check this as well, and some players also want to be able to check dates to see when they've joined and left guilds.
Enter WoW Character History, better known as "Char Search" (Character Search) on WarcraftRealms.com. This tool allows you to search any character and see their guild history, as well as other vital information.
How do I use the search?
Using the Character Search is quick and simple:
If you know the server, region, race, or class of the character, select them from the drop down menus. (Note: In a name search, it's usually enough to select the server.)
Enter in the character's name.
Press Search.
On the following page, select the name of the character (which will be a link) that best matches your search description.
The next page will pull up the full Character History of the selected character.
What can I find out with Character History?
WoW Character History displays the following information about a character:
Name
Class
Current Guild
Battlegroup
WarcraftRealms ID
First seen
Last seen
Recent Battlegrounds
WoW Armory (link)
Guild History: Whether a character is guilded, or unguilded, at a time of a census, and if so, what guild they belonged to.
WarcraftRealms' search also enables you to look at the information of a guild, including current members, ex-members, and the time the guild is first seen.
One thing must be clarified: "seen" refers to polling data created by a WarcraftRealms mod called CensusPlus. This is a voluntary add-on that players can install and run to send character data to WarcraftRealms. It works by running silent /who commands to take snapshots of a player's current realm and faction. The data is unofficial information pulled by volunteers, and not official information collected through World of Warcraft's Armory Page. Depending on the "census takers" on the realm/faction that a character or guild is on, data can be missing and dates are best viewed as estimates rather than actual figures.
What can I NOT find out with Character History?
WarcraftRealms is merely census data taken through /who checks and collected by a mod. As such, it does not pick up information such as:
Character Gender
Gear Scores/Ranking
PvP Scores/Ranking
* Because the data pulled is per realm, a character will only appear after it is transferred, and a history will show up per realm. In order to find out a character's history on other realms, you must know the realm that they were on previously (or find them using the same character name in search, without selecting a realm).
What if I want to find out transfers or name changes?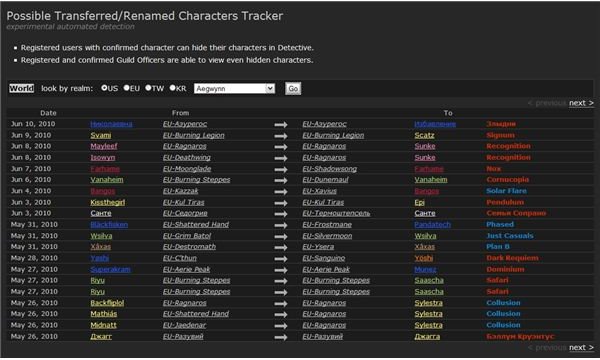 Realm transfers and name changes are offered as a premium World of Warcraft service, and offer a degree of anonymity. However, this information can often be sleuthed.
When looking at WarcraftRealms' character history data, you can usually tell a character has had their name changed, or were recently transferred to a server, based on their initial time and level seen on the server. If a character suddenly appears at level 80, it's a good clue that they weren't on the realm before hitting 80 - or if they were, it was under another name.
WoWProgress also has a Detective that can help do some of the guesswork. You can search by realm to see what the tool has detected as name changes or transfers, based on character information such as gear, guilds, and achievements. This tool is experimental and often lacks data, but is the only of its kind to offer such information.
This post is part of the series: WoW History
A collection of articles on the history of World of Warcraft and how it has both evolved over time and caused other games to evolve as well.