Best World of Warcraft Costumes: The Female Contenders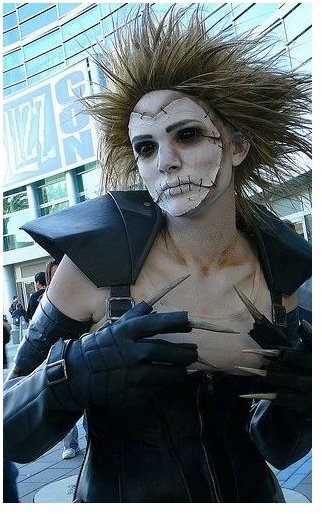 BlizzCon Showcases Incredible Warcraft Costumes
If you've ever had a chance to attend BlizzCon (the official convention for World of Warcraft's parent company, Blizzard), then you know how incredibly talented World of Warcraft (WoW) players can be. Fans of WoW take characters from the game, and create realistic prosthetics, weapons, and armor for wear in the real world. It is quite amazing to see a nineteen year old college student transform into an Undead Warlock, complete with game accurate Tier armor. BlizzCon's costume contest is the ultimate showcase for these talented WoW costumers, as it is where you can see some of the best WoW costumes.
For this article, I'll be showing you examples of some of the best female World of Warcraft costumes out there. Of course, "best" is relative, and the internet is vast, so this article can't possibly highlight every single good female WoW cosplayer out there, but at least you'll get a good sampling.
One of my all time favorite World of Warcraft costumes is a female Undead Rogue, dubbed "Noir" by her creator. The girl behind the incredible Undead mask is Cosplay.com member Saurus. She used Ben Nye scarring wax to create the skin flap around her face, and then filled in details with Mehron body paint and eyeshadow. You can read an interview she did about the make up and armor over at the Convention Fans blog. Saurus' costume was debuted at BlizzCon 2008, where she attended with her sister, who has her very own World of Warcraft costume.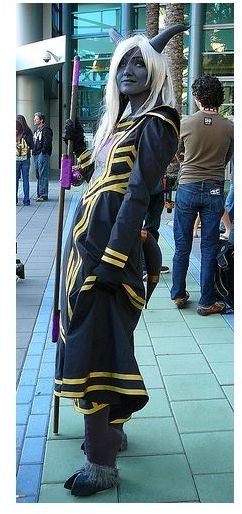 Cosplay.com member Hyakurin is Saurus' sister. Although a Horde player herself, she loved the look of the Draenei, and decided to make herself a Draenei costume for BlizzCon 2008. Cleverly, she also made an Orb of Deception, so she could "keep [her] loyalties to the Horde" by saying she was really a Blood Elf in disguise. What I love about this Draenei costume is the attention to detail. The hooves and horns are some of the best Draenei pieces I have seen thus far in my many convention travels. The body make-up is also evenly applied, and matches the color of the horns almost perfectly.
Blood Elf Costumes are Always Popular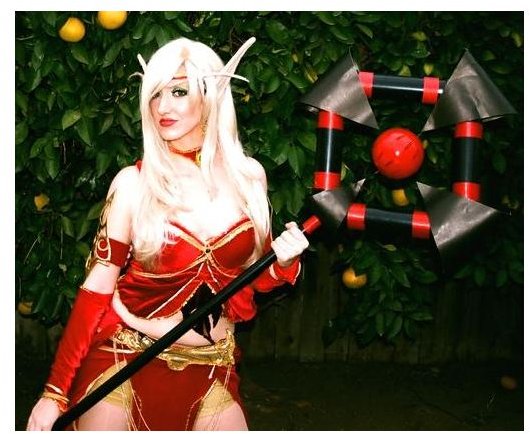 If you ask any heterosexual male what their favorite female WoW costumes are, they will probably say "Blood Elves." If a female cosplayer can pull off the Barbie doll Blood Elf look, she is bound to be popular at a convention. One such WoW costume is by Cosplay.com member Atheana. Her Blood Elf priestess costume "wow"ed the audience at BlizzCon last year. You can read about how she created the costume in an interview she gave a few months ago online. The staff, although not the part of the costume most of the men notice, actually lights up! The arm bands were hand crafted as well.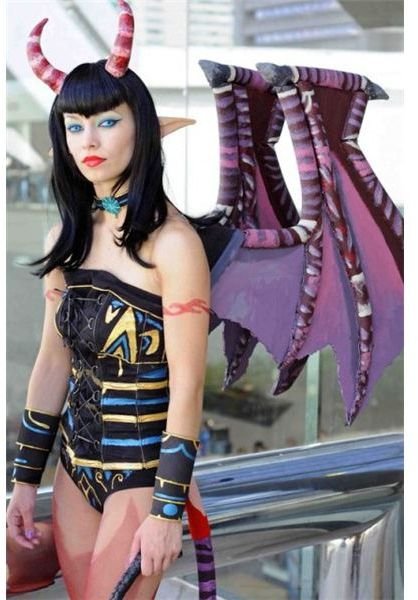 Another favorite of mine is this succubus costume (see left), which comes from Cosplay.com member RPGi. Although she hasn't had a chance to debut it at BlizzCon yet, she has taken it out to other conventions. The wings are made from pipe-insulation from Home Depot, paint, and shoe laces. They slide on just like a back pack! I repeat what I said earlier: these WoW costumers are so creative! I have no doubt that if RPGi makes it to BlizzCon this year, that she will be in the running for a costume contest prize.
Speaking of winning the big BlizzCon costume contest! That honor went to Amanda Hosler's Draenei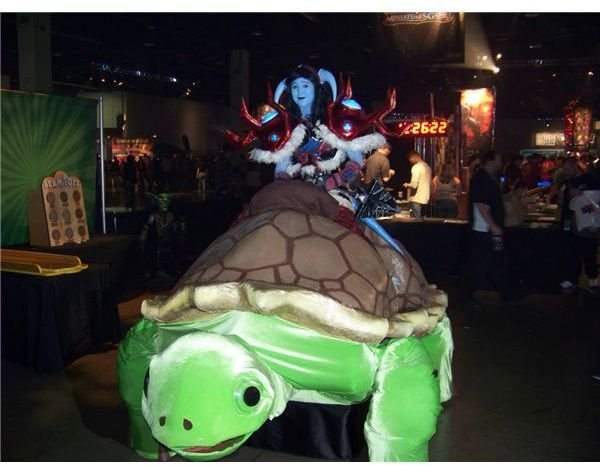 costume last year. Of course, it wasn't just the Draenei costume that earned her the top prize. She made a turtle mount, and then rode onto the stage with it! Needless to say, it blew the crowd, and the judges, away. It is, without a doubt, one of the best World of Warcraft costumes out there.
You can take a look at some of the contestants from the BlizzCon 2008 costume contest by visiting Blizzard's official BlizzCon website, as they have some great photo galleries posted there. I'm sure that we will see even more amazing costumes at BlizzCon 2009!
This post is part of the series: The Best of WoW
From best female costumes to top heroes and Easter eggs, this series covers some of the best of World of Warcraft.