Nintendo Wii Bundle Packages: Check out the Bundles at Target, Wal Mart, Best Buy, Toys R Us, and Amazon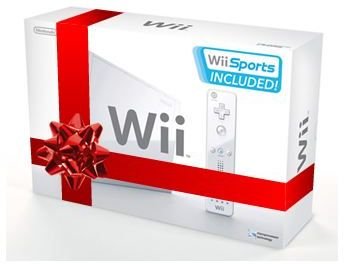 Buying a system by itself is like buying a car without gasoline. Sure, it's an awesome gift, but you can't do a thing with it until you get something to put inside.
Nintendo Wii buyers are a little better off, I suppose, considering the system at least comes with Wii Sports, but to really get the most out of that new system you're going to have to kick down a little extra for controllers and games.
Retailers, realizing this, frequently offer bundle or starter packages with their system sales. A seasoned gamer is probably going to want to pick out his own games and accessories, but for the gift giver who isn't exactly versed in all things video games, these bundles can be lifesavers.
Here are a couple examples of Nintendo Wii bundles being offered by major retailers this holiday season:
Wal Mart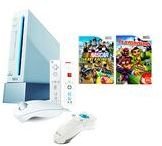 Wal Mart is coming at gift buyers from all angles by offering three different Wii system bundles this year. The least expensive offering is the "Nintendo Wii Starter Bundle," which comes with a Nyko Wii Remote and Nunchuck in addition to the Wii hardware itself. Buyers also have the option of choosing from a few select games and accessories to add to their bundle at a slightly discounted price. The "Starter Bundle" will run you $239.99, which is a $20 savings from what it would cost to buy a Nintendo brand Wii Remote and Nunchuck along with a new system.
The "Nintendo Wii Customer Choice Bundle" is a bit more expensive, but you are able to choose one game from a list of 30 to complete your package. It's nice to have a choice of game, as many retailers simply stick you with whatever game they ended up over ordering, though it's worth mentioning that these are not exactly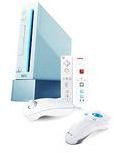 top-tier titles. The package includes a third-party Wii Remote and Nunchuck for a total cost of $279.99. You also have the option of adding an additional accessory for a slightly discounted price.
The third and most expensive Wal Mart Wii package is called the "Nintendo Wii Family Fun Value Bundle." This package includes the Wii system, the third party Wii Remote and Nunchuck, as well as not one but two games that can be chosen from a list. You are again given the option to add on more accessories at a slight discount. This largest package will run you $289.00. Considering that it's only ten dollars more than the "Customer Choice Bundle" and you get an additional game, I don't see why anyone would decide not to go for the "Family Fun Value Bundle" instead.
Check out page two for more on this year's Nintendo Wii bundles at Best Buy, Target, and Toys R Us.
Best Buy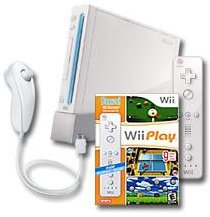 Best Buy has just the one Nintendo Wii Bundle this year, and they aren't offering the multitude of choices those who buy from Wal Mart receive. You can get their "Nintendo Wii Starter Bundle" for $268.99 and receive a Wii system, additional Nunchuck, and the Wii Play game (which includes an additional Wii Remote).
The most curious thing about this bundle to me is the price. You can buy all the included items separately for a grand total of $259.97, so why the mark up on the bundle, Best Buy? I can't decide if it's because they simply didn't adjust the bundle price when the Wii price dropped or if they're really just out to screw over unsuspecting consumers this Christmas.
Target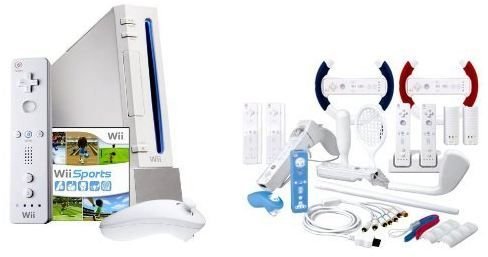 Over at Target, gamers (and gift buyers) can pick up the "Wii Console with Wii Mega Pack" for $249.99. This Mega Pack bundle doesn't include any games beyond Wii Sports, but it does come with a giant package containing 20 useful and not-so-useful plastic accessories for the system.
The charging dock and battery packs are awesome inclusions, the pool stick extension and baseball bat are better off as dog toys than legitimate video game accessories.
This same "Console with Mega Pack" bundle is also available from Amazon.
Toys R Us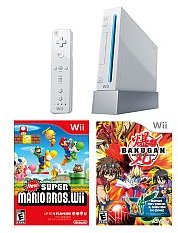 The Toys R Us "Wii Super Value Pack" is perhaps the most appealing of the bundles this holiday season. Not because of pricing or accessories, but because it actually includes this season's hottest Wii title, New Super Mario Bros Wii.
For $299.97, you can get the Wii hardware, New Super Mario Bros Wii, and Bakugan Battle Brawlers. This bundle doesn't include any accessories. The website is also running a $10 off a $30 purchase right now, bringing the total purchase price down to $289.97.
Again, this bundle's pricing strikes me as curious. It's nothing more than the combined total retail price of the three items with no discount of any kind. Why not just buy a system and have a choice of game rather than being forced to pick up Bakugan for the same price.
Of course, a smart consumer would purchase the three items separately, taking advantage of the $10 off $30 offer three separate times and bringing the total purchase price down to a more reasonable $269.97.
All in all, I have to say that this season's Wii bundles are kind of disappointing. Despite the poor economic conditions this season, few retailers have seen fit to offer reduced prices in their system bundles in an effort to become the retailer of choice this season. Some (I'm looking at you Best Buy) have actually chosen to charge customers an inflated price for the privilege of purchasing their unappealing bundles.
Basically, unless you are just completely unsure what to get when you purchase a new Wii system, you're better off creating your own bundle. If you're still lost, we have a few Wii Christmas Bundle suggestions available elsewhere in the Wii Channel.