The Best Deals on Nintendo Wii Console Bundle Offers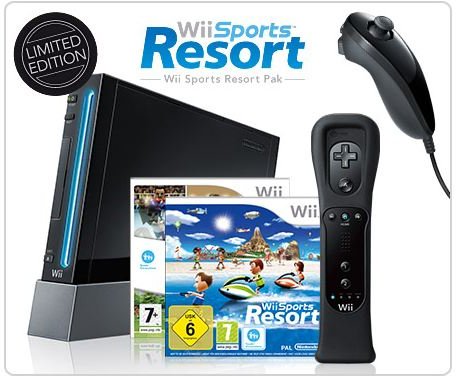 Cheapest Nintendo Wii - Wii Console Bundle Offers
Nintendo sets the price for the Nintendo Wii, so the base system is going to cost basically the same most anywhere you look. What sets them apart and how you can get some good deals is with Wii console bundle offers. This is when you get the base Nintendo Wii along with some extras like bonus games, extra controllers, and so on. What you have to look out for is some bundle deals where the price is no better than if you had purchased the parts individually. Here's a look at some of the current best Nintendo Wii console bundle offers available in stores.
Wii Sports Resort Bundle with MotionPlus
My current favorite of the Wii console bundle offers is the Wii Sports Resort Bundle that comes with Wii Sports and Wii Sports Resort, plus a controller with Wii MotionPlus. All of that is included in the box as part of the bundle. That's two games plus the MotionPlus, which everyone else has had to buy extra with their older Wii.
Wii Sports is a great but simple collection of sports games, but the Wii Sports Resort collection offers more games with more playability thanks to the enhance motion detection capability of the MotionPlus controller attachment.The MotionPlus is a small box that attaches to the bottom of the Wii Remote and great increases its ability to detect your movement. Some new games now support this added functionality, and Wii Sports Resort does a great job of showing off what all it can do.
If you're going to buy a Nintendo Wii, this is the one to get. It is available in black or white color for $199.99 at many retail stores and online. Costco sells it for $194.99.
Super Mario Bros. Wii Console Bundle Offers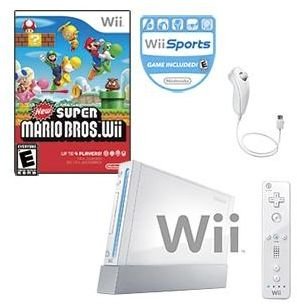 If you're like most of the civilized world and enjoy the Super Mario Bros. games, there are some Wii console bundles that come with the game. You won't save much money by buying the bundle over getting the game and controllers and Wii separately, but it's still worth mentioning since the game is so popular.
One Super Mario bundle I found was at Sam's Club for $289.98, which turns out not to be a good deal, so be careful of these type bundles. You could actually buy these components separately for less money. It comes with the Nintendo Wii and Super Mario Bros, but also includes two Wii Remotes and two Wii Nunchucks. One of the Wii Remotes is the black one that has a MotionPlus attachment, so you'll have a mismatched pair, but at least you can tell them apart.
For just $199.99 at Costco, you can get the base Nintendo Wii plus the new Super Mario Bros Wii game. That's not exactly a great deal since the Wii is usually $149.99 and the game is $49.99, but it would make a nice gift for someone who wanted to play the new Super Mario Wii game and didn't already have a Wii.