Best Nintendo Wii Fit and Wii Fit Plus Accessories: Improve Your Workout With These Great Addons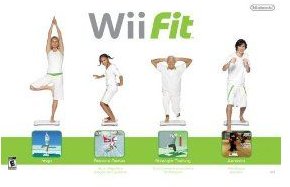 Working out with Wii Fit hardly feels like exercising at all. The many fun mini games and exercises make getting in shape a fun and entertaining activity.
While all you really need to get started on your new fitness regimen is a Nintendo Wii, the Wii Balance Board, and a copy of Wii Fit, there are a multitude of accessories available that can further enhance your Wii Fit experience. From balance board covers to carrying cases, Wii Fit (and balance board in general) fans have a large selection of available accessories to choose from.
Rechargable Battery Packs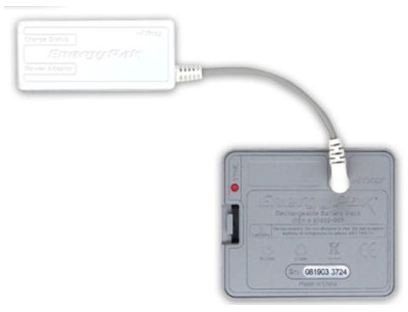 Regular AA batteries can power your balance board for a decent amount of time, but for those who tire of regularly switching them out, several rechargeable options exist. Regular rechargeable batteries will do the trick, but for a more specific solution both Mad Catz and Nyko make Wii Fit-specific battery packs that are available for less than 20 bucks.
These battery packs come with USB charging cables, so they can be charged directly from your Wii, and last anywhere from 20 to 30 hours on one charge. The Nyko battery pack is currently selling for about six dollars on Amazon, which is roughly the same cost as one pack of batteries.
Carrying Cases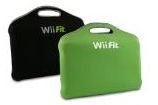 Our Wii Fit and Balance Board have proven so fun, we've just had to show them off to our other Wii-owning friends. This unfortunately means packing up the board and game and hauling them around a lot.
Fortunately, there are several handy options for transporting your balance board. The "Official Wii Fit Balance Board Sleeve" is available from Amazon for around 30 bucks. It is a reversible white or green neoprene sleeve that fits snugly around the board. The official case has no shoulder strap, but does have a convenient handle.
The Wii Fit Travel Bag by CTA is much cheaper at eight dollars. It features a shoulder strap and zippered case.
Ankle/Wrist Weights
Depending on your fitness level, the workouts prescribed by Wii Fit can range from pretty intense to downright easy. For those seeking a more intense workout, several manufacturers offer wrist or ankle weights to use in conjunction with Wii Fit.
Pretty much any wrist or ankle weights will work with the game, but CTA makes a set that they're marketing specifically towards Wii Fit players. The Wii Ankle or Wrist Weights retail for about 12 dollars on Amazon.
Silicone Board Covers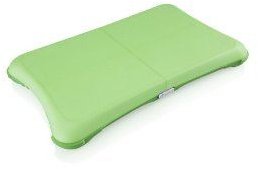 One thing you'll notice after you've used your balance board for a decent amount of time is that the white plastic becomes discolored quite quickly. For some people, a discolored board is no real concern. For others it may be a huge problem.
Whether you're looking to keep your board's appearance pristine or just want to give it a customized look, there are several silicone cover options available.
These covers come in a multitude of colors and designs, from clear to glow in the dark green. 247skins.com, for example, offers a huge selection of custom designs.
Yoga Mats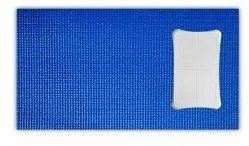 Depending on the room in which you work out with your Wii Fit, getting down on the floor to do some of the yoga exercises can be a disgusting or uncomfortable proposition. Most people who practice yoga do so on a mat of some kind, so why should doing Wii Fit yoga be any different?
There are quite a few Wii Fit yoga mats to choose from. Some, like the Wii Balance Board Mat by CTA, have a Wii Balance Board-shaped hole right in the mat. Other, more standard mats exist as well, such as the Wii Fit Yoga Mat by Hori.
Wii Fit Accessory Kits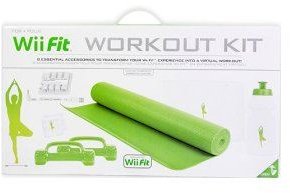 With so many great accessories to choose from, it can be difficult to choose just one or two to purchase individually. Fortunately, many of these companies offer accessory kits containing many of the best Wii Fit addons for one low price.
Intec's Wii Fit Workout Kit contains eight accessories: a workout mat, rechargeable battery, charger cable, two 2lb dumbbells, a workout towel, two wristbands, and a water bottle for less than 40 dollars.
The Wii 5-in-1 Fitness Bundle contains a battery pack, workout mat, silicone sleeve, travel bag, and a pair of textured workout socks for less than 35 dollars.
Another option is the Wii Fit 3 in 1 Starter Kit, which contains a battery pack, yoga mat, and silicone cover for about 34 dollars.
These accessory bundles are definitely the cheapest option for those looking to purchase several Wii Fit addons at a discounted price.
Each of these accessory options can enhance your Wii Fit experience in its own way. From keeping your balance board clean to making it easier to transport, these are some of the most useful accessories for Nintendo's Wii Balance Board and Wii Fit. Wii Fit is a great time whether it is played solo or as a couple, so why not enhance the experience with some great accessories?
Are there any great Wii Fit accessories that we may have missed? Please let us know in the comments section.