Game Hints and Tips for Heroes of Hellas 2 - Info on Game Play, Hero Bonuses, Scoring Points and Building the City of Olympia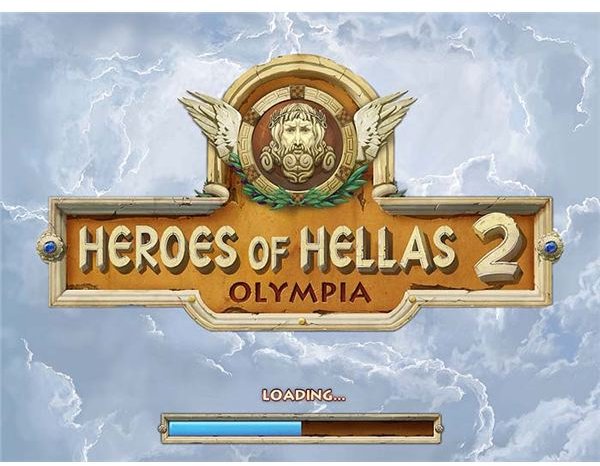 About Heroes of Hellas 2
Heroes of Hellas 2 is mythological match three and city building style game. This sequel focuses on the city of Olympia. You need to build the city's defense, culture and food supply by earning money and gaining help from heroes.
Game Play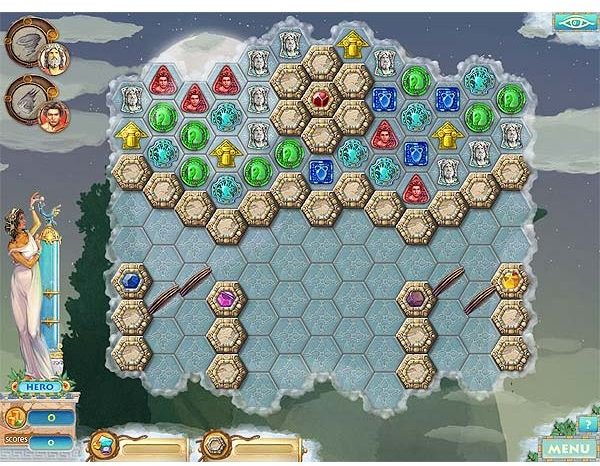 The main portion of the game involves levels with match three scenarios. Chains of three or more tiles can be hooked together by dragging the mouse over like pieces. Each level is timed. Goals will require removal of gold tiles, artifact pieces, gold coins or precious stones.
Gold tiles are removed by matching colored tiles that are located on them. Precious stones and artifact pieces need to be dropped to the bottom of the game board until they fall out.
After successful completion of each of these rounds, a summary screen displays all gold collected, points and money earned and overall ranking.
In between these rounds you have the option to build up a portion of the city of Olympia. Each item has a specific cost. Multiple game rounds may need to be played in order to earn enough to purchase one of the items.
Hero Lockets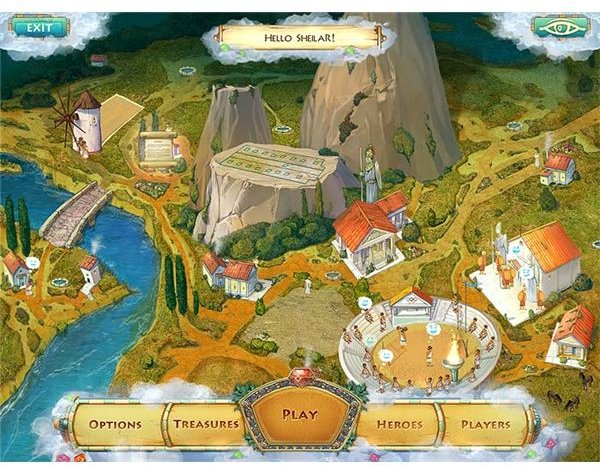 After certain structures are built in the city of Olympia, a citizen in the town will give clues to finding locket fragments. These locket fragments are in match three rounds. Once all pieces have been located, it forms a complete hero locket. The locket gives you access to a hero who can help you during future game play rounds.
Game Tips and Hints
The Zeus hero can shuffle multiple tiles on a game board. You can use this ability after multiple chains of white tiles have been collected.
Gold coins can be collected directly by including them with any type of matching chain. However, they cannot be collected individually or by dropping them to the bottom of the game board screen.
Lightning bolt items can be included with any matching chain to remove a row of multiple pieces.
To remove stone monoliths, create matching chains next to them or hit it directly with a lightning bolt. The result will cause the adjacent monoliths to explode.
Rope tiles can be destroyed by including them with chains of color matches.
Hermes Wings can be used to open up hidden places on the game board.
In Heroes of Hellas 2, you are awarded the Hero, Expert or Master rank after successful completion of a match three round. The faster you finish, a higher score and rank will be achieved.
The Prometheus hero can destroy specific tiles that you target. You can use this ability every time multiple chains of red pieces are collected.
Bomb pieces can be included with a chain of any colored tiles. The result will destroy the chain of pieces selected.
Puzzle levels are optional. They give you limited chain moves to obtain a specific number of jewels. Reward for successful completion can give you extra money or citizens for the city of Olympia. If you fail the puzzle, you can go back and continue the game on the regular levels.
Resources
Image credit: Heroes of Hellas 2 screenshots taken by Sheila Robinson.