Make Your Best Strategies while Playing Action-Based Helldorado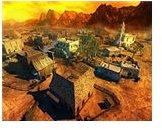 Overview
Developed by Spellbound, Helldorado is a tactical action and strategy game with well-balanced gameplay. Based on a Western theme, its storyline continues from where Desperados 2 left off. The PC game has come up with some new features along with a number of intriguing characters and several challenging missions. For those who already played Desperados, Helldorado promises to unravel a lot of mysterious questions, although they won't find too many innovations.
New players will also find the game action-packed and enjoyable, if they are patient. The missions in Helldorado are really difficult and require a lot of strategy and planning. The game offers some hard core stealth strategy challenginges. If you are the harder the better type and like action-strategy games, you're definitely going to get hooked.
Gameplay (4 out of 5)
The game starts off in a quiet town in the Southwestern desert. The gameplay is more difficult than that in Desperados 2, even at the easiest of the three difficulty levels. But the gameplay is improved and chock full of action. One of the interesting things about Helldorado is that it now involves multi-character gameplay, where a player can play upto 6 different characters each with different special skills, abilities and weapons. Players can use a number of the traditional Old West weapon staples including shotguns, 6 shooter pistol, rifles, knives, and tomahawks.
Here's how the storyline goes in Helldorado. The player controls a team of Wild West types with each member having a specific set of talents and abilities. You take on the missions along with your team and go on accomplishing the goals with tactical strategies. There are 12 single-player-only missions featured in this tactical action game, which you need to complete by fighting guards. What is more interesting is the kind of strategy and planning required for the missions. Here is where the challenge lies, considering that dozens of enemies are crawling everywhere. Players have to be very careful about planning their strategy. One mistake will often get your whole team gunned down in short order. And this is true of all difficulty levels.
Characters and Features (4 out of 5)
Helldorado includes a complete cast of charming, if unoriginal, characters. So you will get to play the stereotyped Wild West gang of six characters including Gunslinger Cooper, Gambler Kate, Pablo the Thug, explosives expert Sam, creepy Doc and the Native American tracker Hawkeye. The game has added a new combo feature to the Desporado franchise, allowing two characters to combine in order to launch a special attack. The action-strategy title also features a Movie mode, which allows players to record their heroic action.
There is an advanced AI system contaning 60 different enemies with varied tactical behavior. For every new move by the players, there are new enemies with different tactics to take on. Be it bar room brawls, train robberies, showdowns, or jailbreaks, the missions in Helldorado are, as mentioned before, very challenging, but varied. The action in Helldorado demands a lot of tricky strategies, which can become really grueling.
Experienced players will find it interesting, however for new players it can be frustrating, especially with planning required at every step. Constantly watchful vision cones of wandering guards can make your sneak-in attempts really hard, almost to the point of impossibility. But its great for those into hardcore, stealthy tacticts type games.
Graphics (4 out of 5)
The graphics of Helldorado are quite impressive. Players will find the graphics amazing, a truly authentic vision of the Wild West. The scenic views of sunsets and beautiful environments make this PC game more engaging. There are also impressive animated shadows and water effects. Enjoy the graphics instead of getting frustrated.
Important Info
OS: Windows XP/Vista
Processor: Pentium 4 @ 1.5 GHz or Athlon equivalent
Memory: 512 MB
Video memory: 128 MB
Sound card: DirectX compatible
Screenshots