Evochron Renegade The Universe Is Yours - PC Game Review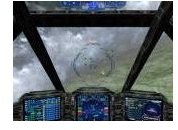 Overview
Experience the thrill of flight in Evochron Renegades. This sequel to the well-liked Evochron:Alliance 2.0 PC game takes space travel to new heights. A never-ending three dimensional universe that players can openly explore makes this a thoroughly fascinating game. If you've ever wanted to fly or journey through the furthest corners of the galaxy the second installment of the StarWraith 3D space simulation game series is worth taking notice. As you navigate freely through the vast universe there are no limitations on your adventure. Players can easily visit unknown planets and travel while completing missions.
Gameplay (4 out of 5)
Evochron Renegades has three basic gameplay modes which includes training, freeform single player, and multiplayer. The freeform single player mode consists of an integrated plot that slowly unfolds as you progress. Each mode allows you to select your own journey. Players have a wide assortment of options to choose from. Professions can range from a space pirate, trader, mercenary, miner, racer, smuggler, or simple explorer. It's all up to you. Novice gamers to space simulation may find the training mode slightly difficult. The mode is somewhat tedious as it covers the standard aspects of flight, combat, docking, trading procedures, planets, and common inventory management in detail. Your spacecraft is equipped with a Fulcrum Drive that permits jumps from one sector to another. Five varied levels of Fulcrum Drive exists that you can acquire through the game. When you come across a Fulcrum Gate it instantly transports to a set destination further in the galaxy. Wormholes are also available for travel to inaccessible locations.
As you collide through the seamless universe you're given objectives to complete depending on your selected profession. The enhanced features of this game gives players more control and freedom to explore. Every gameplay decision is made straight from the cockpit. A newfangled onboard cargo management system aids the transportation of valuable commodities and weapons your ship carries. You can change your ships appearance through a variety of options and upgrades. Players have the ability to hire specialized crew members, advanced equipment, and other improvements for optimal defense, speed, travel, or combat. There are no trading restriction either. Trade can be made with other ships whether it's AI or real players in the multiplayer mode.
Screenshots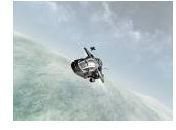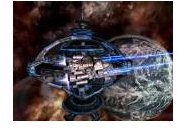 Graphics & Sound (4 out of 5)
Evochron Renegades gives a true to life first person viewpoint from a spaceship cockpit. It's beyond breathtaking. You feel as if you're actually travelling through outer space. This game was visually impressive. Crisp vivid graphics transport you into this cosmic supergalaxy. Realistic environments filled with lifelike planets, stars, asteroids, and moons simulate space travel. The sound is what you would expect from a flight PC game. Plenty of warp speed and beam blasting sound effects that compliment it nicely.
System Requirements:
The system requirements for Evochron Renegades includes Windows 98/ME/2000/Vista, 1024MB Ram, 64MB 3D Accelerated Video Card, 250 MB Hard Drive Space, 1.5 GHz processor, and 128K DSL connection for multiplayer gameplay. This game has a complex training mode requiring memorization of a large amount of commands on the keyboard. I recommend using a joystick or gamepad to get straight to orbit. A really fun accessory to use is the Saiteck X52 Flight Control System.
Overall Rating (4 out of 5)
A favorite in the space simulation genre Evochron has an established fan base which spawned 'The Hitchhiker's Guide to the Evochron Galaxy' a collaboration written by and passed along to fellow gamers through message boards. The enhanced features of the Evochron Renegades game adds a multiplayer option unlike it's predecessor which allows players to join ranks and take on more complex missions. Interacting with others to assault huge armed ships with an assortment of powerful cannons, missiles, and ultraviolet weaponry that renders hours of engaging gameplay. The stunning graphics and sound give this game an out of this world appeal. It's an entertaining space adventure.