Red Faction: Guerrilla - It's Time For War On The PC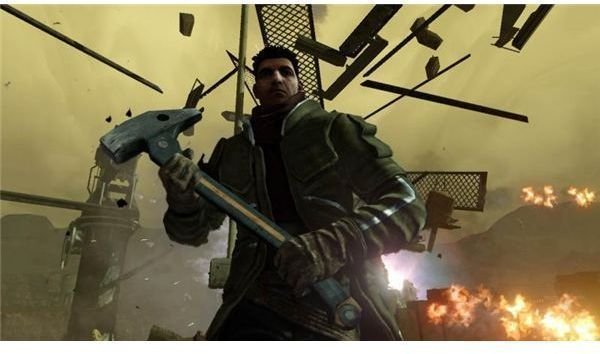 Overview
Red Faction: Guerrilla picks up where Red Faction II left off on Mars…
It's 50 years later in the year 2208 and the EDF (Earth Defense Force) is still brutal in their mining methods. Abusing innocent minors and depleting valuable resources, They've gone too far by killing Alec Mason's brother. Out for revenge and to stop the EDF, Alec joins the Red Faction resistance.
As you journey through a treacherous Mars, the game is enhanced for next generation destruction, and you can destroy any object in this free range open world. You can also steal weapons, EDF convoys, or recruit other miners to join you. Let the revolution begin, fight for justice, and blow everything to hell!
Below I will cover:
Gameplay
Screenshots
Graphics and Sound
System Requirements
Gameplay (5 out of 5)
Red Faction: Guerrilla's gameplay is slightly different from the previous two games which were ordinary first person shooters. This updated version has a third person viewpoint for a more cinematic appeal. The Geo-mod engine that the game is renowned for is enhanced, giving players increasingly realistic environmental destruction greater than before. You're introduced to extra weapons and vehicles to aid you in your quest through Mars. Gamers can select a truck and run it into a structure watching it collapse and crumble, tossing particles and debris everywhere. A original aspect added to Guerrilla is 'backpacks' which are affixed gadgets. These items give you the upper hand in combat like speed bursts or never-ending ammunition. A Melee hammer helps remove compounds and knock out enemies with a quick bash.
Throughout the game you are a freedom fighter. Setting free buildings, rescuing the fellow comrades, and blasting enemy vehicles are your main objectives. Along the way other miners decide to join you fighting by your side. Unfortunately, you will not have any control over the other miners but it's always fun to destroy and conquer in a group setting. Players have the ability to use any equipment sitting around Mars. The old construction bots can become resourceful tools for slashing down walls and knocking EDF soldiers into an oblivion.
Continue to the next page to read the graphics and sound summary as well as the system requirements…
Screenshots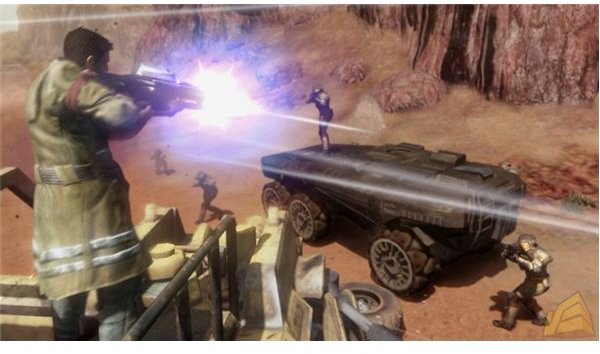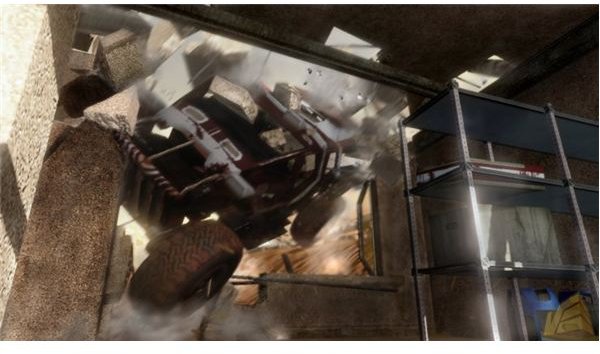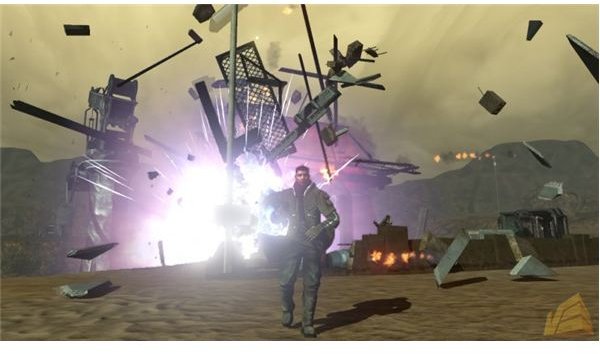 Graphics & Sound (5 out of 5)
The graphics in this game are striking. Designed in third person perspective, the game illustrates vividly the broken battleground left by the EDF. The true-to-reality animation gives gamers a jarring visual experience as massive three-story buildings crumble realistically, according to the method you used to destroy it. The concept I really liked about the graphics was the third-person perspective this time around. It really draws you deeper into the storyline and characters. The heart-pumping renegade score blaring as you parade through the isolated desert of Mars is thrilling.The sound in this game is a cut above the rest. Guerrilla was six years in the making for good reason. The creators wanted to enhance every single aspect of the game, which they did flawlessly. The earthshaking explosions and other various sound effects are stellar.
System Requirements:
The minimum system requirements for this game includes: OS Windows XP or Vista, Intel Core 2 DUO E4400 (2GHz), 1 GB Memory Card, 15 GB Free Hard Drive Space, 128 MB of Video Memory, Direct X compatible Sound Card, and DirectX 9 or higher. Also an Internet connection is required to access online features of the game. Red Faction: Guerrilla operates with your standard keyboard and mouse. Instead of using the standard keyboard controls a Logitech Cordless Rumblepad 2 or Dual Action Game Pad can be used to enhance your gaming experience. You can really feel the chaos and destruction with each explosion on a game pad.
Overall Rating (5 out of 5)
Volition has radically improved and altered all of the previous features of the first two games for Red Faction: Guerrilla. The weaponry is more advanced. Players can play around with an arsenal of weapons including new backpacks for enriched gameplay. Overall graphics are impeccable. They created this game to look increasingly authentic for Higher Definition platforms. The plot begins where the sequel left off, allowing players and fans of the series to continue their rebellion on Mars. In this game the multiplayer option has been expanded for a better gaming experience, which was something the prior game lacked. The Geo Mod engine technology that the Red Faction games are infamous for appears to be magnified, giving gamers exceedingly realistic destruction capabilities.