Runes of Avalon 2 PC Game Review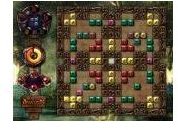 Introduction
The former beautiful kingdom of Avalon is cursed. Evil Sorceress Morganna le Fay placed a wicked spell, surrounding the land in wretched darkness. Although, Evelyne a brave apprentice of the renowned wizard Merlin conquered heinous Morganna in a fierce battle the entire area is still burdened by her sinister trance. The only force strong enough to reverse the spell is Rune Magic. You must help Evelyne finish her quest to save Avalon by solving perplexing puzzles, discovering runes, and conducting magical spells along your journey home. This whimsical Arthurian game is loaded with hours of enchantment and wizardry mayhem.
Gameplay (4 out of 5)
The gameplay for this sequel is phenomenal. Runes of Avalon 2 features 100 challenging levels for players to master. Quest, Endless, and Time Attack are the three basic game modes. During the Quest Mode you must strategize carefully as you try to solve a puzzle game similar to Tetris with colored runes matching in lines of three or more while being timed. The shapes will appear randomly as you arrange and blow out rows of runes. Each cleared away rune block adds to your bucket of magic.
A meticulous itemized map pops up to guide you through the levels. Endless Mode requires players to repetitively match squares without limitations. Time Attack mode allows you to race against the clock recording your highest possible score.
There are a variety of obstacles and spells throughout the game as well. Stones, close off tiles, and barred areas constricting your path are common obstacles. Spells function as power-ups connected to various pieces when matching or manually through your amulet of magic. Bomb power-ups explode rune areas, transport spells banish particular pieces from the game, and mystical weavings manipulate time. Runes of Avalon 2 features an additional bonus JigSaw game just in case the 100 complex levels aren't enough.
Screenshots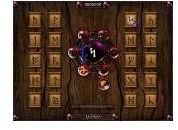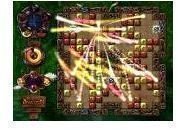 Graphics & Sound (5 out of 5)
Hypnotic colorful swirls of magic against an adept backdrop gives this game a fresh interesting look. The graphics are quite amusing with magical dust trails and illuminating runes. For a standard pc game the characters, cutscenes, and vivid backgrounds are pleasant visually. The best aspect of the game is the sound and effects. Throughout the game you hear this sensational Celtic infused musical score. The mystical rhythmic soundtrack transports you to the enchanted world of Avalon. It's easy to get into the game with the mood altering cadenced of fantasy. Solid quality sound bytes and entertaining flute-like sound effects when runes are discovered complete the game's ambience.
Overall (4 out of 5)
The Runes of Avalon 2 is the ultimate puzzle strategy pc game. If you love fantasy and somewhat challenging games this is it. Fans of the original will enjoy the numerous upgrades and enhancements while new gamers have the opportunity to take their first journey into the magical land of Avalon. The amulet of spells has been increased with 4 new enchantments. Players can vibe to cool celtic sounds while solving engaging puzzles. This game offers endless hours of gameplay combined with an interesting storyline to keep your attention. It's definitely worth playing. Witches, magic and an abundance of levels await.
System Requirements:
System Requirements for Windows: MS Windows ME/XP/2000/Vista, 800Mhz+ with 256 MB Ram, 30 MB Hard Drive Space