Dog Fight Games: Fighting In the Air

Aerial Avenger
It is the day after a long chaotic war and there are only a few fighter jets that are still in the air. It's up to you to destroy the last few in these series of dog fight games. You will simply need to survive as long as you can by using the arrow keys to guide your flight. You will have to navigate your fighter jet up and down the screen as you try to quickly approach the enemy jets that will be flying ahead of you. Do your best to dodge their bullets as you ram them from the back. This will completely destroy them. To play this game click on the following link.
Image Credit: FupaGames
Dog Fight
If you have always wanted to see how well you can angle a flying plane and fire at the same time then you are ready for this game. Although this game may be quite challenging at first due to the fact that you may feel lopsided as you try to guide the jet in a loop fashion to aim at the enemy jet which is persistently trying to fire at you. The key is to try to get control over the angle of your plane so that you can aim properly as you fly. To play this game click on the following link.
Skies of War
This is a great skill building game if you have never flown in a simulated battle. The training will guide you through each section of the battle as your plane is in flight. You will guide your plane with the mouse over enemy buildings and once you spot the target building you simply click and fire which will ultimate destroy the building. To avoid being fired at yourself you can roll the mouse over the plane to loop or dodge the bullets and continue your feat. To play this game click on the following link.
Sky Fire
The sky is the limit for your mission and you must fly to complete your mission victoriously as you take on battle for battle in these dog fight games. You will be flying at aerial view in your fighter jet. Your mission is to fire at enemy jets that will try to attack you from the back, the sides and the front. You will be using all of the arrow keys to fly and ram into these menacing opponents. The advantage to this game is that the enemy jets may not fire at you right away which will give you ample time to attack them without warning. Those fools ! To play this game click on the following link.
Naval Strike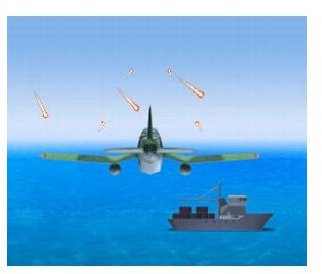 You will have to earn your badge as you fly your war plane into a two fold battle in this exciting 3D game. This dog fighting game will begin with you flying across the sea to destroy the enemy transports. You will have two enemy's to focus on in the air and at sea. So prepare yourself to not miss a beat during all this action. Use the mouse to shoot at the enemy from afar and open up your torpedo missiles to bomb the ships below with the space bar. Good luck soldier ! To play this game click on the following link.
Image Credit: RaiseAnimals