What are PBBG's? Learn About Persistent Browser Based Games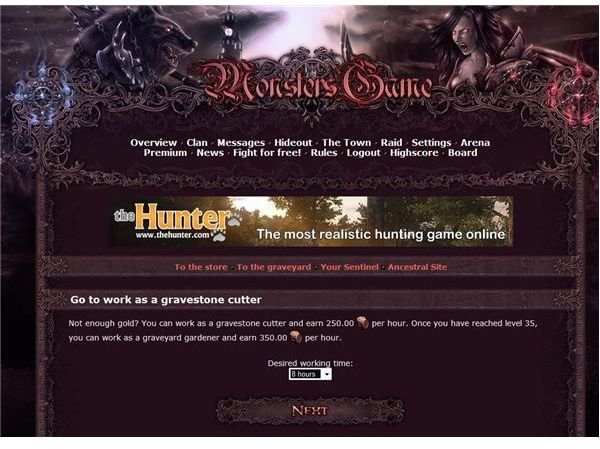 If you have spent any time around the gaming community you may have figured out that we love our acronyms and we certainly have plenty of them in our repertoire from RPG's to MMO's. Well, here is one more to add to the list PBBG's. (Not familiar with gaming terminology? Then check out this great dictionary of common gaming lingo.)
What Are PBBG's?
PBBG stands for a Persistent Browser Based Game which means that they are games that are entirely contained within a website which can be played directly from your browser without the need to download any software or game engines. They may sometimes be referred to as a MPBBG (Multiplayer Persistant Browser Based Game); however, since a multiplayer environment is already assumed with a PBBG this is rarely seen. These should not be confused with your basic games such as Bejeweled, pool, or other basic types of games that you can play online; the key difference is in the "persistent" nature of the game. The PBBG Project defines this as a requirement for a PBBG when "progress in the game is achieved over multiple playing sessions."
With a PBBG you build a character, village, world, etc. over time and the game grows and changes in dynamics as you advance.
Often, certain elements of game play may also continue over real time and /or while you are offline and not actually logged into the game. For example, one way to earn gold in Monsters Game (a vampire verses werewolf PBBG) is to work in the graveyard for a number of hours. You choose to work for eight hours, go to bed, and when you wake up your shift will have ended and you can collect your pay.
What is The Difference Between a PBBG and MMORPG?
While there are some elements that overlap between a PBBG and a MMORPG the main difference is that the PBBG is run from a website that loads in your browser and does not rely on any other software that the player has to download. Because of this the PBBG is often not as graphically intense and relies on 2d game graphics. It may often offer more plot driven play that can be a lot of fun for both newcomers and seasoned players alike.
What is The Difference Between PBBG's and Text Based RPG's?
There is a tremendous amount of over lap between PBBG's and the traditional text base RPG's. However, there are some games in which there is very little in the way of role playing and the game focuses mainly on the mechanics of the game engine itself. This variety allows you to choose which type of gaming environment you enjoy most.
As an example, this screenshot shows you a space themed PBBG and a variety of quests that you can perform: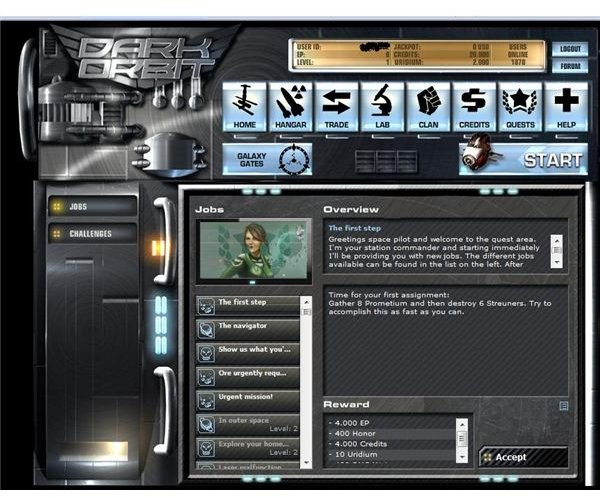 What Type of PBBG's Are Out There?
PBBG's come in just about every genre that you can think of from vampire worlds, space battles, pirates, fantasy themed, samurai wars, to nation building and political simulation games.
What is the Game Play Like In a PBBG?
Game play in a P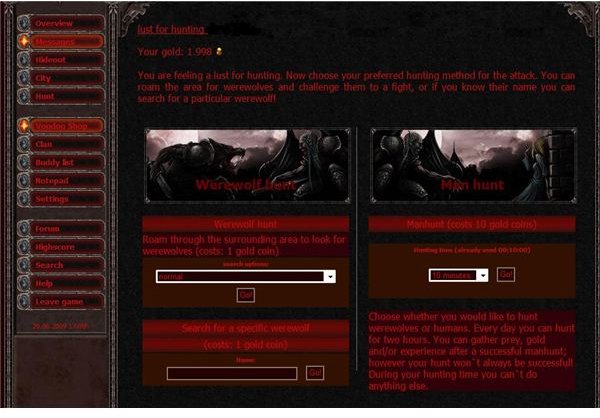 BBG can vary somewhat from game to game but will generally incorporate some or all of the following elements:
Hunts or Searches: Many game engines in the PBBG categories will generate some sort of a search or hunt function in which you go on searches through various areas in the game world to find items, collect money, or other elements that you will need to play the game. You are often granted a certain number of searches or hunts per day.
Battles Against NPC's: Most PBBG's will have a battle system that randomly pits you against an NPC (Non-Playable Character) to strengthen your skills or gain resources.
PVP Battles: Another feature of many PBBG's is a dice role type battle system that allows you to attack other players and battle to win resources or experience and strengthen your stats. The Battle screen in the illustration on the left demonstrates two examples of how a PVP battle may play out in a PBBG style game.
Banking System and Economy: Whether it is collecting gold or some other world specific currency, most PBBG games will have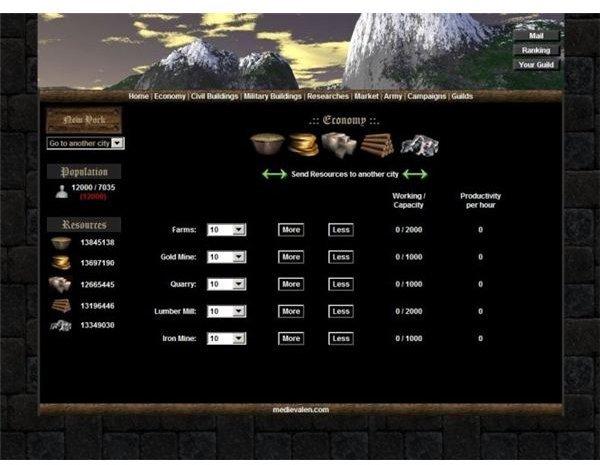 some sort of an internal economy and a banking system that allows you to earn money and purchase items that you will need for the game.
Clans/Guilds/Covens: Another common feature of PBBG's is a clan or guild system which helps you to meet other players and advance game play by working on a team and forming alliances against your enemies.
Since every game can be unique there may be several other features such as quests, group missions, homes or world building, etc. so you will have lots to explore and do in a PBBG.
What Are The Advantages of Playing a PBBG?
PBBG's actually have quite a few advantages over some of the other styles of games available online. For one, because they can be played entirely from your browser there is no need to download any software. This leaves more of your hard drive space free plus it gives you a chance to play from anywhere that you have an internet connection. Since most PBBG's rely on a standard script language such as php, you can even access some of them from mobile browsers on your phone or PDA. This allows you to get your gaming fix from just about anywhere. (Learn more about ways to balance your busy life with your love of gaming with A Parent's Guide to Balancing Family and Work Responsibilities with Gaming)
While some PBBG's offer special items or extra benefits for supporting the game, most of them are free to play.
PBBG's can often be enjoyed by both the average gamer and the more hardcore types since they do not require you to be present 24/7 to make progress on your character.
PBBG's offer a unique blend of creative control and pre-scripted game engine play so you never get bored doing the same thing over and over again.
Where Can You Find PBBG's?
PBBG Project : A Large Directory of PBBG games
Bloodletting: One of my personal favorites. You can play as a vampire, witch, werewolf, slayer, or angel and it has a heavy RPG element as well with a great community of active players.
PBBG-Portal: Provides a directory of various types of PBBG's from RPG's to adventure.
Also, be sure to check out MMO: Client vs Browser Based Games