Game Cards – Just a Thought
Do gamers want game time cards as holiday gifts? The giving of game cards during the holidays is clichéd. It is a stocking stuffer. To a player, purchasing game time is a passive act, one that he or she quietly yields. Whether they pay monthly or yearly with a credit card, paying for game time seems to be complacent. They know they have to pay for the time, and willingly do so.
If a specific video game is on the receiver's list, then it's known that this person would appreciate it. The holidays are a time to be original. If the player wants the game, then buy them the collector's edition instead. Collector's editions often includes collectible items, DVD's involving game productions, sound tracks, books. Sometime collector's editions come with unlockable in-game gifts, as in Wrath of the Lich King's account bound Frosty. Halo is another good example of a valuable collector's edition. Included in the 2007 collector's editon of Halo, is a miniature action figure. Since this is a limited edition action figure, it is a nice bonus for any gamer.
Death Knight with Frosty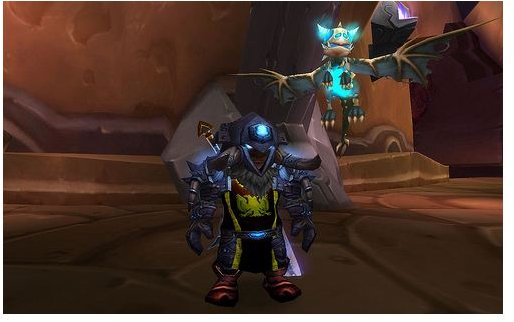 Accessories Available
Gifts for gamers can be pricey but useful, as in the gaming keyboards available for around $69.99-$112.00. Gaming keyboards usually have built in macro keys which allow gamers to play faster, as these keys are usually in one specific spot on the keyboard. You can also find some great special gaming mice that will allow faster clicks, better grips, and even more for those hard core gamers. If you are looking for a mouse or keyboard, it is best to ask someone if you aren't sure what you should look for in a keyboard or mouse, or check out some online reviews, such as a gamer's review of the Merc Gaming Keyboard here on Bright Hub's Computer Hardware channel. Some online websites have better prices,and store availability is limited. The HP gaming mouse is presently on sale with a $15.00 rebate from www.hp.com. A note of caution: do not buy a mouse or a keyboard for a gift, without it being a reputable brand. Make sure it is completely compatible with the gamer's system, so you don't end up with a disappointed gamer.
When buying for a gamer, apparel is always a welcome gift. Wearing a t-shirt displaying a name of a video game is not advertising, as some might think. Gamers are proud to wear their favorite game on a shirt. It stands as an achievement. But, some shirt companies are better than others. Ordering a t-shirt on line is sometimes a gamble between the size, and fabric quality of the shirt. T-shirts can be found in both men's and women's sizes. Women's shirts are usually stretchy and fitted. The shirts from Jinx are some of the best gaming t-shirts that I have found so far, with the quality of the shirt itself being pretty good overall. Their shirts are a nice quality with fun, tasteful graphics. The fitted ladies shirts seem to be a small fit, and might need to be purchased the next size up. Jinx carries several t-shirts, of games of interest, and their own slogans as well. When buying from Jinx, they usually include a 10% discount coupon on the next purchase, and a sticker or two. Their shipping is fast. Their customer service is very top-notch. They are polite. When emailed, they respond quickly.
Other ideas for gifts for gamers, include t-shirts from other websites and Cafepress. Keep in mind that the apparel from Cafepress.com isn't official game apparel, and the quality of t-shirt fabric might not be equal to Jinx.
Interesting handmade accessories can be found on Etsy.com, including Nintendo cuff links , to earrings, handbags, buttons, t-shirts. Again, this is not official game merchandise, but it is interesting what the crafter often produces.
Looking for action figures? They are valued as much as a China figurine by Lladro, which can go up into the hundreds of dollars, or they can be as simple as those that sell for $14.99. Action figures are finely crafted and detailed with poseable arms and legs. Action figures wear the clothing of the game character they resemble. They carry epic weapons that produce realism. Some are limited edition, which means that they are considered collector's items. Entertainment Earth carries a complete collection of action figures from just about every game that you can think of. Prices of action figures can be from $8.00 on up. Figureprints.com sell action figures that are the same likeliness of World of Warcraft toons. Figureprints does not mass produce, and the figures are sold per email drawing for purchase. Halo action figures are available at Toywhiz. This website also includes key chains and posters.
There are a lot of affordable gift ideas for gamers. With the holiday crush upon us, it is a good idea to order these on line, where they are readily available. If something is seen today, it might not be seen tomorrow.